Globally, applications of virtual and augmented reality (VR and AR) in the cosmetics and beauty markets is set to expand at a compound annual growth rate (CAGR) of 25.5% from 2022 to 2027. It's not hard to see why—from virtual makeup try-ons, beauty filters and skincare analysis to personalised shopping and engaging DOOH advertising campaigns, cosmetics brands have never been better positioned to attract and serve their customers.
Technological advancement and the beauty industry have always moved hand-in-hand. In this article we'll dive deeper into the historic entanglement between tech advancement and the beauty sector and analyze how the beauty industry is already integrating AR into services and marketing. We'll also take a look at the future of AR in beauty and cosmetics.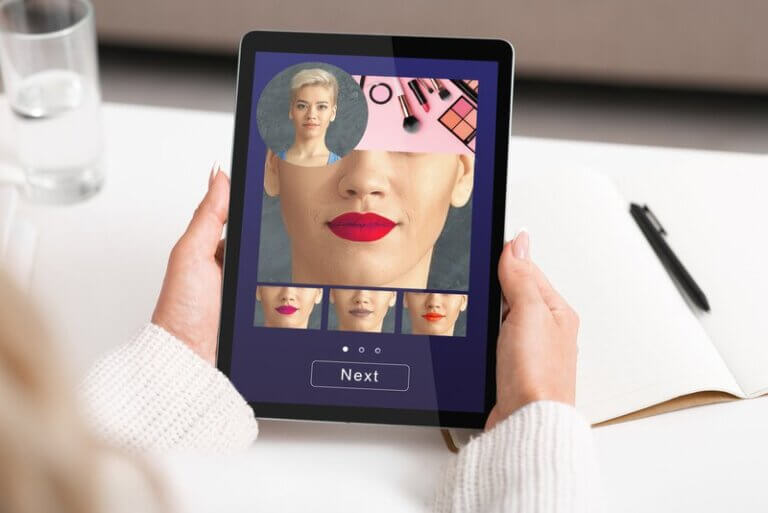 Key Takeaways
Augmented reality enables brands to offer highly personalized shopping experiences. From virtual consultations and complexion analysis to personalized skincare regimes, AR can bring customers closer to products and reduce dissatisfaction.
AR allows beauty brands to level up their marketing strategies with distinctive DOOH campaigns, virtual search capabilities, and virtual fragrance experiences. This allows brands to engage consumers through memorable multi-channel interactions.
As digitally-native generations occupy an ever larger slice of the consumer market, it's incumbent on brands to meet them where they are with sophisticated AR solutions that address their expectations and concerns.
AR tools can contribute significantly to a more sustainable cosmetic industry—reducing waste, lowering costs, and appealing to eco-conscious consumers. This offers an opportunity to stand out in a saturated market.
How are Technology and the Beauty Industry Connected?
The beauty industry has come a long way since ancient times, when alabaster face powder and Cleopatra's kohl eyeliner were popular. The products we traditionally associate with the modern industry—like lipstick, mascara, and nail polish—surged to popularity in the 20th century.
The Historical Role of Technology in the Beauty Industry
Fueling the development and mainstream use of these cosmetics was technological innovation: think portrait photography, more affordable and compact mirrors, and especially motion pictures. In the 1920s, people began using makeup to emulate their favorite movie stars; marketing quickly caught on and followed the trends.
Technological innovation since then has only further popularized the industry. New formulas stabilize products for longer and more safely, while advancements in media and marketing have widened the pool of consumers, bringing the beauty industry to everyone.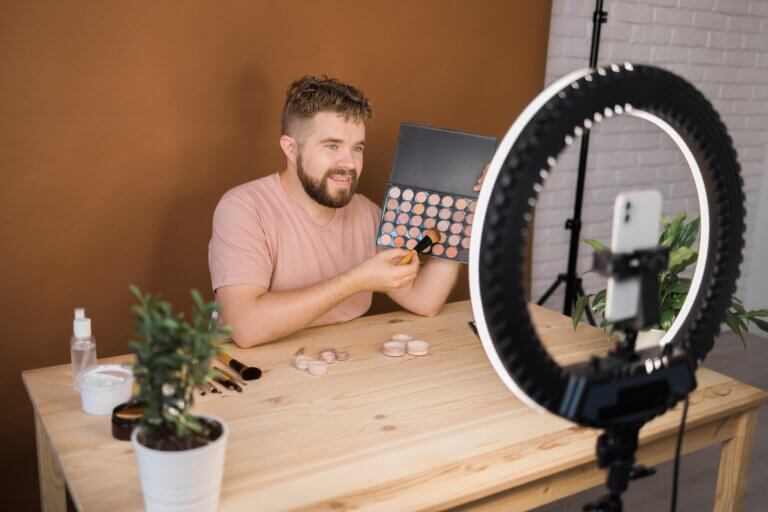 For example, the advent of social media rocketed influencers and beauty bloggers to immense popularity, democratizing new trends and beauty standards. It has given a voice to demographics previously overlooked in marketing campaigns and has shifted the beauty industry towards a more inclusive approach.
Now AR is helping the beauty industry take yet another leap forward.
The Rise of Augmented Reality Technology in the Beauty Industry
Brands are always looking for more compelling ways to engage customers—and as digital natives comprise an increasingly significant part of the consumer market, blending the digital and physical could not be more important.
Augmented reality isn't new technology, but its popularity has certainly surged in recent years. In part, one could associate this rise with the disruption caused by the Covid-19 pandemic. The sudden proliferation of eCommerce and multi-channel shopping options brought a shift in marketing strategies—and an enhanced appreciation for digital capabilities.
Competitive players in the beauty industry are taking advantage of augmented reality to offer impressive customer-centric experiences, meeting shoppers where they are like never before. AR technology superimposes digital elements onto real-world visuals through a device such as a tablet or smartphone. In other words, virtual objects or animations overlay on the device camera's real-time view.
From skin health analysis to intelligent shade-matching, AR has opened a gateway to newly personalized and accessible shopping experiences. But the technology doesn't only benefit the consumer—brands reap the benefits just as much. AR tools help beauty brands increase profit margins through lower product return rates and improved inventory management.
Improving Customer Service with AR in Beauty and Cosmetics
The unpredictability of online shopping is a common pain point for shoppers when it comes to purchasing beauty and cosmetic products. Users take a gamble in knowing whether a product is suitable for their skin or complements their style. This often prevents potential customers from making online purchases—and increases the number of returns from those who do. In fact, the cart abandonment rate for the cosmetics industry is a whopping 75%!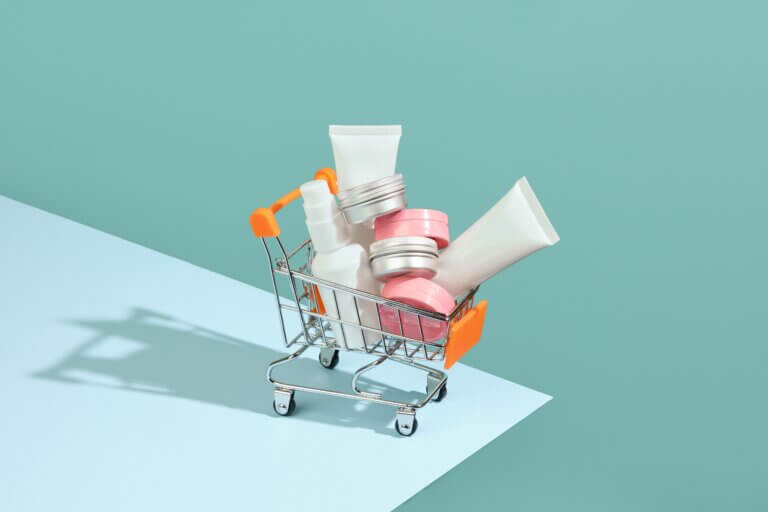 However, with augmented reality, consumers can make more informed decisions and shop with confidence. One survey polling over 4,000 shoppers in the UK, US, France, and Saudi Arabia revealed that roughly two-thirds of those who used AR to guide their purchase decision were less likely to return the product.
Since returned cosmetics can rarely be resold, fewer returns ultimately means less waste and lower costs otherwise incurred by shipping, labor, and obsolete stock.
Let's look at how leading brands are further integrating the technology into their offerings to improve shopping confidence and customer satisfaction.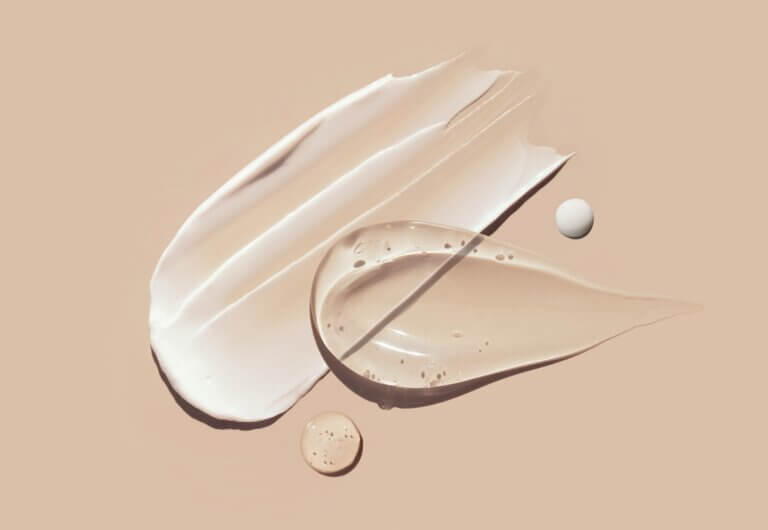 Augmented Reality Makeup Try-On Services
Using only their mobile device, users can virtually apply various shades of lipstick, eyeshadow, blush, and false eyelashes. They can customize the makeup intensity, swap between products, and save preferred looks for future use. However, virtual try-on makeup applications go far beyond just superimposing color onto someone's lips or cheeks.
Burberry Beauty, for instance, combines facial tracking technology and AR in its virtual studio experience. Tracking over 100 points of the user's face, the scanner maps an individual's features to create hyperrealistic mock-ups. With a unique individualized profile, users can visualize and refine their results to achieve the perfect look.
The Burberry Beauty Virtual Studio also offers customized and guided tutorials. The personalized guides are based on the user's unique facial features such as eye shape, skin type, brows, and mouth. Augmented reality tutorials feature three-dimensional animations superimposed onto the user's face, highlighting the exact places to apply makeup.
Users can choose from seven looks and set their preference according to the occasion and desired finish. For instance, a user might want a smoky-eyed night look, or a subtle finish for a day of business meetings. This provides an educational experience, promotes the brand's products, and empowers consumers in their beauty routines.
Similarly, Sephora has an in-store 3D augmented reality makeup mirror that simulates cosmetics on a user's face in real time. No more of the messy apply, wipe off, apply, wipe off sampling procedures—instead, customers can sample shades hygienically and instantaneously by tapping on the Beauty Mirror's on-screen shade palette. In addition, when they turn their face, they can view products from different angles, helping them make informed purchasing decisions.
Virtual Hair Styling and Coloring
Augmented reality beauty filters aren't just for makeup, however. AR has proven to be a critical breakthrough for hair styling as well.
Many people become anxious about cutting or coloring their hair because there is always a risk that the end product may not be what they want. What if that bob doesn't work the way they thought, or bubblegum pink isn't their color?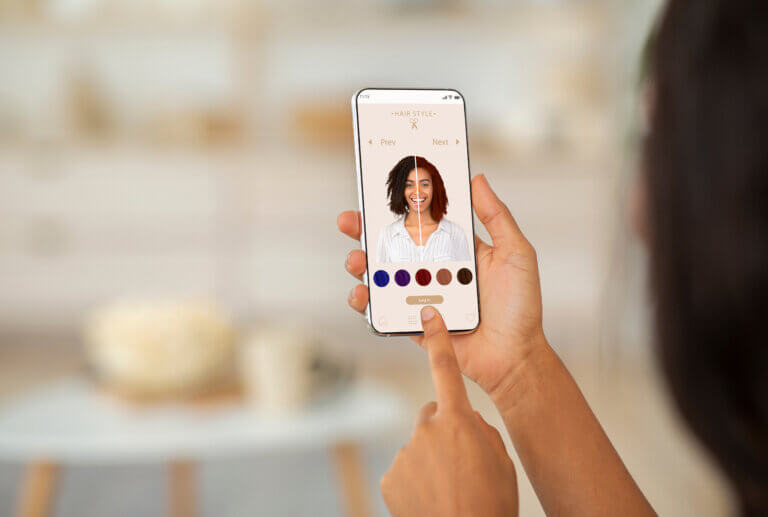 Thankfully, AR filters now enable users to visualize different haircuts and try out various hair colors without making permanent changes. Whether it's a sleek updo or a new color, users can test out the look on an app before committing. Chopping off locks or making big color changes can be daunting—but these tools boost consumer confidence and brand engagement.
L'Oreal Hair Color Virtual Try On is a smartphone app that allows users to try different hair colors virtually. All they need to do is upload a photo, select a hair color and see the transformation in real time.
Simiarly, Garnier offers an online virtual try-on tool to enable customers to find their perfect shade. Users can either upload a photo or scan their face before experimenting with different colors. Garnier also offers advice on the best shade for a person's complexion using an accompanying Shade Selector Quiz.
Amazon hair salons feature a full in-store color bar. Here, customers can virtually experiment with different hairstyles and colors before deciding on the look they want.
The salon also displays a range of hair products like shampoos and straighteners that visitors can purchase from Amazon. All the customer needs to do is scan a QR code next to the product and place their order. Taking it one step further, users can scan the product to view details such as ingredients, benefits, and instructions.
AR Skincare and Skin Analysis
Augmented reality apps also step outside the realm of makeup and cosmetics, assisting with critical skincare as well. AR technology can be used to monitor skin health and access customized skincare recommendations. When customers know they can return to an app for a follow-up analysis at any time, they'll feel like they have a personal dermatologist at home—a major USP for your brand.
One of the top beauty brands using augmented reality is L'Oreal. Its SkinConsult AI digital skin diagnostic focuses on personalizing anti-aging skincare. To receive an individualized skin profile, the user uploads a selfie. The technology then detects signs of aging including under-eye wrinkles, dark spots, loss of firmness, fine lines, and deep wrinkles. Based on the results, the user receives a tailored skin aging matrix and product routine recommendation.
Similarly, Clinique's Clinicalreality app gives its users a 30-second skin analysis. Users scan the QR code on the website to access the app. Next, after the user takes a selfie, the application offers a personalized skin diagnostic. The report includes signs of dehydration, irritation, acne, fatigue, uneven texture, pores, lines, wrinkles, and loss of volume. The tool then offers customized treatment recommendations for each concern.
These tools are game-changers for brands seeking to gain a competitive advantage and position themselves as experts in their niche. More importantly, they also build consumer confidence and loyalty—crucial for driving customer retention and repeat purchases over time.
How Can Augmented Reality be Used in Marketing for the Beauty Industry?
AR is transforming marketing and advertising for beauty and cosmetics brands. Thanks to AR beauty apps and integrations, brands can gain a better understanding of what their consumers are looking for. Based on the information gleaned from consumer behavior, purchases, and interests, brands can offer more personalized shopping experiences.
Many of the service features already mentioned—such as virtual try-on mirrors, interactive packaging and in-store displays—have a direct marketing benefit as well. By recommending solutions, a company can match and market the correct products for its customers' needs. But the marketing uses don't stop there.
AR beauty apps allow users to share their transformation images with peers on social media and encourage in-app reviews. And by leveraging DOOH ads and visual search tools, brands can tap into new possibilities for engagement and recognition. Let's take a closer look at some augmented reality marketing examples.
AR Campaigns and Digital Out-of-Home Ads
Forget static and forgettable billboards—digital out-of-home (DOOH) ads are quickly becoming key to drawing in and engaging consumers. DOOH ads are advertising campaigns displayed on digital screens such as billboards. They are typically located in public spaces such as shopping malls, bus shelters, airports, and other high-traffic areas. These ads utilize digital technology to deliver dynamic, engaging, and sometimes interactive content to a wide audience. Giving a distinctive experience to commuters, shoppers, and errand-runners, DOOH ads help make a brand's offering more memorable.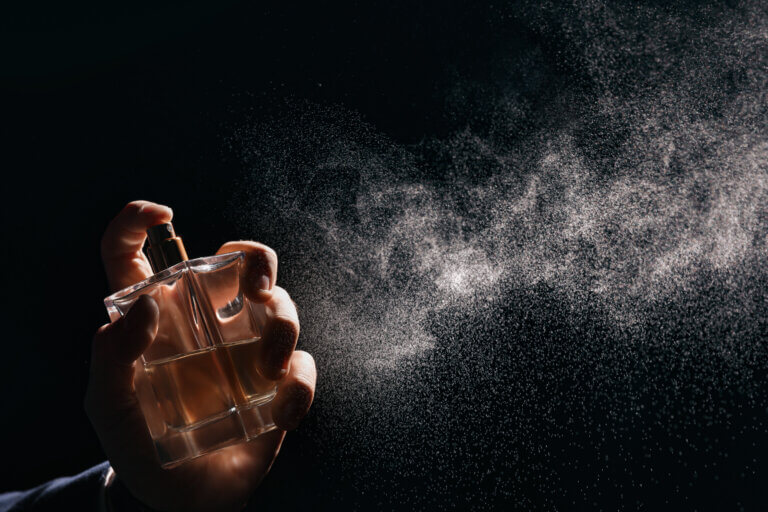 Mugler, for instance, created a DOOH campaign featuring augmented reality mirrors to promote the Angel Elixir fragrance. The AR mirrors were set up in malls and airports. As people moved past the mirror and virtually spritzed themselves with the perfume, they would transform into a constellation. In this way the AR technology makes the scent visually striking and unforgettable.
AR-Powered Search Tools
Keeping consumers loyal when their favorite products are discontinued or out of stock can be challenging. But AR-powered visual search makes it easy for customers to find a replacement instantly. Users can simply snap a photo of their current product and use it as a search filter.
Similar to AR makeup try-on features, users can virtually apply the recommendations that show up in the search results. Google, for instance, partners with major beauty brands such as L'Oreal, Estee Lauder, and MAC Cosmetics, allowing users to try on products that appear in search results.
What is the Future of AR in the Beauty Sector?
As evidenced, beauty brands use AR technology to move away from transactional shopping experiences and to focus on cultivating brand experiences instead—but consumers still want more.
Millennials and Gen Z consumers expect to connect with and access brands and retailers across multiple touchpoints. For these shoppers, there is little distinction between the physical and digital, with expectations of a seamless and consistent user experience across social, in-store, and digital touchpoints.
AR technologies help the beauty sector bridge this gap by offering the brand experience from anywhere at any time. Whether they're at home, at work, commuting, or in a store, users can access product information, personalized application tips, and make instant purchases that perfectly match their style.
Consumers today are also increasingly concerned with environmental sustainability. The physical product packaging used by the global cosmetics industry (120 billion units of plastic yearly) contributes significantly to landfills—in fact, it takes up 33% of global landfill space! Such packaging often includes single-use, non-biodegradable items such as applicators, removers, and sachets, leading to further environmental degradation.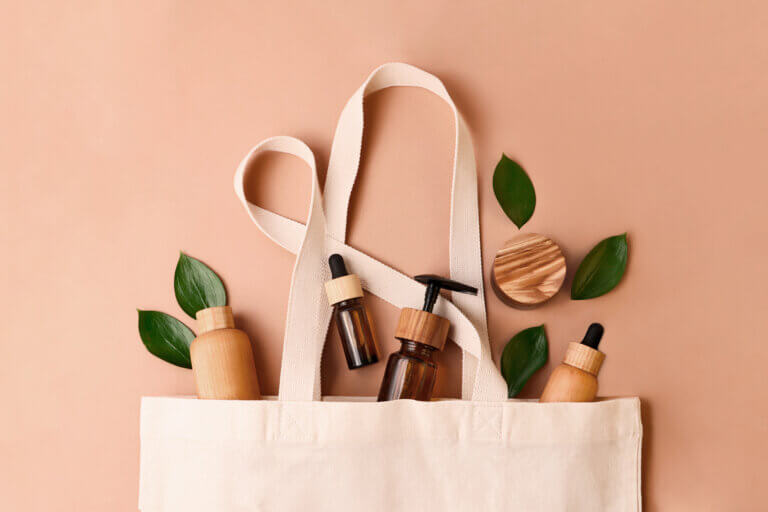 Virtual try-on applications help customers order what they actually want the first time around, helping reduce wasted products—and wasted packaging as well. Beauty brands can also market AR applications and services as a step to better sustainability, driving brand affinity with consumers. But it's not just basic care and product information—a business can also add environmental impact data to augmented reality experiences to educate customers on what it's doing to support sustainability.
Forays into the Metaverse are also on the horizon. As the lines between the physical and digital become more blurred, beauty brands need to meet potential customers where they are—and that means advertising in the Metaverse. Brands such as Charlotte Tilbury, Estée Lauder, Nars and Fenty are filing for Metaverse trademarks to stake their claim. Nars and Prada have already capitalized further, with each launching a team of "digital influencers" to interact with consumers virtually.
Estée Lauder SVP of global consumer marketing Jon Roman highlights that "the Metaverse is essentially limitless in terms of how one can express themselves through things like their avatars, and it's this that will unlock more surreal beauty looks, new areas of inclusivity and abstract self-expression."
Reimagining Your Brand With Innovative AR Solutions
The visual and hands-on nature of beauty products has often been a barrier for cosmetics brands looking to increase online conversions. But AR has proven a game-changer in recreating the in-person experience and giving customers confidence in choosing the right products.
It's not just online shoppers who benefit either—these tools enhance in-store experiences too, and help to create more engaging marketing experiences "in the wild" via elaborate DOOH campaigns.
Demand for AR solutions in the beauty and cosmetics space is only set to increase as digital natives occupy more and more of the market. Millennials and Gen Z already comprise a massive chunk of the space; Generation Alpha and beyond will only be more technologically adept. These consumers are the future of your business—and catering to their expectations and concerns is critical for sustainable success. Brands that do not leverage new technologies to engage consumers are at risk of becoming irrelevant in today's competitive market.
Rock Paper Reality delivers technology solutions to engage and empower your consumers. For more than a decade we've been helping companies harness the latest technologies and bringing their AR visions to life.
From Fortune 500s to start-ups, we help brands reimagine the shopping experience. Launch a live chat or request a call to find out how to enhance your strategy.