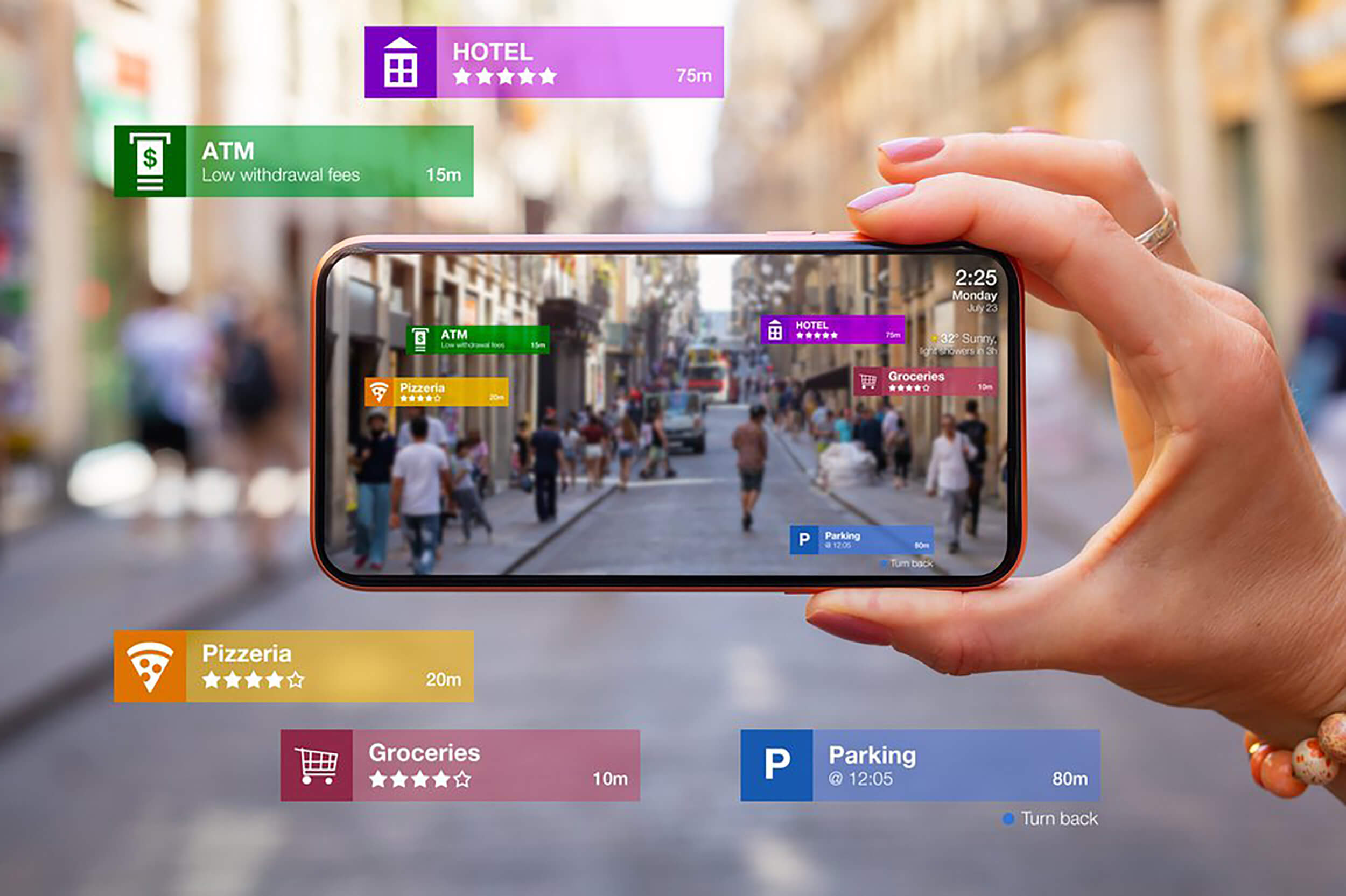 Augmented reality (AR) is revolutionizing the way we travel and interact with the world. From interactive maps and personalised recommendations to remote assistants and translation apps, the potential for AR usage in tourism is boundless. The virtual tourism market alone is set to grow at a compound annual growth rate (CAGR) of 30.2% between 2023 and 2028, to reach a valuation of $23.5 billion. There is no doubt that augmented reality is reshaping the tourism industry, empowering brands to remain relevant in a competitive and changing market space.
With informative overlays and augmented attractions, this transformative technology seamlessly blends the physical and digital to offer new immersive experiences. Augmented reality in tourism doesn't only enhance customer satisfaction but enables next-level marketing and opens up new revenue streams for travel businesses.
Let's explore the many ways that the use of augmented reality in travel and tourism can shake up your business with remarkable competitive advantages.
Key Takeaways
AR enables travel operators to enhance their services by offering simplified navigation, on-demand destination information, and eliminating language barriers.
AR helps agents and operators improve travel personalization—a key component to fostering engagement and customer satisfaction.
AR in travel opens avenues for new revenue streams and improves consumer confidence by allowing customers to gain detailed insights before committing to a booking.
AR tourism tools in hospitality establishments can significantly reduce operational and administrative costs. They can also help drive bookings to on-site services and improve guest experiences.
How Can AR Enhance Travel Experiences?
As the quality of augmented reality improves and increased accessibility leads to lower implementation costs, AR is becoming increasingly popular as a travel tool. Whether it's a museum visit or a trip to a foreign country, AR promises to change, improve, and expand the very nature of travel and tourism.
Enabling the Use of AR Travel Guides to Explore Destinations Virtually
Although the experience of travel is proverbially priceless, the truth is that it can put quite a dent in your client's pocket. An augmented reality travel guide can help ensure that the destination your clients spend their money on is just as beautiful as the brochure promises.
Using AR, tourists can explore famous landmarks, interactive museums, and natural wonders from the comfort of their own homes. They can view 3D models of iconic buildings like the Eiffel Tower or the Taj Mahal and even take virtual walking tours through bustling city streets or far-flung wilderness. An example of this is the travel app Antarctic Heritage Trust AR, which takes users on an expedition to Antarctica. Here a user can explore the icy landscape with 360º images and videos and access artefacts from the buildings.
AR also allows tourists to learn about the history and culture of a destination through interactive exhibits, historical reenactments, and educational games. Augmented reality travel apps can depict how an area looked in the past and restore historical scenes and events. It can also invite users to preview exciting new sites currently under construction.
Historik is a tourism app that recreates historic buildings and objects at specific points of interest. By pointing their mobile camera at a landmark, travelers can access a visual representation of the history and significance of the site. They can swipe through artefacts and even set up self-guided tours.
The Benefits of an AR Travel Guide
By allowing your clients to explore destinations virtually with integrated AR, you'll offer the following unique benefits:
Increased accessibility – AR technology allows people with limited mobility or disabilities to experience and explore destinations that might otherwise be inaccessible to them.
Improved buyer confidence – By first experiencing a destination virtually, travelers can make more informed decisions. When they book the real adventure, they'll be sure to pick the right option for them, reducing the risk of refunds and complaints.
Enhanced educational opportunities – AR can provide interactive and informative experiences that truly add value. It can be used to efficiently inform travelers about the history, culture, and natural wonders of a destination.
Leveraging AR to Navigate Unfamiliar Places
With its ability to blend the virtual and physical, tourists can use AR for navigation. When exploring an new area, a traveler can point their mobile phone camera into the street and sit back while an AR tourist guide superimposes directions on the view. With real-time directions and a visual orientation of where they are, they can navigate unknown places with ease.
For example, the AR tourism app World Around Me highlights nearby ATMs, restaurants, hotels, attractions, hospitals, shops, and transportation stops. Similarly, PeakVisor enhances outdoor activities by providing interactive guides for hiking trails, mountaineering, and adventure sports.
Using AR to Entertain Guests
AR can add a new dimension to your guest experiences at museums, art galleries, historical sites, and other attractions. Besides offering augmented reality tour guides on the traveler's mobile phone, AR apps can also offer real-time information about paintings, artefacts, animals, and more.
For example, Museum Buddy offers self-guided tours, object narrations, museum maps, and a wealth of information for some of the world's most popular museums. What would traditionally be a one-way viewing encounter can now become an immersive cultural experience, enabling visitors to truly submerge themselves in an era or environment.
Additionally, AR travel gaming apps such as Geocaching engage visitors in virtual treasure hunts or invite them to solve puzzles. This can take exploring parks, zoos, gardens, and historical sites to a new level of fun.
How Can AR Improve Customer Satisfaction in Travel and Tourism?
Integrating AR into customer experiences is key for travel and tourism companies that wish to stay competitive. In 2021, the AR market was worth $8.6 billion, and it is forecasted to grow at a CAGR of 38% by 2030.
This rapid expansion only serves as testament to how powerful AR is in helping businesses deliver better customer service.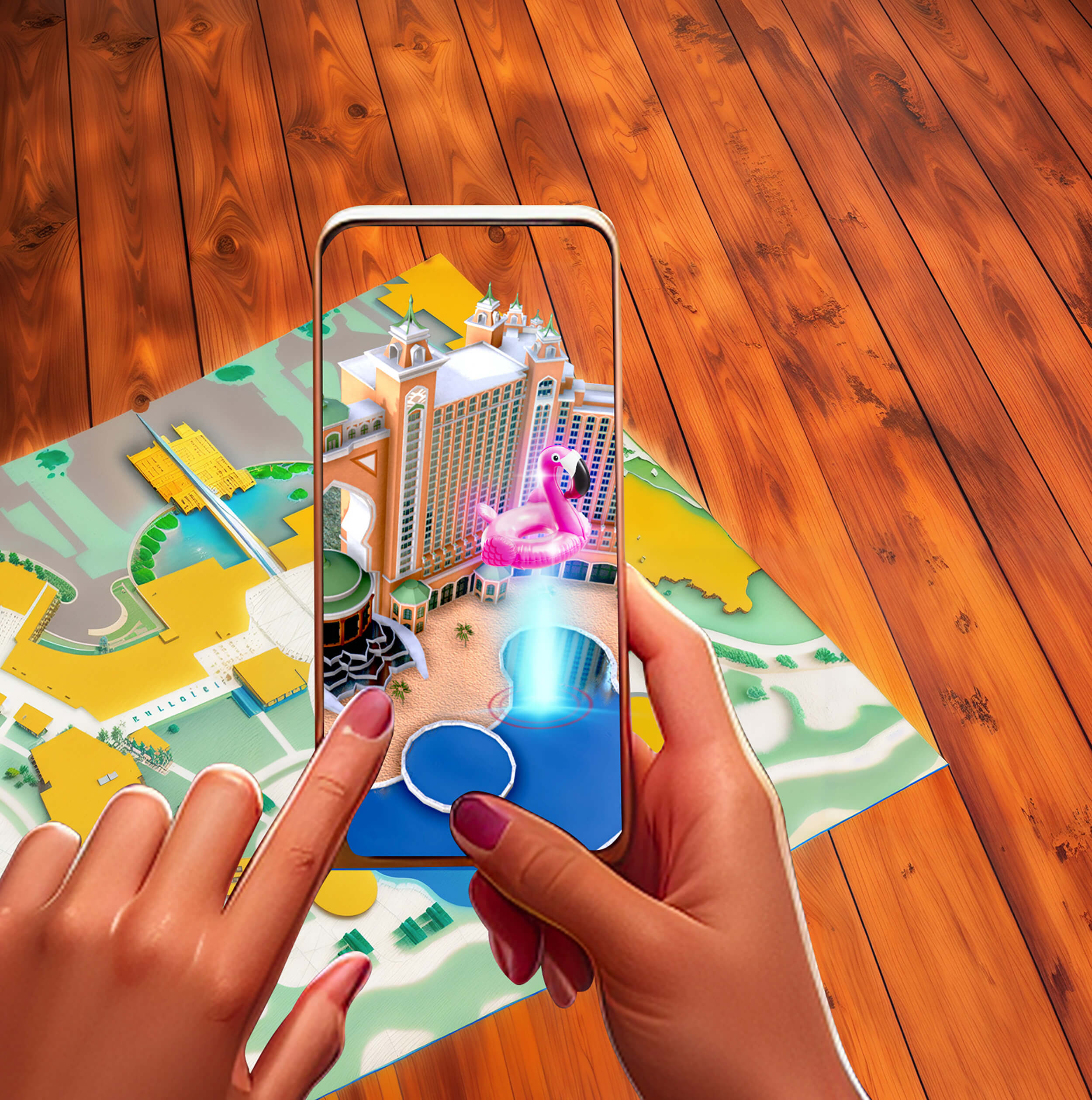 Using AR to Provide Personalized Travel Experiences
With competition fiercer than ever, the key to standing out is providing a high quality, uniquely personal experience. In fact, 63% of customers say they will stop using a brand if it uses poor personalization tactics.
With ready-made packages and all-inclusive deals, traditional travel itineraries and activities are often a one-size-fits-all approach. But what if you could tailor every part of your customer's journey, certain that they will love what they get? You can. With AR integrations and features, your clients can book a room after virtually browsing multiple options, seamlessly navigate points of interest to them, and enjoy interactive, tailored itineraries.
Improving Customer Communication and Collaboration Through AR
Using AR, customers can leave reviews and ratings for places they visit in real time. This feedback is invaluable for travel and hospitality businesses and can help to enhance communication with your audiences. You could also consider implementing useful features like AR avatars or virtual representatives to guide customers through their travel experiences. These avatars can provide assistance, suggest activities, and answer common questions, improving communication and customer support.
How Can AR Increase Travel and Tourism Revenue?
AR features can captivate visitors, streamline the travel experience and drastically enhance visitor interactions. From informative overlays to real-time translations, these tools can drive engagement, confidence and ultimately consumer spending.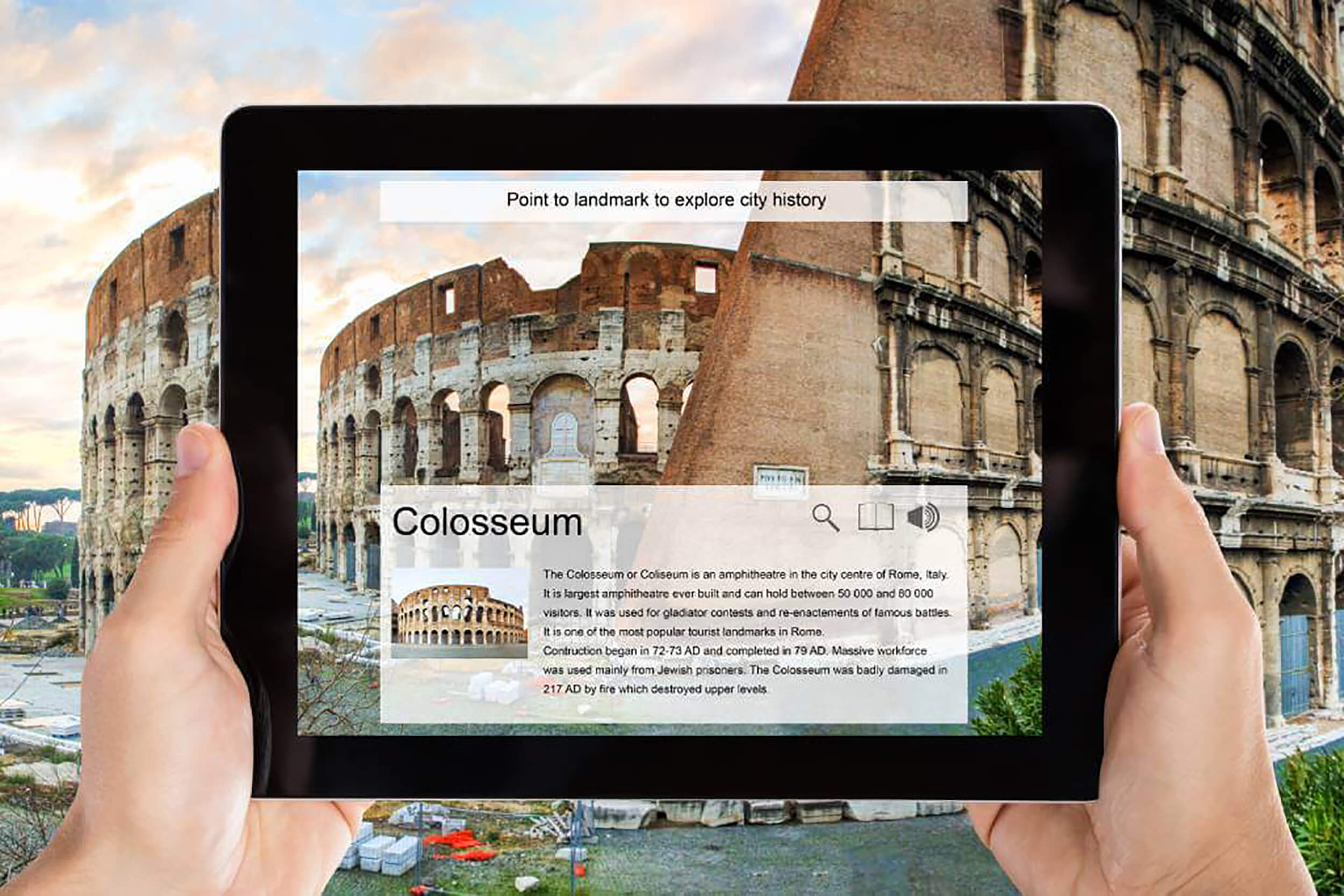 AR can also help travel and tourism businesses to move into new markets and expand their offerings in ways that differentiate them from their competitors. Here are some opportunities for building new revenue streams using AR:
Enhanced Virtual Tours
Users can explore destinations virtually, navigate attractions, and even interact with virtual elements in real time. This technology opens up opportunities to generate revenue through augmented tours, ticket sales, and partnerships with local businesses.
Virtual Shopping Experiences
AR technology can transform traditional souvenir shopping. Using AR-enabled apps or devices, tourists can virtually try on clothing, accessories, or test products before purchase.
This not only enhances the shopping experience but provides a unique way for travel companies to generate additional revenue. They can partner with local retailers to offer exclusive discounts and promotions for AR shoppers. This creates a win-win situation for both travelers and businesses.
Smartify's eShop platform, for instance, lets users access art from galleries like The National Gallery in London and buy prints, souvenirs, mementos, and gifts directly from their smartphone.
Augmented Advertising
With AR-enabled devices, marketers can create interactive and engaging advertisements that blend seamlessly with real-world environments. Featuring creative design work and animation, these campaigns extend your brand into the digital layer and can be highly impactful.
Gamification in Travel & Tourism
With integrated game-like features, users can participate in interactive challenges, complete quests, and earn rewards as they explore different destinations. Jurassic World Alive is a prime example of this. The app invites users to find virtual dinosaurs in different real-world locations, enabling them to learn about the ancient creatures at the same time.
Applying this concept in various settings can make travel more engaging and educational. It also provides opportunities for travel and tourism companies to generate additional revenue. They can offer premium game experiences, extra features, or in-game purchases and upgrades.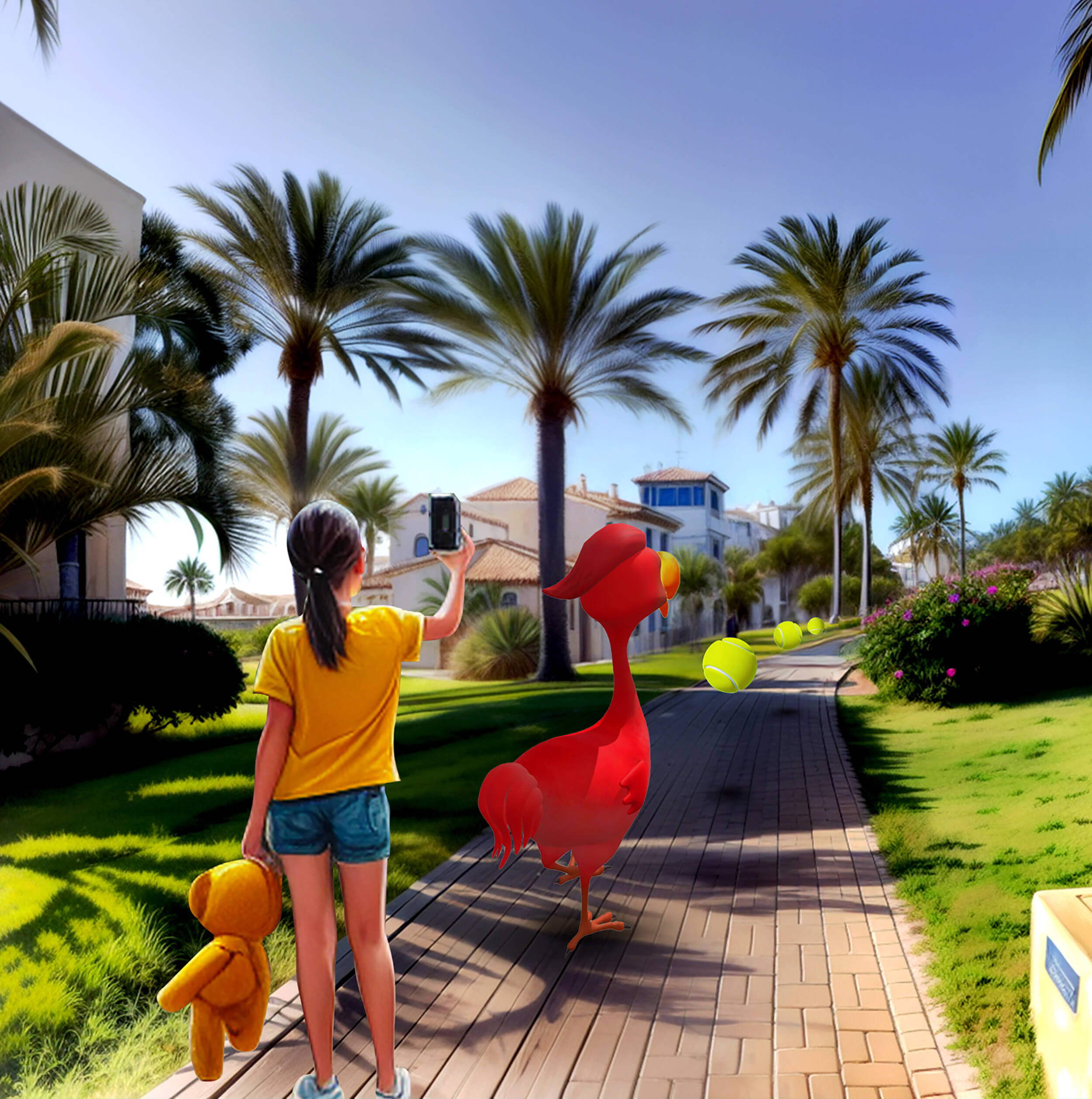 AR as a Tool to Boost Sales and Conversion
By providing virtual tours of destinations, cruise ships, and leisure facilities, travel agents and marketers give potential customers a sneak peek into holiday bliss. This can increase interest and likelihood of booking.
AR also makes it easy for travelers to book day tours on demand. They can browse and engage in activity options from within an app—and use the same app to instantly book the activity. This is especially useful for weather-dependent activities or to avoid long lines.
How Can You Leverage AR in the Hospitality Industry?
Leveraging augmented reality in hospitality has the power to turn your customer experiences—and your bottom line—around. AR tools can reduce operational, training, and administrative costs, improve the guest experience, and drive more bookings.
AR in Hotels
Holiday Inn uses augmented reality to offer virtual 360º hotel tours to prospective visitors. These tours help users to:
Decide which room size is the best fit for them
Get a realistic idea of amenities
Explore leisure and dining facilities
Evaluate the suitability and capacity of conference and event rooms
Explore room upgrade advantages and compare the benefits
Gain a comprehensive overview of the facility layout, room privacy, noise levels, and views
Furthermore, you can integrate AR with social media platforms to create interactive and shareable content, increasing brand exposure and engagement.
Training Hotel Staff Using AR
AR can enable employees to learn in a hands-on manner. They can use AR tools to visualize complex processes, simulate real-life scenarios, and receive real-time feedback. They can also practise handling customer-facing scenarios in an augmented environment and receive enhanced training with interactive guides and demonstrations.
Improving Guest Services With AR in Hotels
AR brings a whole new dimension of convenience to the way guests interact with hotels. With virtual concierge services, visitors can instantly access information, make bookings, and request assistance by simply scanning their surroundings. Whether it's making a dinner reservation, finding out how the entertainment system works, or getting directions to the fitness center, guests can access everything in the palm of their hand.
Holding a mobile phone camera toward the entertainment system might cause an overlay with instructions to appear on the screen. Or, as a user points their camera down the hallway, the AR application might superimpose directions to the restaurant, spa, or fitness center
AR can also enhance dining experiences. By scanning a menu, guests could access information or ingredients, or even see how the dish was prepared. They could also scan a bottle label, as in the case of Chronic Cellars Purple Paradise, to access games.
Similarly, prestigious Scotch whisky brand The Glenlivet partnered with Rock Paper Reality to create a virtual tasting room, so as to expand whisky access and education to a new swathe of younger consumers. The Sample Room experience immerses users in the heart of a 360º tasting room, where they can learn more about the story behind the brand's 18-, 21- and 25-year expressions—all by scanning a QR code on the back of a bottle. An AR tool like this offers twofold advantages for hospitality establishments: educate staff on the fly, and enhance the guest experience.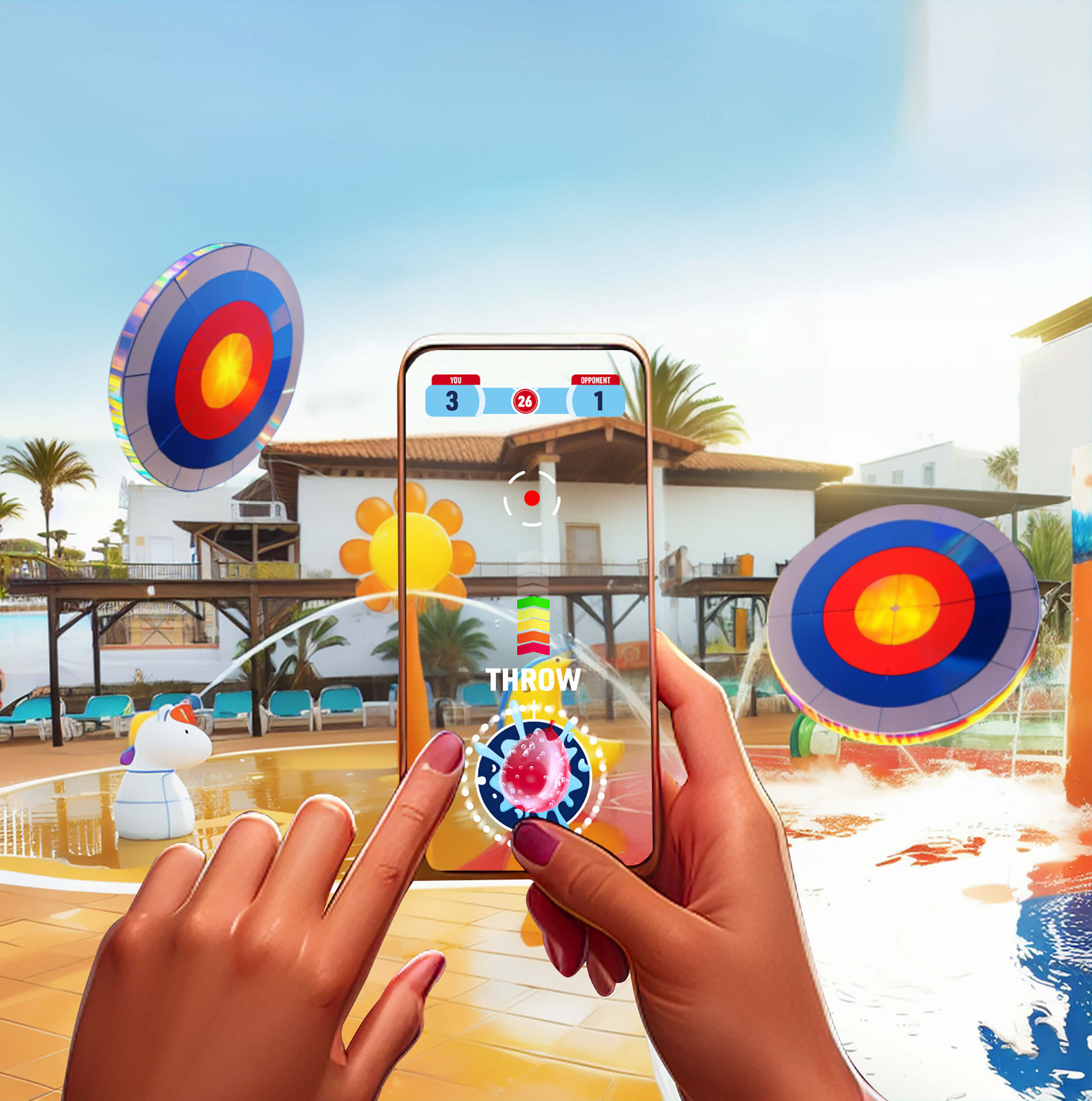 Augmented Reality: The Future of Tourism
Augmented reality is transforming the tourism industry and shaping the future of travel experiences. It holds immense potential to offer travellers a whole new way to explore and engage with the world around them.
Rock Paper Reality can help you take full advantage of this technology to drive growth in your travel or tourism business. From Fortune 500s to start-ups, we've been helping companies leverage the latest technology to drive growth strategies for over a decade.
Our team of highly skilled innovators looks forward to bringing your augmented reality vision to life. Let's chat.