Web-based augmented reality (webAR) is a powerful marketing tool that many brands are now leveraging. By using this technology in an effective and appropriate way, marketers can connect with their audience on a deeper and more interactive level than possible on nearly any other medium.
Creating a webAR campaign is a process that is similar to developing any other marketing campaign. However, those who use webAR enjoy disproportionate positive results, with studies by ARtillery Intelligence showing that AR increases a customer's intent to purchase 95 times more than the non-AR benchmark.
WebAR technology is relatively new, so its capabilities are consistently being upgraded and its market penetration is on an upward trajectory. How can brands use this digital technology to take their marketing to the next level?
Why Should Businesses Consider AR Marketing Campaigns?
Augmented reality is far from being a passing gimmick – it's a powerful tool that businesses can use to boost reach, engagement, and sales. Its power is rooted not only in AR's enjoyable and whimsical nature, but also in its effectiveness at delivering marketing messages.
AR gives brands the ability to bolster the potency of their marketing campaigns by connecting with audiences on an emotional and interactive level. In fact, AR has been shown to produce average dwell times of 75 seconds – 4x the length of video.
This effectiveness has created a huge demand for AR from many industries, including retail, entertainment, education, and pharma. As such, the AR industry is set to continue growing with forecasts indicating between $70 to $75 billion in revenue by 2023.
With such encouraging outlooks and proven effectiveness, the question really is why shouldn't businesses consider creating WebAR campaigns?
WebAR Overview
What is WebAR?
Web-based augmented reality is a frictionless way for people to enjoy AR directly from their smartphones. This technology enables users to participate in a uniform AR experience across various devices, browsers, and operating systems without the hassle of an app download.
The download required by app-based AR has proven to be a barrier to entry for brands interested in the technology. Users simply do not want to sacrifice their data and go through the time-intensive steps of downloading an app. Furthermore, creating an app that is compatible across different phones and operating systems is both expensive and difficult.
WebAR succeeds in doing away with all of these barriers by enabling people to instantly access AR without a download. This results in a smooth user experience, greater reach, higher conversions, increased shareability, and ultimately, more sales.
Compatibility With Browsers and Mobile Devices
All WebAR requires to function is a device's camera and browser. This means that most mobile devices already possess the necessary framework to support it. This gives the technology broad compatibility.
Phone manufacturers such as Samsung, Apple, Xiaomi, Huawei as well as browsers including Safari and Chrome support WebAR. This gives agencies the ability to create a uniform AR experience for users across multiple platforms and devices.
The versatile nature of WebAR is an advantage of this technology, allowing it to reach twice as many devices as its app-based counterpart.
Tracking Platforms
Image Tracking
Image tracking is an AR feature that enables the superimposition of digital content on top of targeted images. Using Computer Vision technology, the software can recognize and track specific real-world AR triggers, known as Image Targets. These targets can be anything a developer chooses, such as a wine bottle, clothing label, or ID tag.
Image tracking requires a few features that most smartphones come equipped with, such as an RGB camera and gyroscope accelerometer. These features enable the software to perform essential AR functions, namely defining the position and orientation of a device, light estimation, and surface identification.
The result is a WebAR experience that allows users to enjoy high-quality digital objects synched on top of the real world.
Face Tracking
This mode of AR allows developers to create experiences that overlay fun and interactive filters on a user's face.
This immersive experience gives brands more than just the option of creating wacky face filters. Face tracking AR can also be used effectively to allow users to try on various facial accessories and make-up. Agencies can also create immersive games using this technology.
Face tracking works by using a device's camera to capture video images. These images are then are transmitted to face-detection software. This software then tracks the face within a video stream, even analyzing features and expressions in real-time.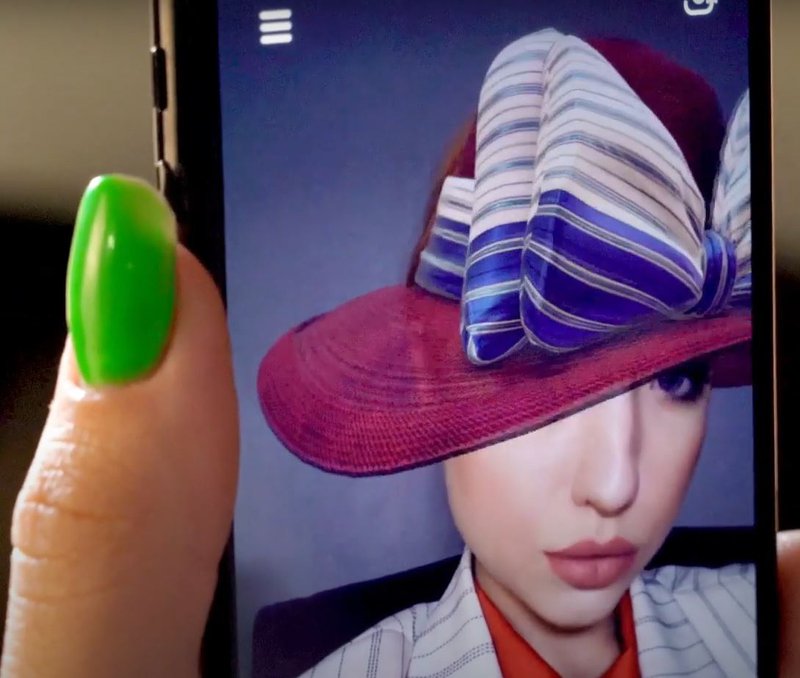 World Tracking
World Tracking web-based augmented reality creates markerless experiences by recognizing an environment's surfaces. This platform is often combined with Image Tracking software. This creates an experience that keeps a target as the focal point while interacting with the surrounding environment.
World Tracking is so immersive because it allows AR to incorporate environmental contexts and world understanding. This enables Image Tracking experiences to employ additional levels of both realism and freedom, creating an environment-aware augmented reality experience.
The World Tracking process works by combining motion-sensing information with computer vision analysis of a scene using a device's camera. The software is able to recognize specific features and their positions, resulting in an interactive and immersive AR experience.
How Does WebAR Work?
Web-based augmented reality uses a device's sensors to superimpose position-tracked digital images onto a real-life scene. These sensors include a gyroscope, RGB camera, accelerometer, and magnetometer.
These sensors give WebAR software the capacity to create experiences with the following features:
Six Degrees of Freedom
Six Degrees of Freedom is the ability of AR software to track a device along three axes of position and three axes of orientation. These axes define where a device is relative to its 3D environment. This enables AR software to sync a 3D image on top of the real world.
Camera Stream
WebAR requires access to the field of view and perspective of a device through its camera. This allows for synchronization of the augmented and real world.
Scene Understanding
Web-based augmented reality uses the ability of a device to recognize surfaces and estimate light. This environmental understanding allows AR to realistically place a 3D object within the context of its surroundings.
Cloud-based CMS
The fourth feature that WebAR requires is a cloud-based content management system (CMS). This technology allows a WebAR experience to be activated by a camera's recognition of embedded triggers or links in an environment.
These triggers can include chosen images, QR codes, URLs, and near-field communication (NFC) technology. This allows users to enjoy an interactive and seamless webAR experience wherever the triggers are located.
Planning WebAR Campaigns
Why Should Brands Consider WebAR?
Businesses across various industries are beginning to see the value of web-based augmented reality. These brands are enjoying the benefits that the medium provides for shopping, education, equipment repair, gaming, and more.
Augmented reality has further increased in value during this period of global lockdown. The technology effectively returns interactivity and real-life dimensions that users and customers have lost.
Augmented reality is a powerful tool, but unless the experience is hassle-free for users, it will become an untapped medium. Web-based augmented reality provides the seamless experience that app-based AR lacks by enabling AR to be enjoyed across different devices without a download.
High-Performing Cases
Saatchi Art
The "View In My Room" WebAR experience developed by RPR for Saatchi Art allowed customers to view over 1.4 million works of art in their own homes prior to purchase. This AR deployment, the largest for an e-commerce site to date, sought to address the issue that 70% of art buyers are hesitant to purchase online because they can't view the piece in advance.
SaatchiArt.com would regularly record over 2 million visitors per month from 110 different countries. However, since the View In My Room deployment in 2019, the company has seen a significant shift in customer behavior.
Today, Saatchi Art Mobile records more users than the desktop version. Mobile transactions have thus soared, registering 100% growth year-over-year.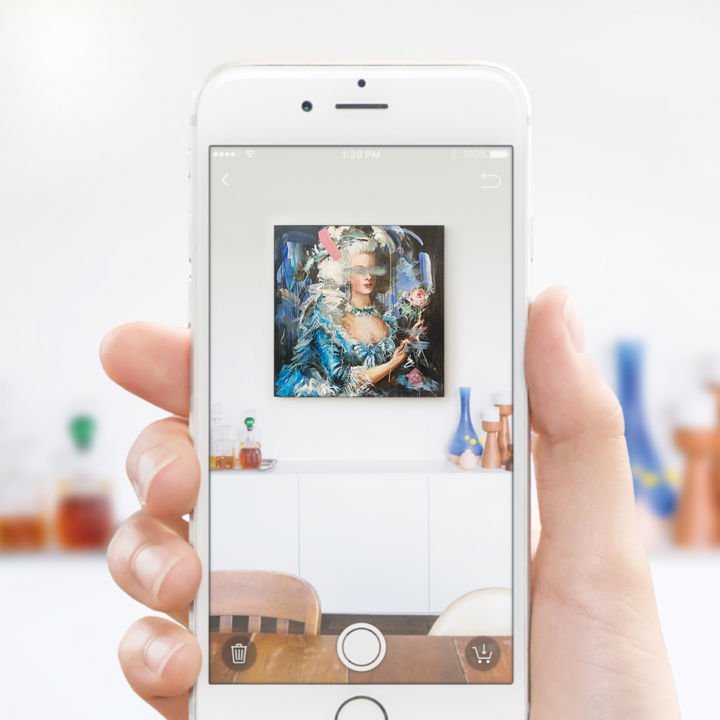 Purina 28-Day Challenge
Purina's "28-Day Challenge" is another example of a successful WebAR deployment. The experience guided users through the positive changes they could expect their pets to enjoy if shifted to a Purina diet. The AR made use of impressive digital models, featuring instant world-tracked pet avatars with movements based on their real-life counterparts.
The WebAR experience garnered a staggering 172 million impressions. The average playtime of the AR challenge was 30 seconds, with 25% of users fully engaging by capturing and sharing their experiences.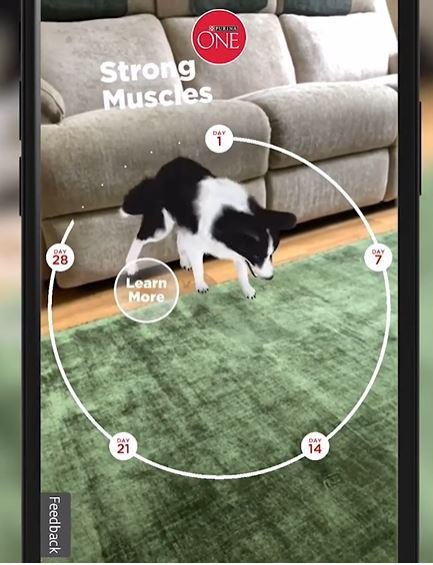 Shopify
Shopify successfully used WebAR to create an immersive and useful online shopping experience. The digital marketplace used the technology to allow customers to explore 3D models of products prior to purchase.
The experience came packed with features. It allowed users to enlarge items for closer inspection, provided a 360-degree view, and even let patrons customize their items, choosing from different color and model variations.
The numbers collected from Shopify's WebAR deployment are impressive. Products using AR enjoyed a 94% higher conversion rate than those without. Some brands were even able to increase conversion rates by up to 250%. It was also shown that 40% of shoppers were more willing to purchase a product if they were able to inspect it first using AR.
Market Trends and Adoption
WebAR is rapidly growing in popularity and revenue. ARtillery Intelligence released a report that projects a 19.6% compounding annual growth rate (CAGR) of worldwide VR revenue between 2019 to 2024.
The same report details an expected enterprise AR spending growth from $1.23 billion in 2019 to 4.03 billion in 2024, an impressive 26.7% CAGR. Another Future Forecast report says that by 2030, $1.92 trillion will be added to the global economy through augmented reality.
Clearly, WebAR is a medium with nearly limitless potential for growth. This is partly due to the consumer make-up of the tech, as most AR users are Millennial and Gen Z consumers.
Businesses have caught on to the massive benefits of leveraging augmented reality technology, with 9 out of 10 brands indicating that they plan to include WebAR campaigns in their marketing mix.
Web-based augmented reality can transform the way that agencies market. While the industry is still relatively new, all signs point to it becoming an essential part of any brand's marketing strategy.
AR Outperforms the Status Quo
By nature, web-based augmented reality is a truly interactive and immersive experience. This allows marketers to connect with their customers on an emotional level that other forms of media simply can't reach.
Artillery Intelligence has collected data that supports this. Brands that used AR enjoyed outstanding results, with some showing a 520% increase in intent to purchase from their customers over the next six months.
Brands such as L'Oréal and Herschel Supply Co have already taken advantage of this powerful marketing medium. The former has tripled conversions once deploying AR that allowed customers to try on make-up before purchase. Herschel has reported a 152% increase in revenue per visit after launching an AR furniture visualization platform.
While impressive, these numbers are not too surprising to those familiar with the effectiveness of WebAR.
Studies show that there is a 50% drop-off for experiences that take over 30 seconds to load, such as app-based AR. Even after downloading, there is a further 75% reduction in users who engage beyond the first interaction. This means that a lengthy download process can lead to up to an experience losing up to 90% of its audience.
Your Brain on AR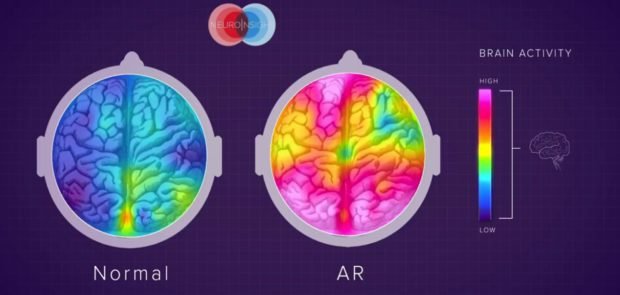 Why is AR so effective? Augmented reality has three primary effects on the brain that contribute to its impressive results in marketing:
High Attention Levels
Capturing the attention of a consumer is something that costs businesses a lot of time, effort, and money. AR naturally captures a user's interest, driving 1.9 times more visual attention than nearly any other medium.
Effective visual communication also results in emotional intensity. Emotional intensity dictates what information the brain stores or encodes into long-term memory. Naturally, the more marketing messages an audience remembers, the better.
Surprise Response
AR also has the capacity to "surprise" the user. This means that people are still receptive to the relatively novel technology.
This ability to provide a surprising and emotionally charged experience is set to carry on in the near future as AR technology continues improving. These improvements enable developers to create ever more compelling and immersive experiences.
However, it's important to keep in mind that as augmented reality becomes more integrated into people's daily lives, this surprise response is likely to decrease.
Improved Memory Encoding
As mentioned, AR has an enhanced capacity to encode itself into a person's long-term memory – it has been shown to facilitate up to 70% higher levels of memory retention compared to other channels.
This makes the technology a very powerful tool to deliver key marketing messages that a company would want its audience to retain. This secures both a wider and more engaged reach.
WebAR Experiences
WebAR uses a device's sensors to create a range of experiences for users. Each type of experience has its own benefits as well as an objective for which it is best suited.
Brands seeking to develop their own WebAR deployments should carefully consider what type of experience best accomplishes their goals.
Here are some of the most common types of WebAR experiences:
Marker-Based
Marker-based AR is most useful when an agency wants to trigger an experience based on a real-life object. Examples of these triggers can be an appliance, packaging, QR code, or page of a book.
An example of marker-based AR is a deployment by Siduri Wines and developed by Rock Paper Reality. This experience was activated by a user scanning a QR code on the bottle and pointing their camera at one of the company's bottles of wine.
Once triggered, the business's founder would climb out of the bottle and entertain customers with interactive shenanigans. This experience brought the company's ethos to life, that "serious wine and serious fun aren't mutually exclusive."
Siduri Wines was also the first brand to use this type of AR to interact with cylindrical-shaped objects, showcasing the ever-developing nature of the technology.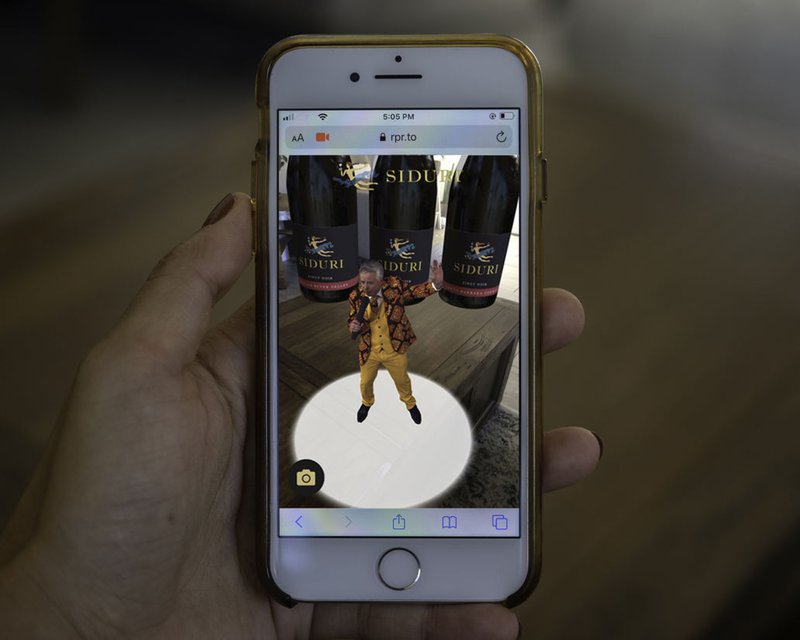 Markerless
Markerless WebAR is used to display digital content in a real-life location. This is used for deployments that do not require an "anchor" in a real environment, allowing virtual objects to be overlaid on a surface or in midair.
This technology has a wide range of uses, as it allows users to preview items in a location prior to purchase. Furniture, appliances, and clothing are well-suited to this type of AR as it removes the uncertainty of how a physical item will look once received.
Saatchi Art, an example from earlier, is an example of markerless webAR technology. The art retailer used AR to give customers the ability to preview over a million works of art in their homes. As users were able to have an accurate representation of how a piece would look prior to purchase, online sales were increased.
Volumetric Capture
Holographic WebAR (referring volumetric capture— the act of studio capture of people and objects to import as webAR assets) represents a step forward in the complexity of the technology.
The technology gets really interesting when combined with marker-based AR. Siduri Wines used holographic AR in tandem with marker-based AR to create their memorable experience.
Not only was the brand's founder an interactive holographic object, but he was also anchored to a real-life surface and triggered by a specific marker – in this case, a bottle of wine.
WebAR Portals
WebAR Portals are a very immersive experience, taking users through a "portal" into a digital world. When triggered, this type of AR takes viewers to a new virtual environment. Users then navigate this world by handling their smartphones in real life.
WebAR Portals are useful for bringing a new level of immersion to advertise travel experiences, restaurants, concerts, art galleries, and much more. Companies are now using web-based portals for virtual events that allow people to interact with the brand and experience digital representations of their products.
Pepsi used WebAR Portals to give Super Bowl fans a look inside the Super Bowl LV Halftime Show Commercial. Users were able to immerse themselves in the action of the commercial with a 360-degree experience, even getting up close and personal with award-winning artist, The Weeknd.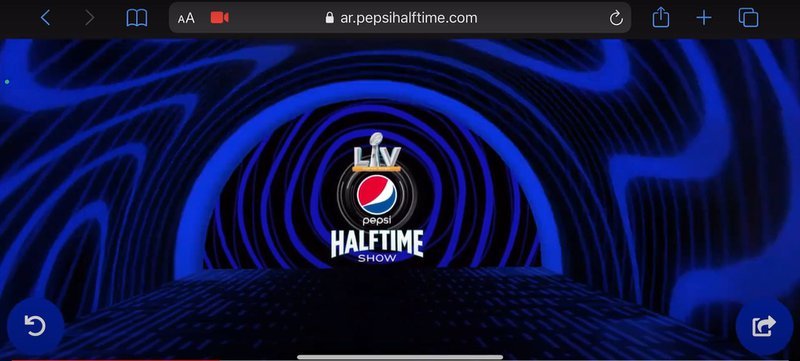 Face Tracking
This is one of the most famous AR experiences, being used to great effect by Snapchat, Facebook, Instagram, and many other social media platforms. Face filters have become so common in our everyday lives that most people don't even realize that they are a type of AR.
This technology is not just limited to augmenting social media campaigns. Face Tracking is also commonly used for product try-ons such as sunglasses, hats, and make-up.
There exists plenty of technological frameworks to support face tracking, giving designers the power to develop fun and creative filters. 8th Wall Face Effects has many templates for developers to use, providing them with a starting point to create custom visual effects.
One particularly delightful example of a recent face tracking experience was created by Rock Paper Reality for the San Francisco Ballet. After scanning the masks and costume accessories using a process called photogrammetry, Rock Paper Reality made them ready to deploy as AR face filters on Instagram. Based on the Ballet's yearly production of Nutcracker, which unfortunately they were unable to perform last year, the filters included the Snow Queen, the Sugar Plum Fairy, and the Nutcracker himself.
Personalization
WebAR is a dynamic medium that allows agencies to provide users with a personalized experience. This is useful for brands that want to create unique and memorable interactions with their customers.
Sberbank launched a WebAR experience right before International Women's Day in Russia. They created a deployment that allowed people to send personalized bouquets to a loved one. The customization options included the type of flowers, color selection, name integration, and a custom image upload.
The WebAR campaign was a huge success. An incredible 94% of users created and shared a custom bouquet. This achievement reflects the power of WebAR to connect with people on a personal, emotional level.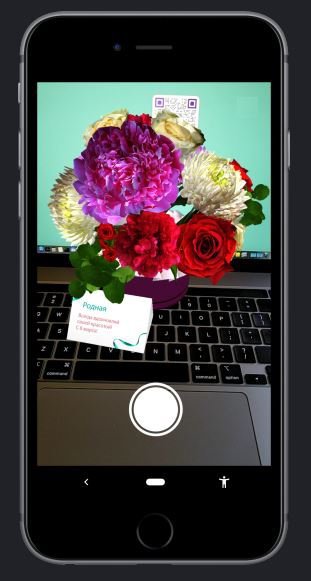 Define Your Marketing Goals
The creation of a marketing campaign using web-based augmented reality follows the same principles as creating any other campaign. As such, the first step is to define the project's goals.
Having clearly defined goals provides direction to a campaign, making sure that all the parts pull in the same direction. This unity is essential for the marketing efforts to reach their full potential.
In the context of a webAR campaign, the technology needs to work towards achieving these goals. If AR is appropriate, then integrating it into the campaign is beneficial. However, if the technology doesn't offer any additional value to the audience or it makes more sense to use video to tell your brand's story, save webAR for a better-suited campaign.
Starting with a solid set of marketing goals provides the framework for everything else to fall into place. When choosing goals, make sure that they are SMART. This stands for specific, measurable, attainable, realistic, and timely.
WebAR Marketing Strategy
There are three typical processes that brands must consider to create effective webAR campaigns. Carefully going through each process increases the chances of success for any marketing endeavor.
Consumer Journey Mapping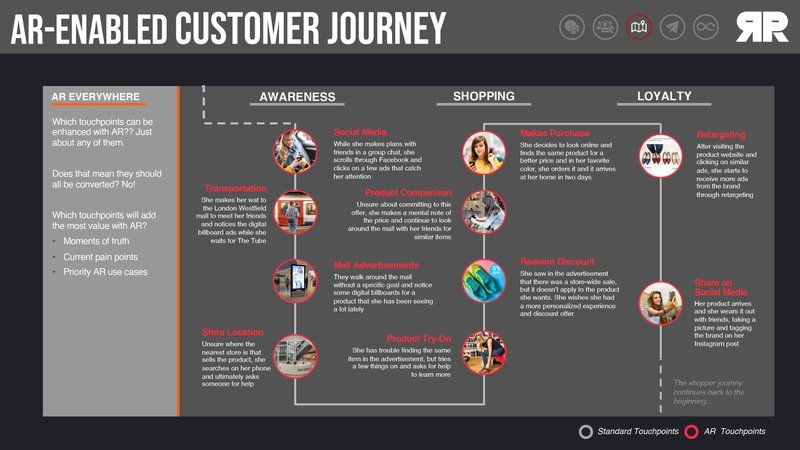 This process is important because it helps brands understand their customers more deeply. The better the understanding of a clientele's expectations, barriers, and experiences, the better an agency can tailor to their needs.
Creating a positive client interaction is essential to stand out from the competition. 80% of customers consider their personal experience with a company to be as important as its products.
As webAR is still a novel technology to most consumers, it's vital that developers carefully map out the consumer journey. Activating and interacting with the AR needs to be effortless for it to be successful.
Having a reward, catchy hook, clear instructions, and a call-to-action all contribute to an enjoyable AR experience. As such, each feature needs to be given careful thought.

Target Persona
A target market is different from a target persona. The former focuses more on demographics such as age group, gender, and income bracket. A target persona is a personal snapshot of a typical person from the target market. They are fictional representations grounded in an understanding of an audience on a personal level.
Target personas replace statistics with a person who has actual habits, goals, challenges, and dreams. An agency with a clear grasp of the target persona they are talking to will be able to develop tailored webAR experiences. By reaching an audience this way, emotional and memorable interactions are easier to create.
Channel Deployment Strategy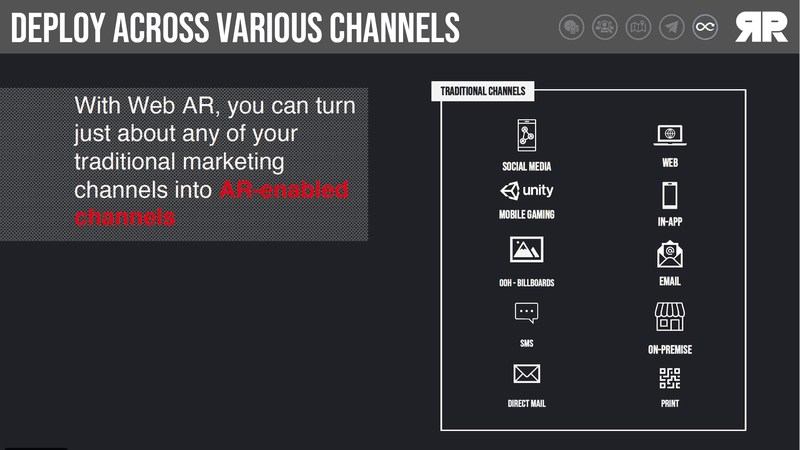 With the huge amount of marketing channels available to brands today, choosing the best ones to focus on is important. This process is called channel strategy, and it involves picking the most appropriate platforms and channels to use to achieve a campaign's goals.
Picking a set of channels to focus on requires a combination of analytics and consumer insights. These two sets of data guide agencies towards the most effective way to reach an audience within budget.
For example, a makeup brand seeking to use AR Face Filters to promote their products is better off using Snapchat instead of a professional channel such as LinkedIn.
A well-researched channel deployment strategy optimizes the reach of a marketing campaign. It ensures that brands can effectively engage their audiences on the platforms they frequent most.
<h2″>Write a Creative Brief
When a brand has defined its marketing goals and created a strategy to achieve these, it's time to write the creative brief. While developing this brief, it should be kept in mind that it will eventually be shared with a chosen AR partner.
As this partner will be responsible for bringing the brief to life, it needs to be detailed, aligned, and realistic. Providing this gives AR developers the framework upon which they can craft creative ideas to support the marketing goals.
The brief needs to be specific enough so that all teams are working together. Interactions between future customers and the software need to be defined early on. What kind of experience will resonate with users? What is the call to action? What type of webAR technology should we use? When dreaming up the AR experience, make sure that it is both realistic and sharable.
Determine Your Campaign Metrics
It's important for a webAR campaign to have measurable objectives. This lets a brand know if the campaign has been successful and what areas to focus on if it hasn't.
WebAR campaigns can use Google analytics. Important information such as the number of unique users, call-to-action taps, views, and dwell time can all be gathered throughout the deployment. This information can then be used to improve marketing efforts moving forward.
These metrics should be defined early on so that an AR partner can track them from the onset.
Producing WebAR Campaigns
Identify a Winning Campaign
Before jumping into the actual development of an AR deployment, it's important to revisit the ideas behind the campaign. A winning webAR campaign addresses five important questions:
Does it solve a problem?
Does it create a positive interaction?
Does the webAR meaningfully enhance the real world?
Does the technology integrate with a larger marketing strategy?
Is the experience accessible and easy to use?
If the answer is "yes" to all of these questions, then all the pieces are in place for a successful webAR deployment. It's important to be honest here and continue working on the campaign if it doesn't address all five of these questions.
Wireframe to Prototype
Once a creative brief has been agreed upon by both the brand and AR partner, it's time to begin the creation of the actual webAR experience.
The first step agencies take is to create a wireframe guide. This is a basic visual representation that depicts the skeletal framework of the AR deployment. Wireframes allow developers to easily re-arrange the flow of the experience to best accomplish the chosen objectives.
The next steps are to develop a mood board and then a storyboard. This process takes the wireframe sketch and upscales it into a visual representation of the AR experience. This is where the overall look of the deployment is determined. All areas of user interactivity should also be defined here.
Once everything has been approved by the brand, the coding and development of a prototype can begin. A prototype allows for changes to easily be made to a deployment based on initial feedback from users.
Effective prototypes should include three essential features:
Call-to-Action (CTA)
A CTA answers the question, "what do you want the user to do at the end of the experience?" The desired action should be based on the webAR campaign's goals. Examples of CTAs include sharing the experience, making a purchase, collecting discounts, and linking to a landing page.
Simple works best here, so only use 1-2 CTAs so that users do not get overwhelmed.
Interactivity Types
WebAR experiences work best when they are uncluttered and straightforward. This means limiting the ways a user can interact with the software.
The three most common interactivity types are the ability to share, re-center AR experience, and the back/home button. Other types include purchase, screenshot, and restart experience. Make sure that the chosen interactivity types facilitate the goals of the campaign.
As with CTAs, keep the interactivity simple. Avoid clutter and using too many buttons. If there's a need for deeper interaction, use a collapsible menu to help organize.
Clear Instructions
Capturing your audience's attention is important, keeping it is even more so. Once a user opens up the webAR experience, they need to be guided right away on what to do. Concise and eye-catching instructions are essential to reduce drop-offs and increase dwell time.
Conduct live usability testing and embed heatmaps to determine how users interact with the deployment. This data can help developers fix bottlenecks and increase clarity.
Choose WebAR Channels and Technologies
Channels and Triggers
The chosen channels for the rollout of an AR experience should align with the overall campaign strategy and goals. Appropriate channels need to address a market's communication touchpoints, technological capabilities, and preferred mode of interaction.
Once the channels have been chosen, then suitable triggers must also be determined. Choosing a trigger is best done by putting yourself in the shoes of the consumer. Where, when, and how will they encounter and interact with the augmented reality?
If the audience is likely to come across your deployment in a physical space such as a supermarket or grocery, then an image-based trigger such as QR code or product is suitable. If your webAR campaign is digital such as email or social, you can create URL hyperlinks that redirect users to the WebAR experience.
WebAR Technology Platforms
AR.js
This is a software development kit (SDK) used to build WebAR experiences that use marker and location-based technology. AR.js is easy to use, open-source, and free of charge. It also offers cross-browser compatibility for both Android and iOS platforms.
This framework aims to further advance webAR technology by enabling 3D content that is "composable, interoperable, and standardizable.
8th Wall
A comprehensive SDK, 8th Wall provides developers with a host of functions to create immersive webAR experiences. The platform comes with powerful surface detection, lighting estimation, occlusion, and relative scale recognition.
This framework also comes with project templates, source control, remote debuggers, and a fully-featured code editor. It also supports combining world tracking and image targets, allowing for the creation of a truly realistic WebAR experience.
8th Wall is compatible across both iOS and Android systems.
Hire a Technology Partner
As web-based augmented reality is a continuously evolving technology, it can be difficult for a standard digital advertising agency to keep up. They tend to not have in-house developers with the necessary coding skills or understandings to create enterprise WebAR.
In order to get the most out of this medium, brands should consider working with a specialist AR technology partner. These partners will come with a team of dedicated software developers familiar with webAR. They will be able to analyze the project to choose which AR SDK is best, what kind of experience is realistic, and how much effort the campaign will require.
An experienced technology partner can help not just with the technological aspect, but also with the overall webAR campaign. They will be able to see how to best integrate AR within the big picture of the marketing strategy. A good partner will also use a data-driven approach to streamline the campaign while bringing it to life with sound creative ideas.
Choosing a WebAR Partner Agency
Choosing a competent WebAR technology partner is very important. Here are some questions which brands should address when assessing the right WebAR agency:
What skills does the agency have outside of webAR technology? It's important to find a partner who is also experienced in marketing, advertising, and design.
What services are offered in-house (development, creative, strategy)?
What are some successful campaigns managed by the agency in the past?
What performance metrics from past campaigns can the partner provide? Look for engagement time, marker scans, and click-through rates.
Will there be a dedicated project manager who can support the creation process from start to finish?
What is the warranty for development? Does the agency offer post-development maintenance and updates?
What brands have the agency worked with before? Try to connect directly with these companies and ask how their experience was.
A competent webAR development partner should be able to answer all of these questions and more. Their approach should clearly identify their technical, brand, and business acumen while setting realistic expectations to deliver ROI.
Conclusion
WebAR is an exciting technology that will continue to penetrate and influence our daily lives. It allows brands to reach their market in an immersive, interactive, and entertaining way. WebAR facilitates marketing messages that are delivered to and retained by audiences more effectively than nearly any other digital medium.
In order to get the most out of web-based augmented reality, it's important for brands to find a competent and experienced AR partner. Rock Paper Reality (RPR) is a veteran in the industry with over a decade of experience at the cutting edge of the technology.
RPR has created dozens of successful webAR campaigns for brands such as Lenovo, Microsoft, and Netflix. Working with clients from conception to deployment, Rock Paper Reality has provided partners with the benefits of best-in-class augmented reality.
If you're interested in WebAR and taking your marketing to the next level, visit Rock Paper Reality and get in touch.