WebAR Marketing For Beer, Wine, And Spirits
WebAR in the beverage industry is capable of bringing ideas and stories to life like no other marketing medium. Marketers have long been aware of the power of this technology to immerse and stick in people's minds. As such, many brands now consider AR, and WebAR in particular, as a vital part of their marketing mix.
The beverage industry is no exception to the popularity surge of WebAR. It's only natural that such a competitive landscape would drive brands to seek out any advantage they can find. Augmented reality offers limitless potential due to its ability to drive sales, communicate values, reach new markets, and elevate packaging.
With revenue from the e-commerce food and beverage industry in the United States set to grow to 25.7 billion dollars by 2025, it's important to understand what WebAR can do for you.
Benefits of Using WebAR in the Beverage Industry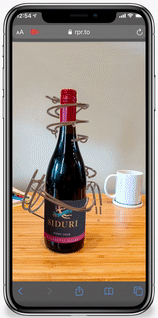 Web-based augmented reality offers a wide range of applications across industries such as manufacturing, sports, entertainment, retail, and more. When you understand the advantages of AR, it's easy to see why it's taking the beverage industry by storm.
Reaches New and Wide Markets
Augmented reality, and WebAR in particular, is an effective way of reaching and engaging with new customers. WebAR is instantly accessible, enabling it to reach most smartphones and browsers across the world. This means that over 6 billion devices are capable of running webAR experience simply by scanning a QR code or tapping a link.
This accessibility enables brands to create viral marketing campaigns. Creating a viral campaign is difficult, but WebAR gives developers tools to bring fresh and unique ideas to life. Experiences such as selfie filters and gamified content on packaging are not only fun but can increase brand retention by 70% over videos. This encourages users to share the experience with others in their social circles. This builds a buzz and unlocks new audiences.
A well-executed WebAR experience also encourages the most effective form of marketing out there – word of mouth. People love talking about unique experiences and interactions, and AR is one of the most unique experiences out there.
Increases on-Site Sales
In line with many industries, growth in online alcohol sales exceeds that of brick-and-mortar sales. However, just because online channels are growing quickly doesn't mean that vendors should lose focus on on-site sales.
WebAR in the beverage industry can encourage on-site sales by offering experiences that capitalize on the social and fun nature of going out for drinks. Experiences involving games, prizes, and discounts can be triggered on-site through interactive packaging or a QR code. These experiences can be used to encourage interactivity among patrons while sharing information and freebies about the brand.
Connects with Customer Values
Millennials are a generation with a unique set of values that brands must understand in order to connect with them. Some of these values include a concern for sustainability, social equitability, health, and low waste. Millennials bring these values into their consumer lives, with 52% of them preferring to shop at retailers that share their values.
WebAR allows brands to engage with customers on issues that are important to them. For example, a beverage that sources fair trade ingredients could design an experience that brings customers straight to these farms. Another example is that a health drink could take customers on an interactive experience detailing the health benefits of the beverage.
Shares Your Brand Story
Aside from sharing brand values, WebAR is also an effective way to share your brand story. Some of the most iconic brands in the world are beverage brands, so standing out in such a competitive landscape is challenging. In this environment, building brand equity through telling your brand's story is crucial.
WebAR in the beverage industry allows brands to differentiate themselves in a fun, memorable, and different way. Immersive animation and storytelling allow customers to learn about a product, its values, and its story in a way that sticks in their memory.
Increases Customer Loyalty
Marketing's initial step is getting a customer to purchase your product for the first time – the true test is getting them to buy from you again and again. However, the rewards of retention are well worth the effort, with a five percent increase in customer retention leading to an increase in profits between 25 to 95 percent.
WebAR can be used to increase customer loyalty in any number of ways. You can offer incentives for repeat purchases, share the benefits of your product, or simply engage customers in a memorable way. All of these AR experiences can increase the number of repeat purchases.
Making Beverage Packaging and Labels Interactive With WebAR
Interactive packaging is one of the most widespread uses of augmented reality in advertising. Humans process visual information 60000 times faster than text, so products with engaging packaging are able to capture more attention.
Augmented reality allows brands to create packaging that is not confined to the physical dimensions of the product. Interactive packaging experiences include games, immersive videos, nutritional benefits, manufacturing processes, brand stories, and animated scenes. These experiences bring life to traditional packaging.
WebAR Allows Anyone to Access an AR Experience
When it comes to creating an AR experience that can be enjoyed by as many people as possible, web-based augmented reality is key. Unlike its app-based counterpart that requires an inconvenient download, WebAR can be triggered on any smart device with a browser.
Any person encountering your product in the beverage aisle or restaurant would be able to trigger a frictionless web-based AR experience. The ease of use and accessibility of WebAR technology encourages virality and mass consumption of your content. Ultimately, this translates to better recall and loyalty, with 47% of customers saying immersive technologies make them feel more connected with products.
For more on "How To Deploy A Successful WebAR Marketing Campaign" – Read our WebAR Marketing Guide.
More than a Rich End-User Experience
WebAR in the beverage industry is more than just an immersive end-user experience, it's also a powerful tool for back-end processes. The digital nature of interactive packaging allows for remote tracking of important use and engagement statistics. It allows brands to trace interaction, key locations, and which parts of the campaign have the most traction.
This information can then be used by brands to gather insights into the customer experience and buyer profiles. This generates value for the brand as it allows them to make more effective decisions in the future.
WebAR in the Beverage Industry allows for Cost-Effective Packaging
Creating conventional product packaging that stands out can be expensive. One of the advantages of augmented reality is that it can elevate simple packaging and product design into a rich and memorable experience. Even a minimalist beverage design is the perfect canvas for any number of AR experiences. This helps brands save on packaging costs while delivering an ever more memorable customer experience.
The cost-effective nature of combining AR experiences with economical packaging is even more evident at larger scales. As thousands and thousands of your beverages are rolled out, you will enjoy the additional savings provided by economies of scale.
Augmented reality also allows you to recycle and reuse the same interactive packaging design. Instead of going through an expensive redesign process every couple of years or so, all you have to do is update the associated AR experience. The technology also allows you to make changes on the go, adjusting the AR experience to incorporate any new elements or messages you come up with.
Examples of WebAR in the Beverage Industry
WebAR in the Beverage Industry – Jackson Family Wines
Critically-acclaimed Pinot Noir specialist, Siduri, a subsidiary of Jackson Family Wines, used WebAR to launch an experience that brought consumers closer to the product. Every bottle came with a special AR experience that featured the brand's founder stepping out of the bottle to share entertaining stories about each wine.
The experience expertly brought the winery's ethos to life that "serious wine and serious fun aren't mutually exclusive." As each bottle featured a QR code on the packaging, customers could launch the experience wherever they came across a bottle.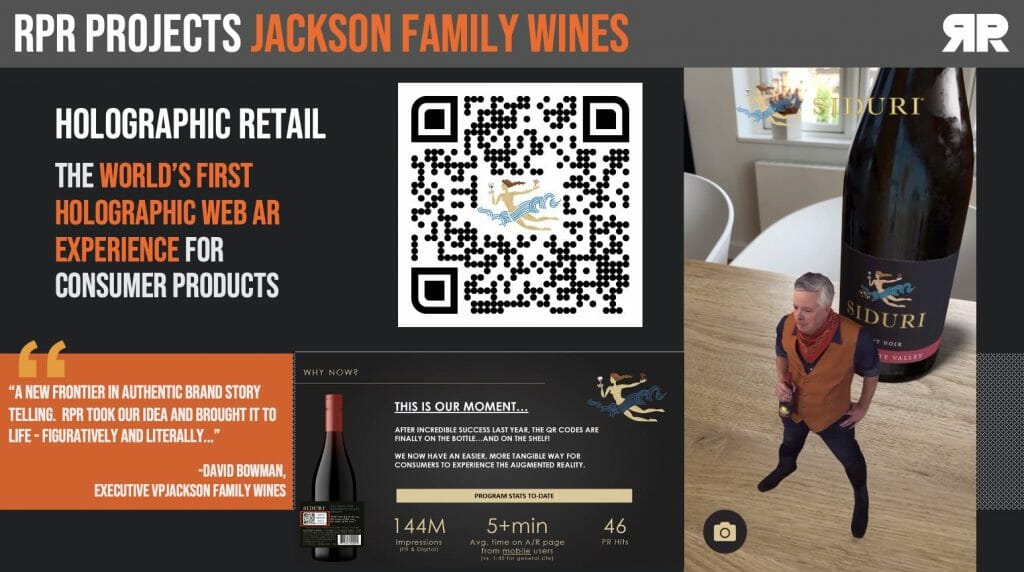 WebAR in the Beverage Industry – De Bortoli Wines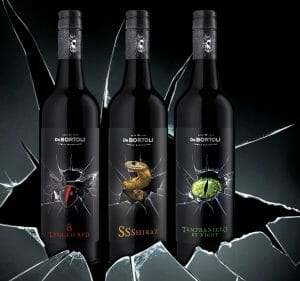 RRP's Web-based wine experience for De Bortoli wines pushed the boundaries of what was possible for bottle tracking. De Bortoli wanted to celebrate the Australian outback with the release of three new red wines, each featuring an augmented reality with a 'sinister' outback animal. "The Shout" features an article on the experience where you can watch the tiger snake come to life.
De Bortoli wine used RPR's WebAR to stand out in the competitive and creative wine industry. Each Sinister Collection wine bottle indicates that it is AR-enables, and by scanning a QR code, the experience is launched.
Executive Director, Victor De Bortoli said: "We are really excited about launching AR to bring our brand to life by using cutting edge AR Technology. At De Bortoli, we are constantly striving for new and unique ways to provide our consumers with engaging and interactive content that helps them connect more with our wines."
WebAR Beer – Heineken Augmented Reality
Wine isn't the only beverage company using WebAR. In celebration of the Euro 2020, Heineken launched a well executed web-based gaming expererience. featuring avatars.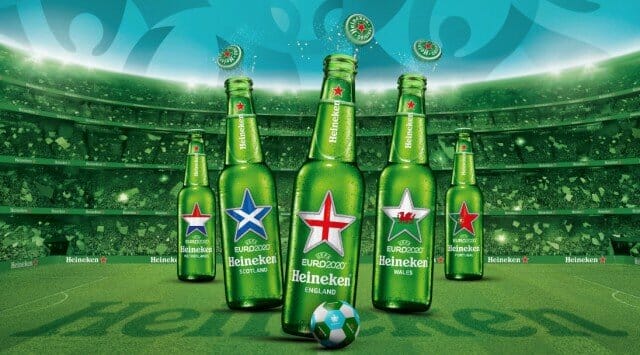 It featured specially designed beer cans and bottles for each team participating in the championship, fans were able to support and interact with their favorite team in a fun and innovative way. This highly engaging WebAR game received an average session length of 2.5 minutes for logged users and 1.5 minutes for all visitors.
WebAR Spirits – Jim Beam Whiskey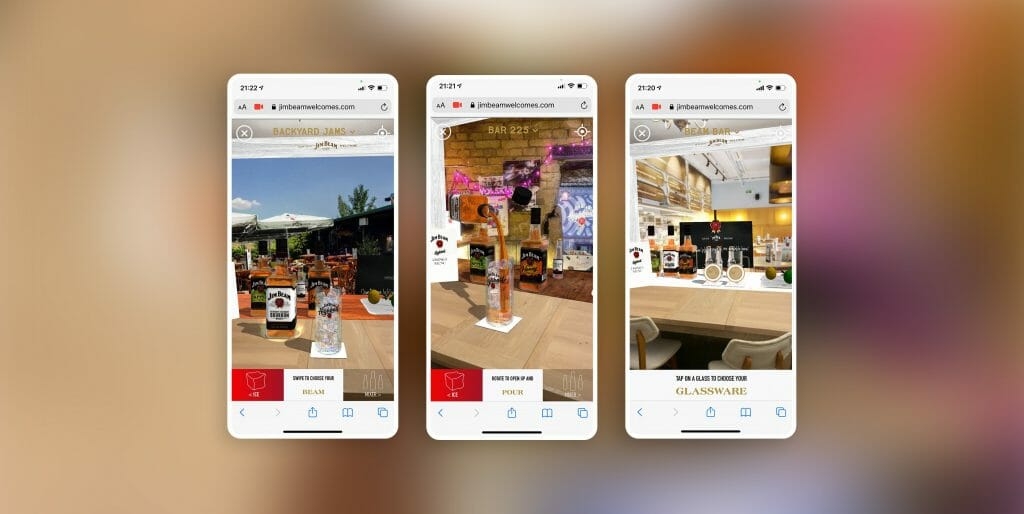 This WebAR experience turns your space into a virtual bar where you are the bartender. Jim Beam used web-based augmented reality to turn customers into bartenders.
Using the WebAR experience, users can mix up their perfect Jim Beam Highball with the virtual bar. It features four virtual bar locations all stocked with Jim Beam varieties, mixers, ice and garnishes and allows the users to take screenshots and share.
Choose the Right Partner
If you plan to use WebAR in the beverage industry (and hopefully now you understand why you should), it's important to choose the right partner. You need to work with someone who not only technically technically understands AR, but how to successfully deploy Web-based AR in the beverage industry. Not only should this partner grasp the benefits of WebAR and interactive packaging, but they should also have the capability to bring your vision to life.
Rock Paper Reality (RPR) has been at the forefront of WebAR development for over 12 years. Having worked with clients including Microsoft, Netflix, and Lenovo, the experts at RPR will work with you every step of the way to ensure that your brand stands above the competition.
Watch the RPR showcase reel for some more AR experiences in action and CONTACT US today.