RPR brings AI-powered NPC trend into the commercial world, creating opportunities for brands across all sectors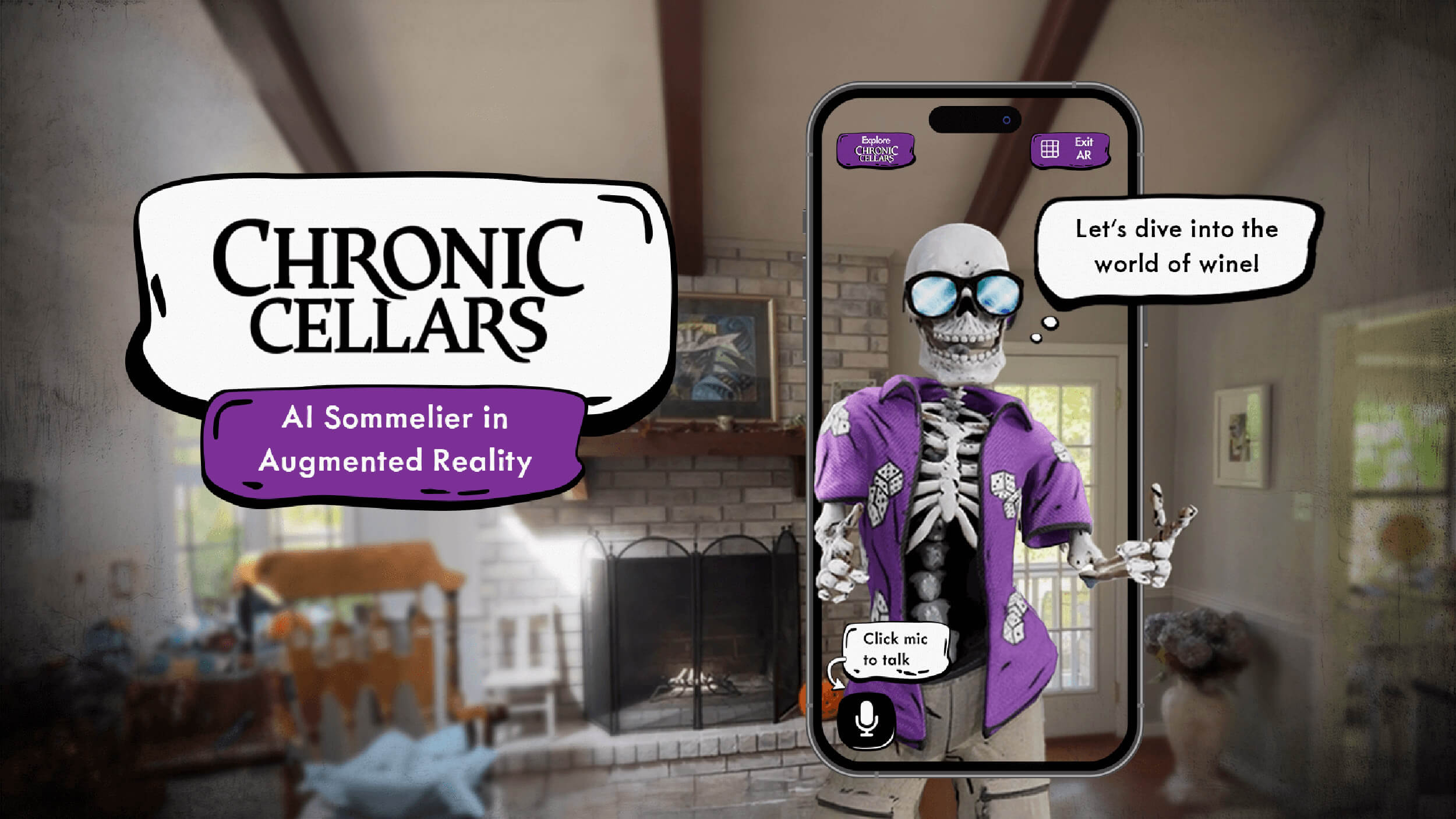 [PRESS RELEASE] World-leading immersive agency Rock Paper Reality (RPR) has teamed up with web-based reality development platform 8th Wall, AI NPC character engine Inworld AI and winemaker Chronic Cellars to deliver a first-of-its-kind, AI sommelier in Augmented Reality.
RPR had previously worked with Chronic Cellars in 2022, transforming the winery's iconic character — a 2D illustration of a skeleton called Purple Paradise — into an on-label 3D AR game. Now, RPR has used 8th Wall's newly released generative AI Modules to evolve this character into an interactive and extremely personalized AR avatar.
CLICK HERE TO TRY THE EXPERIENCE, AVAILABLE FOR A LIMITED TIME
The sommelier can converse, answer questions and present relevant information related to Chronic Cellars' product line, which includes a portfolio of wines from California's Paso Robles winegrowing region. From recommendations and tasting notes to seasonal recipes and secrets from the cellars, audiences can engage directly with an AI-powered, deeply knowledgeable representative that fully embodies the brand's personality. It is powered using Inworld, while the voice was cloned from Chronic Cellars' original character using ElevenLabs.
"Wine can be perceived as intimidating, especially by those who are new to the category, so we see this as a valuable opportunity to break down barriers for consumers by allowing them to ask questions to an expert without fear of judgment," said Patrick Cramb, Vice President of Brand Marketing for Chronic Cellars' parent company, WX Brands. "This AI sommelier experience is totally in-line with Chronic's mission to deliver unpretentious, delicious wines to a diverse range of consumers. We continue to be impressed with the innovations at Rock Paper Reality that engage our audience with the latest technologies in immersive and AI. We believe this is transformational technology for the future of wine."
AI-powered NPCs are a big talking point right now, but as a trend more frequently associated with the gaming space. This application brings the concept into the commercial marketplace, opening up countless possibilities for businesses looking to elevate their branding. With this new offering, brands can deliver a uniquely engaging user touchpoint. As is the case of Chronic Cellars, RPR can bring an existing company character into the 3D world and then rig, animate and train it to be a multimodal expression of the brand's identity.
"We are experiencing a paradigm shift in how brands and agencies can connect with their audiences through generative AI. The power to weave narrative-rich, lifelike conversations and visuals into AR experiences is no longer a futuristic concept. We are excited to see Chronic Cellar's AI Sommelier experience come to life—it's a great example of how generative AI is reshaping the landscape of interactive marketing and ad experiences." – Amanda Whitt, Senior Product Manager at Niantic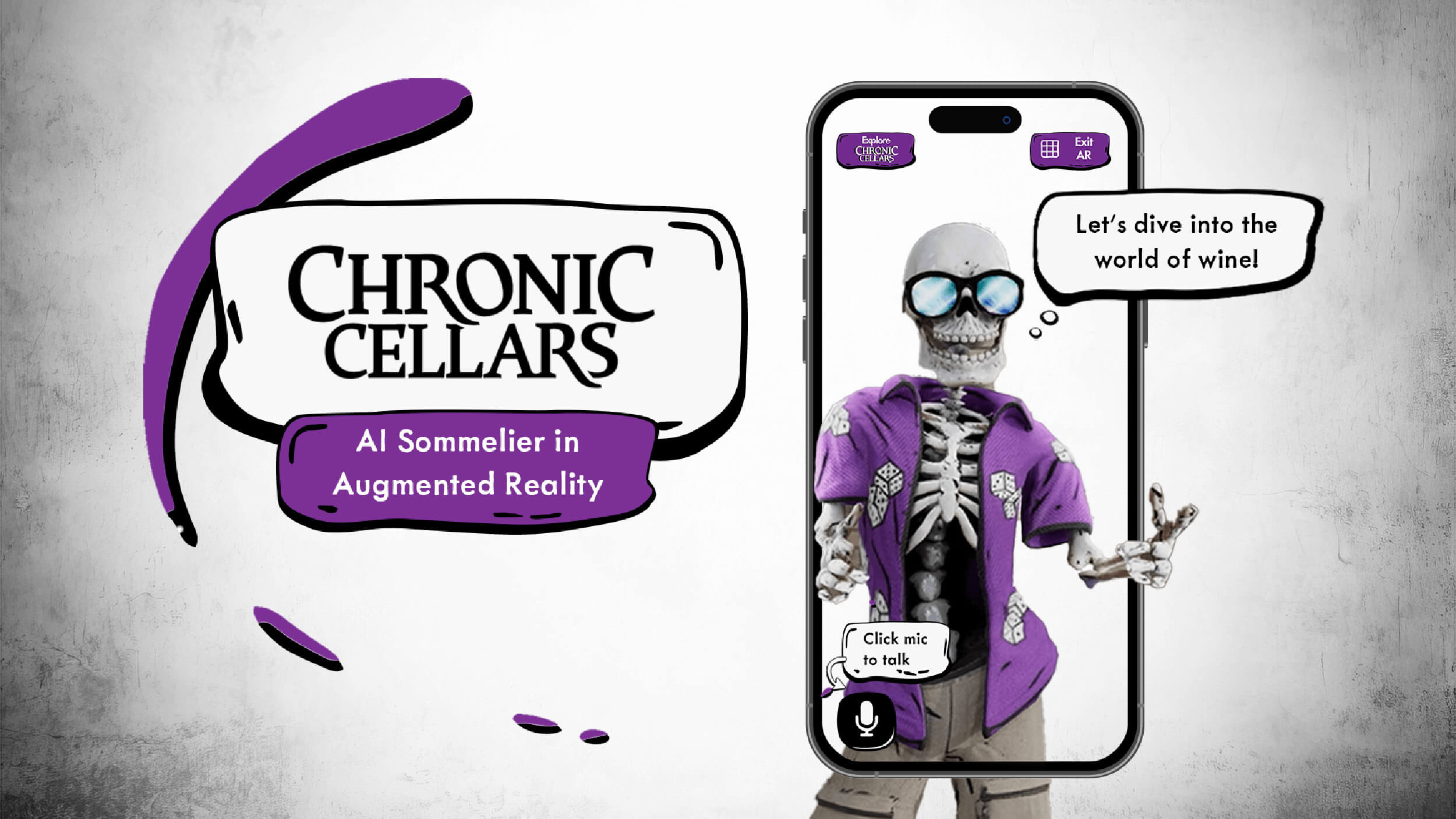 These assets possess a tailored, deep knowledge of the brand or data set, and can be deployed cross-platform for web and augmented reality. Typical use cases might include: a virtual sales assistant, brand ambassador, educator, or a virtual tour guide. They could also be embedded into complex story arcs within gamified experiences.
"It's quite magical to see Purple Paradise, the winery's iconic 2D character, being brought to life through the power of webAR and Inworld's advanced Character Engine. We are eager to see the impact of this emotionally intelligent virtual sommelier and eagerly anticipate this new era of immersive brand engagement where brands leverage the power of conversational AI to connect with their consumers." – Joana Flor, Executive Producer at Inworld
This technology is brand new, but has progressed rapidly over the past few months since its inception. We anticipate that virtual assistants and AI brand ambassadors will become the standard for how brands engage with their audience, setting a new customer expectation for personalization. We're here to help brands embrace this new technology and deliver enhanced experiences for their customers.
"Collaborating on this pioneering project with 8th Wall, Inworld, and Chronic Cellars represents a synergy not just of technology, but of visionary storytelling within the commercial sector," says Omead Sinai, Head of Strategy at Rock Paper Reality. "This is a transformational shift in branding, bringing Chronic Cellars' Purple Paradise to life and morphing him from a static character into an engaging, AI-enhanced sommelier. This venture showcases the transformative power of AR and generative AI in crafting personalized, dynamic interactions with consumers, setting a new benchmark in immersive experiences. At RPR, we aim to stay at the forefront of storytelling and leverage the latest technology and partnerships to do so, redefining what's achievable in immersive marketing."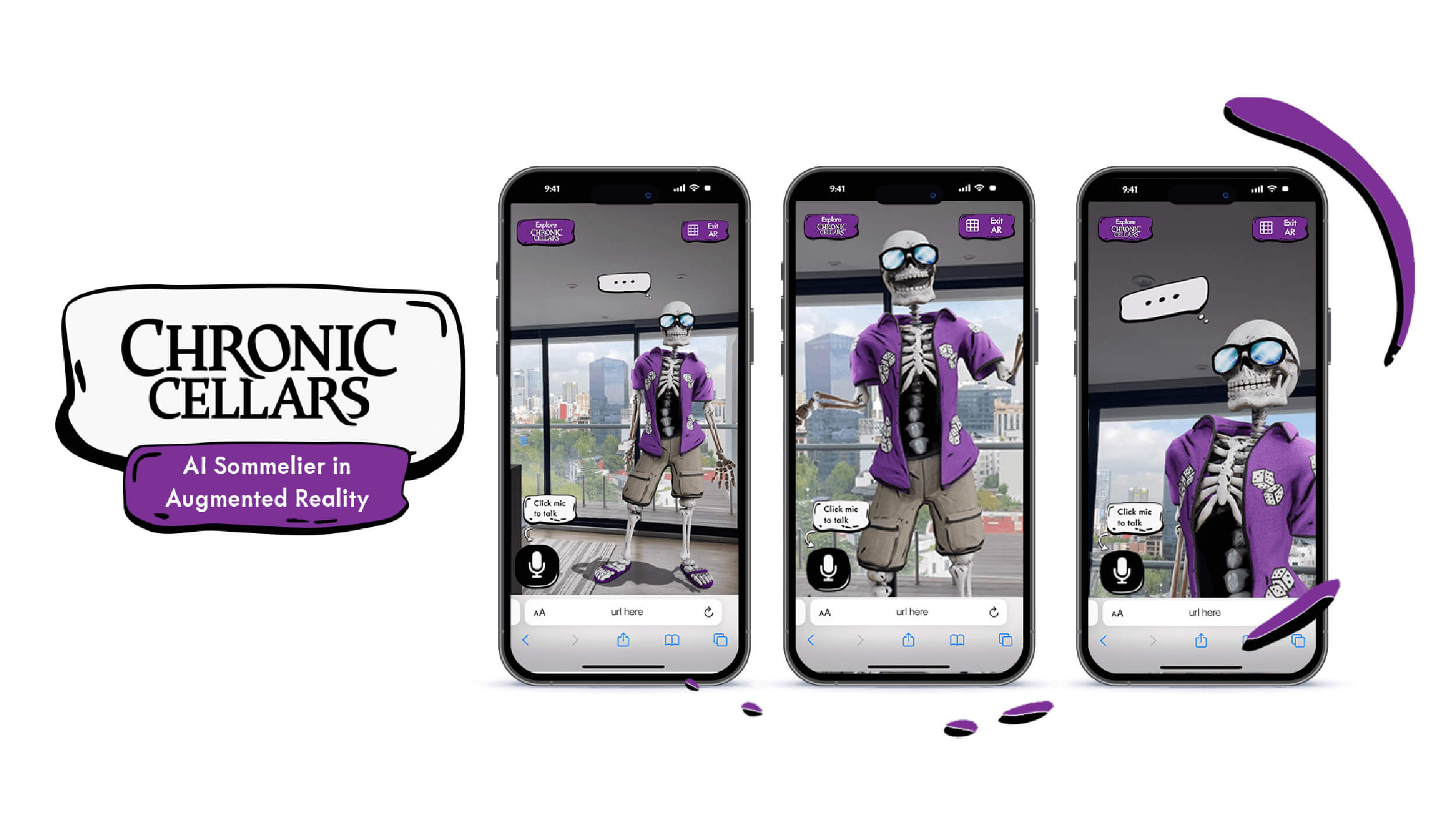 About Rock Paper Reality
For over 16 years, Rock Paper Reality's leadership has shaped the future of 3D and immersive storytelling, growing a best-in-class team of immersive experts. Our journey began with a passion for merging strategy, creativity, and engineering–a unique trifecta that has enabled us to deliver unparalleled experiences to businesses around the globe. We're proud to have garnered dozens of innovative patents and a roster of forward-thinking clients who share our zeal for the limitless potential of immersive tech. Our world-class partnerships stand as a testament to our expertise and the trust placed in our capabilities. Now, as we collaborate with Adobe on our latest venture, we invite marketers, brand managers, and innovators to envision the future with us. Together, let's create new immersive stories that change the way we play, shop, think, and communicate. RPR has offices in Silicon Valley and the UK. For more information, contact us at hello@rockpaperreality.com or visit us at: https://rockpaperreality.com/ Twitter: @rockreality / LinkedIn: https://www.linkedin.com/company/rock-paper-reality
About 8th Wall
8th Wall is Niantic Inc.'s award-winning AR developer platform and computer vision technology stack that makes it possible to build interactive web-based augmented reality (WebAR) that can be experienced on any smartphone—no app required. 8th Wall WebAR experiences can be accessed and engaged by over 5 billion smartphones across iOS and Android as well as computers and AR/VR headsets. The 8th Wall platform has been used by agencies and creative studios to create AR activations for well-known brands from companies across industry verticals, including Pepsi, Microsoft, Nike, Porsche, Netflix, Heineken, LEGO, General Mills, Dior, Universal Pictures, Westfield, Verizon and more. Learn more about 8th Wall at www.8thwall.com.
About Chronic Cellars
Chronic Cellars is a Paso Robles, CA winery committed to making seriously good, food-friendly wines for people looking for a dose of adventure. The winery partners with some of the best grape growers in Paso Robles to build an epic network that allows award-winning winemaker Kip Lorenzetti to select just the right grapes for Chronic's collection of custom blends. Chronic Cellars' disruptive style is matched only by the killer quality of their wines, made with character to match the clever and playful labels created by Bay Area artist Chris Granillo. Learn more at chroniccellars.com.
About Inworld AI
Inworld is a Character Engine for AI NPCs that goes beyond LLMs – and adds contextual awareness and multimodal expression of personality. Inworld uses advanced AI to build generative characters whose personalities, thoughts, memories, and behaviors are designed to mimic the deeply social nature of human interaction. Inworld lets you create characters with personality and contextual awareness to keep them in-world, in-character and on-brand. Integrations make it easy for developers to deploy characters into immersive experiences and performance is optimized for real-time experiences.