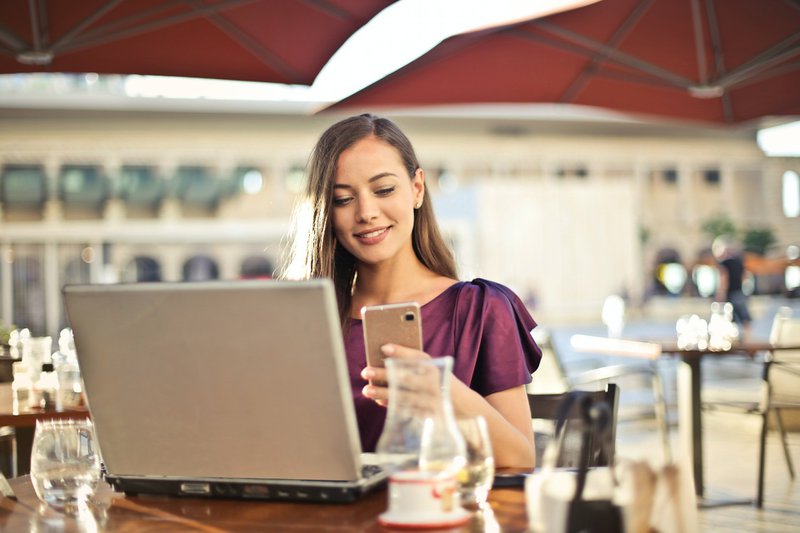 Augmented reality or AR technology has gradually expanded beyond gaming to impact a range of industries. In the food and beverage sector, AR offers many benefits and can spur customer engagement. With augmented reality, you not only engage consumers, but also encourage them to see, taste, and experience your product in a new way.
The AR market is a rapidly growing industry with a projected market value of $50 billion by 2024. Studies suggest that 70% of consumers between ages 16 and 44 are aware of AR. Additionally, an eMarketer study indicates that 68.7 million American users interact with augmented reality at least once a month.
And all this means tremendous opportunities for the food and beverage to engage its customers in exciting and innovative ways.
Let's dig in.
Augmented Reality Food Menus Bring Dishes to Life
Dining out is a social experience that can be made even more engaging through augmented reality. The use of AR in menus is changing the way customers preview and order food. Here's how:
Enhanced Information
Ordering from a menu full of options can be a frustrating experience, especially when dining in an unfamiliar restaurant. Sometimes even a detailed explanation from the waitstaff isn't enough. AR menus give diners a realistic view of each dish. Customers use their smartphones to scan the menu. A realistic 3-D rendering of the item pops up off the menu and comes to life. This technology can also provide additional details such as ingredients and nutritional information.
Upsell
AR menus are also a great way to suggest pairings for a chosen dish. Recommended drinks, appetizers, or desserts are all great upsell opportunities.
Promotions
Diners will be inclined to return if they are aware of discounts, special events, and seasonal food offerings. An AR menu is a great place to feature this information.
Improve Customer Engagement
AR menus are designed to display rich media content on-demand. They present a unique opportunity to show cooking demonstrations, chef interviews, and testimonials.
Gauge Customer Satisfaction
The longer diners interact with the menu the more information companies can collect. Restaurants can gain valuable insights. For example, how long customers look at each item or which items are ordered the most. These invaluable nuggets of information are vital to improving and customizing the customer experience.
Packaging Goes Live!
Thanks to the use of augmented reality, food product packaging has evolved from static labels. Today's product packages are interactive digital experiences.
The Jack Daniels app is a perfect example. The company used the technology to take customers on a virtual tour of the company's distillery. The tour featured demonstrations about the whiskey-making process. The app was a huge success. In an interview with Forbes, Jeff Cole from Jack Daniels shared that "more than 30,000 downloads happened in just the first two weeks that the app was available."
The Starbucks AR app is another great use case. In this application, customers use their smartphones to scan items in the store. The goal is to discover various Christmas characters that come to life on the screen. Characters include carolers, a skater, a sledder and dog, a fox, and a squirrel.
Here at RPR, we partnered with the wine brand Chronic Cellars to create a series of Web AR experiences. These experiences featured Chronic Cellars' star character, Purple Paradise, brought to life in AR as he steps off the label and becomes part of the real world!
Food Manufacturing Optimization
Food manufacturers face many challenges, with food safety perhaps the biggest. Maintaining refrigeration temperature, equipment sanitization and allergen control are just a few areas where AR can help food companies manage these challenges smartly.
Training Tool
Due to a myriad of regulatory requirements, the stakes in the food industry are high. Failing to meet regulations comes with costly consequences. Employee training is essential to ensure everyone is up to speed on standard operating procedures (SOPs). This ultimately minimizes risk across the operational chain.
Boosts Employee Safety
Increased automation in food plants means more equipment and procedures employees need to learn. Failure to provide the requisite training can lead to assembly line errors which in turn can lead to faulty products, recalls, and worker injuries. Using AR for training helps provide more in-depth information and instruction to ensure employees perform each step properly.
Boosts Customer Safety
Improper food preparation can have disastrous, sometimes deadly consequences. The Federal government estimates that there are about 48 million cases of food-borne illness annually. This is equivalent to 1 in 6 Americans being sickened annually. And each year, these illnesses result in an estimated 128,000 hospitalizations and 3,000 deaths. Restaurants can use augmented reality to show demonstrations on how to prepare food items safely.
Viral Marketing Campaigns
What is the difference between campaigns that go viral versus the ones that yield mediocre results? Brands are turning to this innovative technology to boost marketing campaigns, enhancing customer experiences and engagement in the process while standing out from the competition.
Take Burger King, for example, which used the technology for some competitive trolling. The company launched a "Burn the Ad" campaign that attracted immediate attention. Patrons could use the app to virtually burn a competitor's ads. After burning the ad, the app presented the user with a coupon to use at a Burger King store.
A few years back, Pepsi launched what they called the Unbelievable Bus Shelter AR application… A campaign that went viral with almost 6 million views! The company replaced the glass at a busy London bus stop with a special AR mirror. Those passing by were treated to various surprise effects such as a lion running towards the bus station or an enormous snake sliding out of the sidewalk.
Employees and Staff Training
Consistency and attention to detail are sometimes the very things that differentiate one brand from another. What sets Starbucks aside from its competition is the aesthetic and sensory experience. One that involves meticulously preparing every custom drink order to perfection. This level of perfection can only be achieved with consistent and effective training.
Many companies, like Starbucks, are turning to AR to train employees on proper techniques for food preparation. The technology can be used in the kitchen to guide cooks how to prepare each item on the menu. According to this study from BMC, AR is also finding use as an aid for portion size estimation of foods.
Bring AR to Your Food Business Today
Augmented reality in food and beverage companies is quickly becoming the future for this industry as more and more companies find innovative ways to leverage the almost limitless possibilities of AR. Partnering with Rock Paper Reality can help your company take full advantage of this technology to keep pace, perhaps even outstrip the competition.
RPR is committed to helping companies of any size harness the full power of Augmented Reality food technology. With over 12 years of experience at the cutting edge of this technology, we've helped companies—from start-ups to Fortune 500s—develop AR strategies to drive brand awareness, customer engagement, and revenue growth. Contact RPR today, and together, let's make your AR vision a reality.