From unique dining experiences to cultural foods finally getting the global recognition they deserve, the restaurant industry must pivot according to the latest trends. What's the exciting new ingredient making its way through the industry today, you ask? Augmented reality (AR). This technology enables innovative new applications to foster a more rewarding dining experience while aiding kitchen staff.
Augmented reality turns ordinary menus into exciting interactive displays capable of keeping even the most traditional patron entertained. In addition to serving as dining entertainment and marketing tactics, AR also works for employee training. This technology makes it simple to learn food preparation and other work-related activities.
Restaurants are among the growing use cases transforming the customer experience. Fashion, shopping, and customer support are also taking advantage of this emerging trend. Augmented reality to restaurants is the "try-before-you-buy" sales strategy to retail. In all of these applications, AR adds a dimension of fun while providing useful, user-friendly information.
This technology is growing massively. Until recently, few people had even tried it. Yet, by 2024, there will be approximately 1.7 billion people using mobile augmented reality. People crave new experiences anywhere they can find them—even in our food. Learn to put the two together to offer customers an irresistible reason to patronize your restaurant!
Augmented reality improves the customer experience, a critical component of running your business. Now people expect faster, more exciting—yet still higher-quality—service than ever before… and usually with a digital component. Though AR meets this customer demand, businesses have struggled to implement it properly.
Developmental costs and technical hurdles have kept many restaurants from using AR—until now. Rock Paper Reality is an industry-leading AR agency eager to help seamlessly incorporate AR into your business practices, so you can get a leg up on the competition.
Today's consumers are looking for augmented reality experiences and are willing to shell out for them—if they can deliver. Fortunately, customers already have the smartphones necessary to use these immersive experiences, and it's become feasible for restaurants like yours to implement compelling content.
Augmented Reality Transforms Restaurant Menus
Augmented reality makes it easier than ever for patrons to see what they're ordering. All you have to do is hold your phone up to experience a photorealistic look at menu items right on your table. It's as close as you can get to seeing the food before actually being served a fresh plate. Not to mention, the device can overlay detailed product information to readily answer any nutritional questions. Now you can have your cake and eat it, too.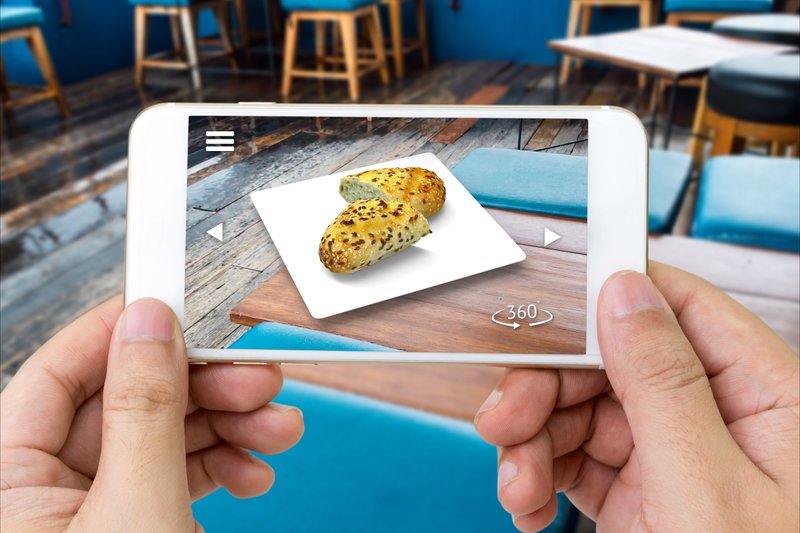 AR allows restaurants to offer customers a menu that comes to life through a smartphone. Life-size 3D images of the food function as both advertisements and entertainment, making it easy for you to upsell.
Say a customer has decided on the main course. You can easily show them what sides, drinks, or desserts it would best pair with. Also, the AR menu can link directly to your payment system.
Since the AR menu is dynamically generated, patrons can even mix and match different ingredients or toppings to see how their creation would look. The overlay can reveal as many details as you and your customers want, such as food textures or portion sizes.
Instead of leaving hungry customers waiting, AR delivers entertaining experiences that offer information and 3D visuals through your interactive menu. You can also incorporate information about nutrition, where you source your ingredients from, your business values, or any other messages you want to convey to your customers.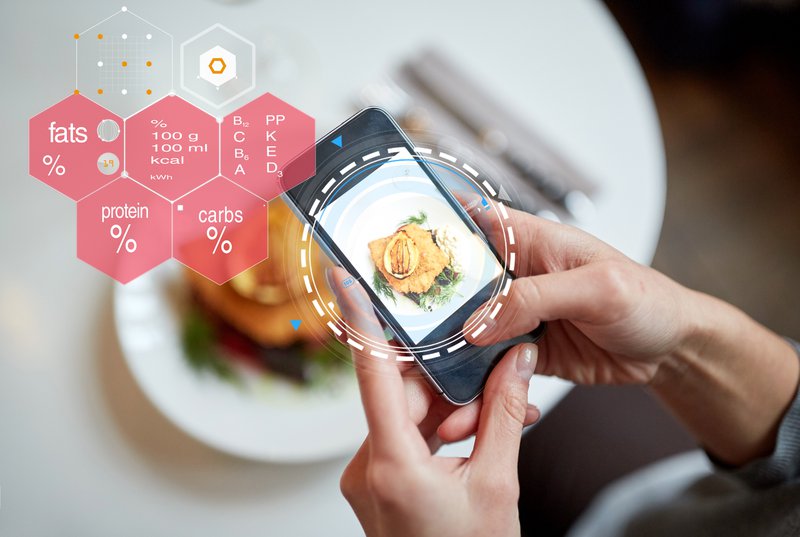 Believe it or not, these augmented reality overlays are very easy to use, as their level of accessibility is dictated by you! For instance, you can include a QR code on your tables. Customers can then instantly activate the corresponding menu simply by hovering their phone over the QR code with the camera app open. You can also incorporate uniquely tailored 3D animations into the experience to make the interactive menu more fun. Imagine a virtual mariachi band breaking the ice on a first date at a Mexican restaurant, or young kids giggling as they watch cartoon monsters decorate their pizza! Extra cheese, please!
You could also include allergens, dietary information (like what is categorized as vegan, gluten-free, low-calorie, etc), or details about your restaurant's sustainability program. The options are limitless. Whatever information you want to share with your customers can be made worlds more appealing when conveyed through AR. Restaurants that deploy augmented reality menus are seeing sizable increases in sales and word-of-mouth references.
Broadening the AR Menu
Taking the visual aspect of AR menus even further, these may transition from smartphones and tablets to smartglasses and perhaps even smart contact lenses. We're at the start of a massive evolution, from static menus to immersive 3D menus and dynamic activities throughout the dining experience.
This has the potential to alter how people engage with restaurants dramatically. No more going back and forth between menu items out of uncertainty, no more disappointments. You see it and the restaurant makes it happen. Payment is automatic. Augmented reality menus were built from 2D video boards, printed menus, and plain text descriptions. Each stage of technology advances the detail and realism, giving prospective diners a better understanding and experience with every new round of advancements.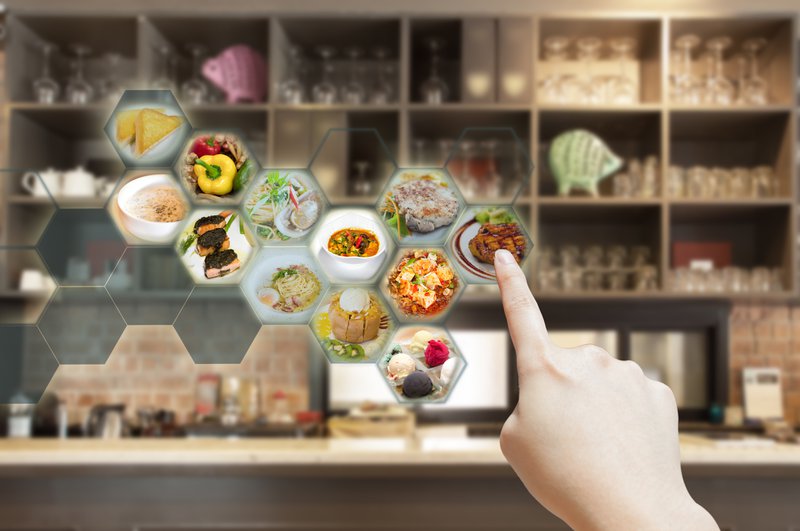 Augmented reality contributes to marketing efforts for drinks as well. Winemakers, beer brewers, and spirit vendors are embracing AR for its powerful storytelling capabilities. Even non-alcoholic beverage brands are leveraging AR to connect with buyers.
Businesses are embedding augmented reality experiences into their beverage labels. This extends the reach of the messaging opportunity far beyond the physical size of the bottle. For instance, a simple scan can bring you to the farms where the drink's ingredients are grown, or you can learn about the brand's story from its founder. This cost-effective physical packaging can transport customers anywhere in the world at the touch of a button. Now, that's an experience.
As discussed, restaurant-goers like learning about new products. An exciting way to deliver this information is through augmented reality product launches. For example, people waiting to be seated can go on an AR adventure to explore a new beverage now available in that restaurant.
In-restaurant AR games offer another type of entertainment. People of all ages can play quick sports games or action games. This also works for take-out or delivery, as you can customize boxes or bags to transform into 3D games using QR codes.
Visual and Social Marketing for Restaurants
Hundreds of restaurants are developing augmented reality menus, from global fast-food chains to small independent restaurants. Those that embrace this technology sooner will benefit from both the menus themselves and the marketing boost of being ahead of the curve.
In the age of sharing every moment of our lives online, connecting augmented reality and social media is critical. Social media has become the main driving force in many customers' restaurant outings. People choose where to go and what to eat based on Instagram, Facebook, Google, and other online services. You can spread your message through social media and have it connect directly to an AR menu. Diners like the convenience and shareable entertainment of this approach.
It's not difficult to implement an augmented reality menu, with the help of an experienced AR partner, like Rock Paper Reality. You maintain full creative control of your menus while we bring them to life. You can have a WebAR experience that runs directly on people's mobile devices without requiring any downloads, or if you prefer, you can develop your own downloadable app.
Restaurants serving international fare may stand to gain the most from augmented reality. It can be difficult for people to visualize foreign food, and having a life-size preview of a dish can make it more understandable (and thus more desirable!). People think visually, seeing is believing!
Products can incorporate AR content to appeal more to people at home, as well. Household names, like Nestle and Kraft, are adding augmented reality to their product packaging. It's not just for kicks, these projects look to elevate health outcomes. For example, food vendors can make healthy (generally less appealing) foods more attractive through the magic of AR. When it comes to restaurants, augmented reality can enhance the entire eating experience.
AR Improves the Dining Experience
Dining is not just about the food itself. It's also about the ambiance, the activities, and all of the other elements that contribute to the overall experience. Augmented reality has now earned a place in these categories. AR enhances customer engagement while making the meal more interactive and immersive.
When patrons go to your AR-enabled restaurant, they can compare menu items, take photos of themselves and their loved ones enjoying your food, and post to social media even before the dish arrives. You can also post coupons to social media that open your augmented reality menu.
Augmented reality elicits feelings, the way sharing laughs over knock-your-socks-off homecooked food with the people you love most does. Putting them together for a more memorable experience is a no-brainer!
Furthermore, an interesting new technique projects a small AR chef—just a few inches tall—onto diners' tables to prepare their meals right in front of their eyes! The mini-chef may encounter entertaining challenges as other characters enter or leave the scene with changing music and decorations. After the show, diners receive the real versions of the digital creations, bringing the dining experience full circle.
You can incorporate augmented reality restaurant technology into your storytelling portfolio with RPR, bringing the meal to life and giving customers memories to treasure and share.
Better Restaurant Staff Training Using AR
Augmented reality isn't just good for your clientele, it's also good for your employees. Restaurants can speed up and increase the quality of training while reducing costs and time. Service businesses have to conduct extensive training. The more efficient this is, the better.
Using an AR training app decreases the amount of paper and other materials needed. It also makes the lessons more understandable, since trainees can see the items and their locations as if they were already on the job. Going one step further, you can use augmented reality for on-the-job training. This medium also makes it easy to adjust the training information as procedures evolve.
Augmented reality optimizes work training programs and ensures all bases are properly covered. This produces high-quality staff at an affordable rate. It's considerably faster and more cost-effective than conferences or in-person sessions. As such, AR restaurant training applications offer a great bang-for-your-buck return on investment.
Large restaurant chains can reuse the same training materials with new employees at any location, for economies of scale and to eliminate inconsistencies. Some of the tasks that augmented reality can assist with include learning portion sizes and food and beverage preparation techniques. It can also aid in kitchen equipment maintenance, repair, and operation.
AR training adapts well to people with different learning styles, needs, and capacities. Individuals can do self-paced courses and go over any materials on an as-needed basis. For these and a million other reasons, well-known food and beverage organizations are adopting augmented reality training—and you can too with a Rock Paper Reality solution.
Trainees can use their smartphones or tablets (or even smart glasses) to view information and graphic instructions on how to complete specific tasks/ With the AR overlay, the program mimics real-life working conditions so the employees will be ready to work.
Using AR for restaurant training also decreases the total amount of personnel time necessary for training purposes. Previously, other employees would have to take time away from their normal duties to conduct the lessons. Augmented reality allows self-directed training instead.
AR Restaurant Training in Practice
Thanks to the speed of AR training, employees can start contributing to the team faster than ever. As such, it may very well be on its way to becoming the industry standard for training restaurant workers.
As another advantage of augmented reality training, people can receive instant feedback on their performance. After initial training, managers can also maintain AR programs to keep employees performing well and learning new tasks.
Restaurant owners appreciate AR training for its added efficiency, while employees like AR training for the fun of it and the confidence it instills in them. Just as augmented reality makes it easy for customers to visualize their meals, AR makes it easy for workers to visualize their tasks. For instance, they can watch scaled-down animated figures operate machinery step-by-step.
A fast-food restaurant may spend hundreds of hours training a new employee. Add to that the high turnover rates in the restaurant industry and the frustrations of customers dealing with employees-in-training, and the costs rapidly add up.
With augmented reality, however, businesses can decrease this lost time while keeping more people serving customers instead of training new hires. A trainee sees real-time information, and can thus perform well even with minimal on-the-floor preparation.
For instance, the device could show precisely which ingredient to use, in what amount, and even how to combine ingredients for the best flavor. The overlay remains available to replay or to move to the next step, making the learning process simple and stress-free.
AR training isn't just for fast-food restaurants. Independent businesses can use the same technology to streamline and speed up their processes. While big brands have made impactful commitments to augmented reality, smaller restaurants are also working with developers to implement their own AR experiences.
Add Augmented Reality to your Restaurant's Mix!
Augmented reality is already elevating how restaurants do business, and its importance will only expand in the coming years. Businesses of all sizes are employing AR to market their foods, enhance their dining experiences, and train their employees.
With augmented reality, a restaurant becomes more visual—starting from the moment customers sit down and lasting until after they've finished dessert and shared their experience online. All in all, business operations become more efficient and diners have more fun! These advantages of AR boost revenue while providing amazing customer experiences. People spend more at AR-enabled restaurants and have more positive opinions.
The best way to ensure your augmented reality investments pay off is to work with a proven agency. Look no further—Rock Paper Reality is the trendsetting AR consultancy. We've set several firsts in our industry, and we want to help you succeed in yours. Tell us about your restaurant's AR ideas and our experts will bring them to life!