The Augmented Reality industry is quickly becoming a multi-billion dollar market and is expected to reach 198 billion U.S. dollars by 2025. With over 4.5 billion active internet users globally, businesses face relentless competition for their customer's attention. AR offers small businesses and Fortune 500s alike a chance to set themselves apart by using cutting-edge technology to showcase their products and services.
Imagine having the hologram of your brand's CEO explaining their products right in your living room; or virtually trying on an item before your purchase, whether it's a pair of jeans or a painting on the wall.
Businesses of all sizes are starting to incorporate augmented reality into their marketing strategies, and they see extraordinary results. There is a 520% increase in purchases for businesses using AR-based campaigns compared to non-AR.
Even with all the buzz and excitement, many companies still lack the knowledge and resources to integrate AR into their business. Only 1/10 companies are comfortably using AR and have it properly integrated it into their campaigns.
Augmented Reality – Marketing Campaigns Reinvented
The basic principles and goals remain the sam as the strategies from traditional marketing to Out-Of-Home (OOH) advertising. What is now revolutionary is the ability to engage customers in a never-before-seen fun and shareable way. Some of the well-known marketing strategies that have leveled up are:
AR Out-of-Home Advertising (AR OOH)
Static billboards and signs have long been a tried and trusted advertising strategy. With the widespread use of digital versions of the static billboards, adding the AR touch is now possible. It is now more affordable and more accessible than ever to implement AR OOH strategies globally. Perhaps one of the most popular and loved Out of Home AR initiatives is NHS' campaign to encourage blood donation. The interactive billboard showed people in need of blood, asking passersby to fill in the blood bag. Users could help those in need by "connecting" their virtual IV to their arms and virtually transfer blood to the patient.
AR Print Advertising
With marketers focusing on the digital sphere, the print advertising industry has to adapt to modern standards. Brands have to be a lot more creative in telling their story on paper. This is where Augmented Reality comes in. More specifically, web-based AR has taken advantage of the simplicity of scanning a QR code with the phone's camera and allowing users to get the full experience right on their browser.
AR Product Packaging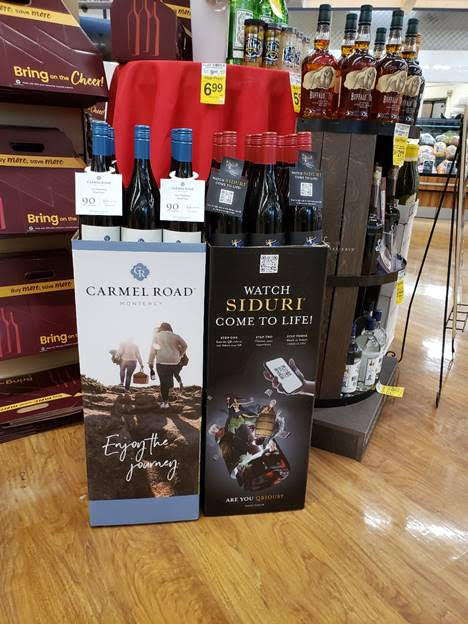 In the old days, packaging was used only for storage and for transportation safety purposes. With branding and design, businesses can began to personalize their packaging for product mindshare and long-term interactions with their customers. And now with the help of AR, product packaging has become a new interactive playground for brands.
Depending on your goals, your can create AR campaigns to increase your brands awareness, stimulate engagements, increase sales, or simply for fun. There are many ways to achieve these objectives: from 3D augmentations, videos, digital annotations with information about the product, games, coupons, and more.
For example, the new Amazon boxes now offer an AR experience in an effort to promote the reuse of the box in a fun way. Amazon challenges users to customize a Halloween pumpkin that they can later bring to reality by scanning a QR code.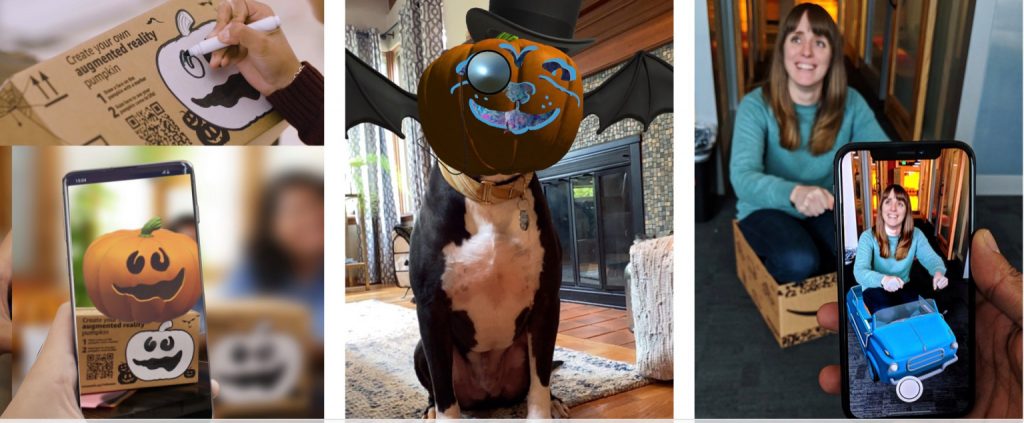 Examples of AR in Marketing
Showcase Demo Sessions
Demo sessions allow brands to showcase live demonstrations of their products or services. It is also an opportunity to engage and get fresh feedback from loyal or prospective clients.
Lenovo attended the Augmented World Expo 2019 to showcase its new ThinkReality Platform and headset. The platform targets business managers, developers, and IT professionals who want to create and implement AR and VR applications.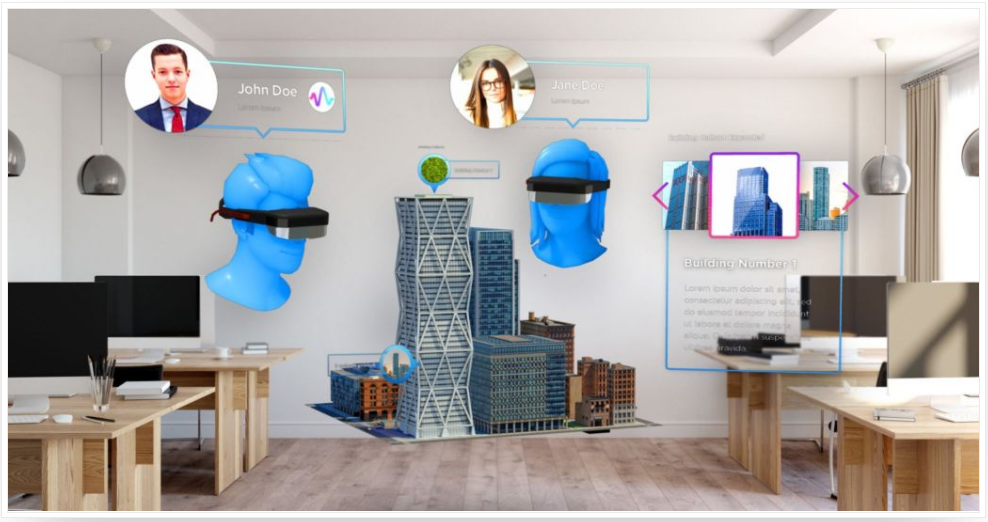 While the project itself uses AR technology, showcasing any product or service using augmented reality adds value and excitement to the demo experience.
RPR was the only development agency featured in Lenovo's booth at AWE 2019 and CES 2020. RPR created the showcase demo, an AR experience featuring Ducati, and three apps now available on their ThinkReality headset.
Product Marketing Campaigns
The retail industry benefits hugely from online marketing campaigns. Elevating the online experience by implementing AR technology offers customers the flexibility to virtually try the items and increases purchase intent.
RPR developed an innovative AR campaign for Saks Fifth Avenue, the famous chain of luxury department stores. Shoppers use their phones to virtually try on clothes and accessories both in-store and at home. The AR app allows them to select the items they want to buy, access information about the desired item, and ask for recommendations about the product.
The Augmented Reality app improves buyer confidence, following their ability to see how the item looks on them virtually. Trying on an item before purchase also reduces returned merchandise and increases spending per-visit.
Experiential Marketing
The Jackson Family Wines project showcases a revolutionary Web-based AR initiative. RPR delivered the world's first Holographic Web AR Experience in partnership with Microsoft that helped the wine brand increase sales and cultivate customer loyalty. The Siduri Holographic Experience features a 3D model of Adam Lee, the founder of Siduri wines, showing their selection of products and educating their customers.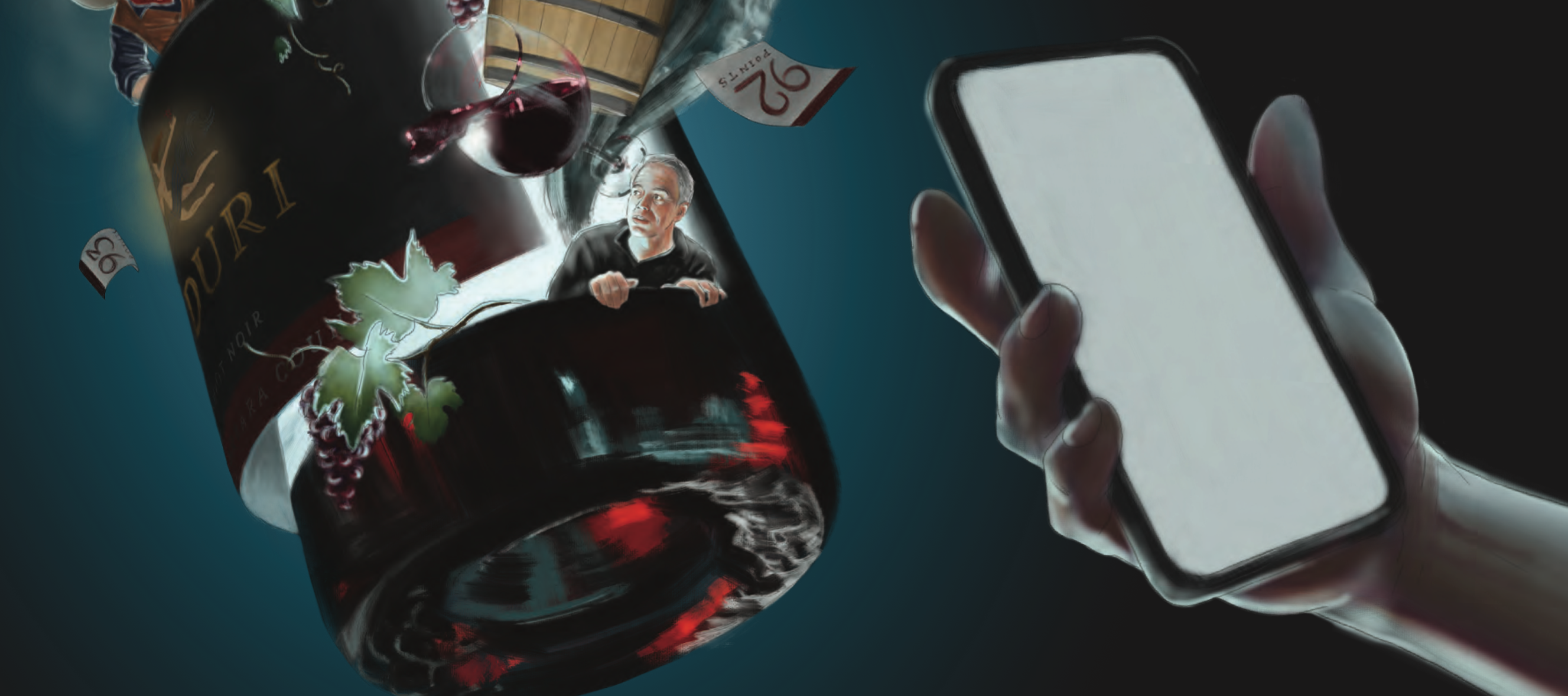 The AR experience can be found on their bottles, social media, digital ads, brochures, and billboards in an omnichannel strategy that proves the versatility of AR in terms of placement.
The Future of Augmented Reality in Marketing
AR experiences are becoming increasingly popular and for a good reason. They provide an engaging and entertaining experience while building communities. With the help of social media, customers can easily share the AR experience with their friends and network. The shareability factor plays a significant role in the development of the AR industry and encourages marketing professionals and business managers to invest in AR technology to bridge the gap between the digital and physical world.
Augmented Reality, whether it is web-based or app-based, breaks new frontiers in brand storytelling. RPR specializes in helping businesses harness AR's full potential: from concept to implementation and beyond by offering augmented reality consulting services.
See Also: Web AR Examples