According to ABI Research by 2022, over 120,000 stores will leverage augmented reality. With the number of AR-capable devices in the world expected to grow to over 4 billion, companies should take note. Augmented Reality in fashion is transforming the way companies engage customers. This technology enables customers to experience products virtually from the comfort of their homes. AR can help consumers understand what they're buying, making it easier to meet customer expectations.
Ultimately, this leads to higher-post purchase satisfaction and increases brand loyalty. In this article, we'll discuss Augmented Reality in fashion, how it helps brands increase customer engagement, and how to build brand loyalty with AR.
Augmented vs. Virtual Reality: What's the Difference?
Often the terms Augmented Reality (AR) and Virtual Reality (VR) are used interchangeably. While they are similar, they are two distinct technologies. Both provide rich visual experiences with 3D high-definition video and audio. The most significant difference between the two is that VR is completely immersive while AR is partly immersive.
Virtual Reality
Virtual Reality provides a fully immersive digital experience that completely replaces a real-world environment. A person experiences vision, hearing and sometimes other senses through a digital device, usually a headset.
Augmented Reality
Augmented Reality provides a real-world experience as an overlay. The technology can recreate a realistic environments by layering videos, images, and 3D content on top of real-world objects. Delivering AR experiences is not limited to headsets. AR can be deployed on smartphones, with projectors, and non-specialized hardware as well.
Advantages of Using Augmented Reality in Fashion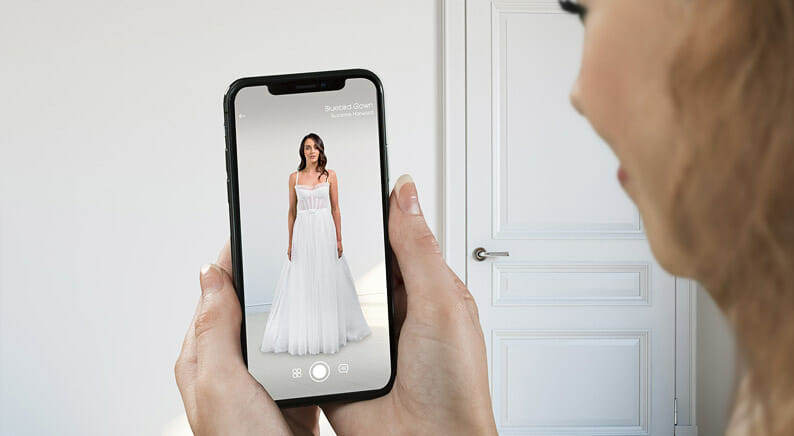 Studies have shown that people can retain up to 80% of what they see, but only 20% of what they read and 10% of what they hear. These figures show why it is even more important for companies to leverage new technology to provide more visually appealing experiences. The benefits of using augmented reality in fashion are many and include the following:
Differentiation
The novelty of AR is exciting to consumers. Many will find AR entertaining and rewarding. They often want to try it again and refer friends. With AR, companies can create the impression that there is no perceived product substitute thus eliminating pricing as a competitive strategy. When customers believe there is no substitute, they are more likely to keep your brand at the top of mind when making purchasing decisions.
Augmented Reality in Fashion Increases Revenue
Companies using Augmented Reality benefit from increased revenue. When customers experience products before purchasing them, it deepens their sense of ownership. Customers who feel as though they already own the product are likely to purchase. Think fashion retail rep that is eager for you to try on that new pair of shoes. When you try them on, you are 80% more likely to purchase them.
The AR experience is also a great opportunity for companies to educate customers and offer more in-depth content beyond the packaging and label. It also presents the perfect opportunity to upsell companion products or accessories.
Immersive experiences are also a great way to drive customers to brick-and-mortar locations. Customers may want to visit the store to ask questions, see products in person or explore additional products the company may offer.
AR isn't limited to online stores. Companies with brick-and-mortar locations can use technology in the store to enhance the shopping experience. For example, Walmart developed an AR app to drive customers to the stores in December 2018. Customers would scan codes with their phones to activate AR content sponsored by consumer brands. AR activities also included virtual sleigh rides, mini-games and face filters. Shoppers could then share these experiences on social networks. All of which helped to drive additional shoppers to the stores.
Retail store Tilly's used AR in 2017 to sponsor a treasure hunt tied to back-to-school shopping. The app allowed customers to search the store for coins to receive discounts.
Rich and Immersive Customer Experience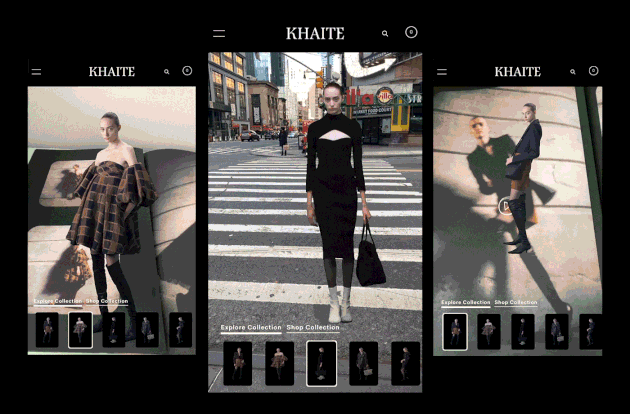 Immersive experiences elicit emotion which is a significant factor in a consumer's decision to purchase a product. The phrase "a picture is worth a thousand words" is key to marketing and advertising initiatives. Studies have shown that 47 percent of consumers acknowledged that immersive technologies make them "feel more connected with products" while shopping online.
Immersive experiences elicit emotion which is a significant factor in a consumer's decision to purchase a product.
Rather than forcing a consumer to imagine how a product will look, augmented reality in fashion allows the user to experience the product firsthand, in a digital environment.
Potential to Go Viral
Immersive experiences are often worth talking about. That alone gives it a shareability factor, which encourages people to pass it along. Viral content means people are sharing it nonstop with family and friends. Augmented Reality can help you gain a larger audience for your product.
Going viral increases brand recognition. Fashion companies need brand recognition to build trust and acceptance. Once trust is established, customers are more likely to try the experience for themselves and are more likely to become customers.
Another benefit of going viral is that it can help reduce costs on marketing. Sharable experiences mean customers will promote your product for you.
Augmented Reality in Fashion – Reduces Returns
According to research firm Statista, product returns can cost as much as $550 billion per year. One of the main reasons for returns is that the product didn't meet the customer's expectations. They bought a product based on a stock photo, only to realize upon receiving it, that it wasn't what they imagined.
Allowing customers to experience the product in a augmented world lets them see first hand whether they will like it. Retail giant Macy's "try before you buy" AR product visualization helped the company reduce return rates to less than two percent.
Augmented Reality In Fashion – Boosts Buyer Confidence
Buyers want to be confident in their purchasing decisions. It has been shown that 47 percent of consumers are willing to pay extra for a product if they could customize or personalize the immersive experience.
Gain Valuable Consumer Insights
Conducting market research is invaluable to improving marketing efforts. AR technology keeps users engaged with the product which gives marketers insight into valuable information. Marketers can gather information such as:
What fashion products are the most popular?
What products are the least popular?
How long does it take for a customer to decide on a product?
What features are most important to customers?
What new features do customers want to see?
This information is beneficial to help companies reach out to previous customers with customized ads. It can also be used to guide indecisive customers down the sales funnel. If a company has insights into why customers leave without purchasing, they can craft their sales funnel to encourage customers to continue the sales journey.
Social Media AR Fashion Filters
Augmented Reality filters work with your camera to generate special effects for images. The filter superimposes these effects on top of faces. Social media users are excited about filters, as they provide a novel way to express themselves and communicate with other users and brands.
Benefits of Social Media AR Filters
According to Instagram, one-third of the most viewed Instagram stories were for businesses. Additionally, people use AR filters an average of 75 seconds, which is 4x longer than mobile video. All of this presents a huge opportunity for the fashion industry to build a brand following using AR filters.
Filters provide a memorable experience, which is great for increasing brand recognition and improving customer loyalty. Companies that provide great filters give customers something to talk about and ultimately share with others. The result of which increases a company's market reach with very little expense.
Fashion Brands Using Social Media AR Filters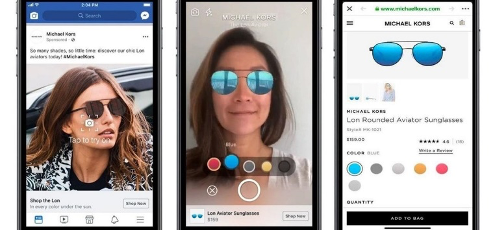 Several large brand names are using filters to attract new customers and engage existing customers. Each provides a unique approach, but the ultimate result is a fresh experience to user engagement with the product.
Gucci
Luxury designer Gucci used an AR filter that presents a holographic pearlescent tiara. Named "I See You", the filter was designed to celebrate self-expression.
H&M
Retailer H&M created six AR filters to promote a collection of clothing inspired by 1990s streetwear.
Calvin Klein
Designer Calvin Klein created three interactive filters. The "MyCalvins Mood" filter acts as it suggests and allows users to select one of three mood colors. The "CK Everyone" filter has the phrase "I love every one of me" that follows the user's movement. Lastly, the "Deal With It" filter acts as a halo.
Louis Vuitton
Louis Vuitton released a filter tied to the League of Legends game, for which the company designed outfits for the characters.
Augmented Reality in Fashion: Virtual Fittings and Try-Ons
A virtual fitting room allows customers to try on outfits from the comfort of their homes. They can view the product's size, style and fit before purchasing.
The global virtual fitting room market is projected to grow from $3.50 billion in 2021 to $12.97 billion in 2028. Studies have shown that 97 percent of consumers have abandoned a shopping purchase because it wasn't convenient enough. Virtual fitting rooms offer a more convenient way for customers to try on products. Additionally, 34 percent of shoppers think virtual fitting rooms make online shopping more fun.
Brands Using Virtual Try-Ons
Saks Fifth Ave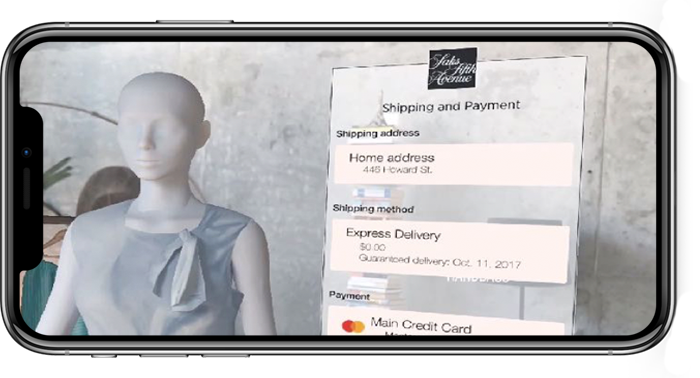 Saks Fifth Ave shoppers can view RPR's virtual clothing configurator using smart glasses or a phone. Customers can visit the virtual clothing rack in-store or at home. The store's AR experience also makes recommendations about related clothing and accessories.
GOAT
GOAT uses an AR try-on feature that allows shoppers to try on sneakers before purchasing.
Ralph Lauren
Ralph Lauren's approach to AR was to install virtual mirrors in the in-store fitting rooms. The mirrors detect which items the shopper has bright into the fitting room to give them a virtual try-on session. According to the company, the mirrors have an engagement rate of 90 percent.
Warby Parker
Eyeglass shoppers can avoid the hassle of trying on glasses in a brick-and-mortar store. Instead, the Warby Parker app allows shoppers to see the glasses on their faces to determine a style that suits them.
Immersive Brand Experience
Augmented reality in the fashion industry allows companies to build their brand by delivering an immersive experience. Through these environments, companies can create spaces that enable customers to engage with the brand uniquely.
Virtual Fashion Shows
Fashion brand Balenciaga held a virtual reality runway show for its autumn/winter 2021 collection. The company presented the event through a virtual reality game "Afterword: The Age of Tomorrow." The show was presented through Oculus glasses which were sent to 330 guests around the world.
Organizers can use these types of virtual shows to allow guests to experience the event up close and personal, all from the comfort of their homes. They can even provide exclusive content such as a virtual backstage visit. Ultimately, these types of events create high customer engagement and brand association.
Product Launches
Augmented reality can take the monotony out of product launches. Whether using app-based or web-based AR, a virtual product launch is a fresh new idea that puts the product directly in the consumers' hands without the need for in-person demos. It is a cost-effective way of showcasing a product without the need for costly shipping and returns costs for customers to try on products.
Launching a product using AR allows companies to capture a consumer's complete focus. When immersed in an augmented world, customers are less likely to be distracted thus allowing them to completely evaluate the product.
Product launches using AR afford companies complete control over designing the space. They can create new and exciting worlds and backdrops for customers to experience the product.
Augmented reality for fashion retailers is a game-changing solution for engaging customers. The technology gives companies a competitive edge by providing a unique and immersive experience for customers to explore the product first-hand in a virtual world. Giving the customer a chance to try on the product from the comfort of their home empowers them to be confident in their purchasing decision. Ultimately, engaged and satisfied customers are likely to be loyal customers.
Choose the Right Augmented Reality Fashion Parter
If you plan to use AR or WebAR to enhance your product line, it's important to choose the right partner. You need to work with an agency with a track record for successfully deploying Augmented Reality in Fashion. Not only should this partner grasp the technical know-how of AR, but they should also have the capability to creatively bring your vision to life and solve real world problems.
Rock Paper Reality (RPR) has been at the forefront of AR development for over 12 years. Having worked with clients including Microsoft, Netflix, and Lenovo, the experts at RPR will work with you every step of the way to ensure that your brand stands above the competition. Watch the RPR showcase reel for some more AR experiences in action.
Contact us today for a free demo of how our clients have achieved strong ROI with our proven AR solutions.