WebAR allows for immersive Augmented Reality experiences using just your smartphones and a web browser.
In today's social media content-drenched world, it is hard to get noticed. Adding interactivity to content increases engagement and helps retain information better. According to Ion Interactive, adding interactivity to content raises retention of brand messaging by 79%.
By skipping the social media middleman and hosting your interactive content on your own website (which can be accessed directly via a hyperlink or QR code), can drive even more traffic. And what's more engaging and interactive than Augmented Reality content? Its latest iteration, WebAR, delivers the same interactivity, but in a more accessible medium with greater reach.
Earlier Augmented Reality technologies were wildly popular, but not exactly practical. The earlier versions of Augmented Reality were focused on delivering the technology through a headworn device tethered to a PC, which wasn't exactly portable enough (yes, try to carry your laptop when demonstrating AR and you'll find it a cumbersome experience).
Then the mobile phone companies managed to release smartphones as powerful as PCs. With its embedded camera, the smartphone became the perfect vehicle for delivering highly interactive content rendered through the video. The initial iterations of AR came via apps that require downloading and, in most cases, compulsory personal accounts. Think of Pokemon Go, Snapchat's Face filter, or Google Map.
Now, web-based Augmented Reality, also known as WebAR, is a technology that brings Augmented Reality to smartphone browsers. It has freed augmented reality from the clutches of apps and other limitations. Instead of logging in, a simple QR code can open dynamic content for a great WebAR experience via any browser.
Applications of WebAR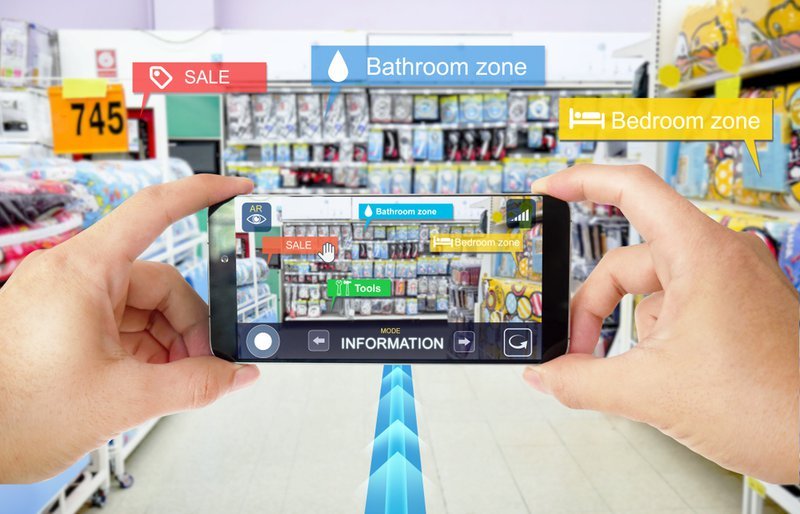 WebAR can help increase interest in brands by providing highly interactive content.
The applications of WebAR are unlimited. It can be used to promote brands, increase awareness, enhance learning, and provide interactive entertainment.
Benefits of Web-based AR
There are always tradeoffs with any technology approach and Web AR is no different compared to app-based AR. However, when compared to many traditional ways of marketing and advertising for consumer products, Web AR often outperforms the competition on product sales lift and intent to purchase, brand retention, and increased loyalty.
Other Web AR benefits include:
It offers users more extensive insights when paired with Google analytics;
Increases the conversion rate and sales lift up to 520%;
Has better audience targeting and retargeting than app-based;
Integrates with an existing website and CRM touchpoints;
It tracks your audience's interests and brand engagements.
Business
WebAR does wonders for business, whether for uniquely advertising products, delivering the company's message, or as a means to demonstrate or display service offerings.
For example:
Retail brands can use WebAR to showcase digital products against a backdrop of users' actual homes.
Real estate companies can host virtual tours to properties on the market. They can also add interactivity to open houses or tours.
Fashion brands can feature virtual dressing rooms where customers can visualize 3D apparel and try on items.
Education
WebAR helps provide improved educational tools over the web. Tours to major landmarks and historic sites can now be accompanied by interesting facts and additional information for curious minds. Adding interactivity to remote learning can make it more interesting for teachers and students alike. Plus, students retain more of what they learned. Museums can overlay digital content on paintings and installations, textbooks can create 3D animated diagrams, and businesses can even recreate their onboarding materials with WebAR avatars and holograms.
Entertainment
WebAR opens up possibilities for video games that play against a real-world background. Studios can promote their upcoming movies and shows with interactive content featuring lovable characters or major holographic stars. Theme parks can display more information about their attractions. Events can offer side attractions such as interactive scavenger hunts within designated areas.
Awesome WebAR Examples
WebAR already caught fire among content-hungry users, and there are plenty of great examples where companies ventured into WebAR to help drum up interest for their products, services, or messages. Below are eight of the more popular examples of WebAR that generated exciting content.
Retail
Saatchi Art "View In My Room"
People in the retail sector can increase sales by capitalizing on online marketing's potential by integrating Web AR into their e-commerce websites. Saatchi Art, the largest online art store in the world, is among the firms that have benefited from incorporating Web AR into their website.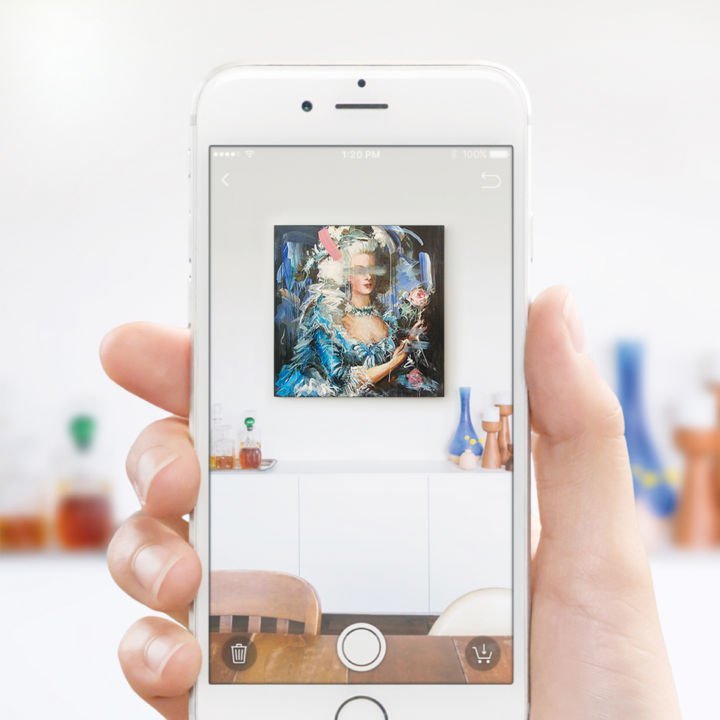 RPR developed a web AR feature known as "View in My Room" that allows users to visualize how artwork sold by Saatchi Art appears on their wall right from the comfort of their home. All this happens right on the phone's browser with no application installation required.
By allowing customers to visualize how the artwork looks on their walls, the art store can attract more customers to their products.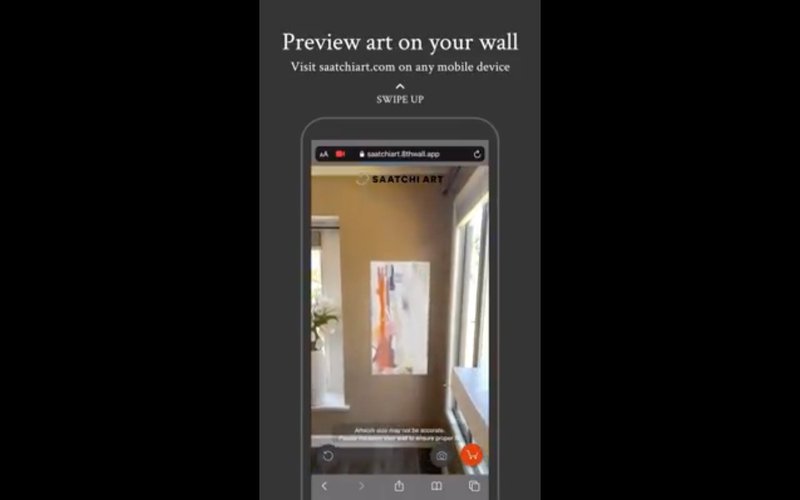 The WebAR experience allows customers to view over a million works of art in the Saatchi Art gallery and check how they look displayed in their target surroundings. This helped dramatically increase sales lift. Customers that use the View-In-My Room feature are 70% more likely to proceed with the purchase after they visualize how the digital artwork looks hanging on their walls.
Fashion Industry
RPR & Microsoft's Holographic Retail Platform
Web AR brings a new twist to online shopping by allowing users to interact with 3D holographic images of models right from their smartphones' browsers. RPR has partnered with Microsoft to bring an all-new innovative platform to fashion companies who sell their products online.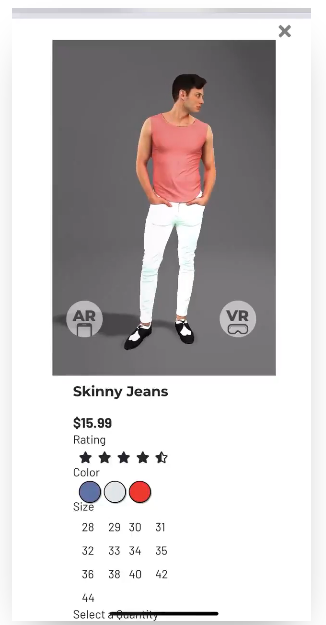 The holographic modelling project changes how brands showcase their products to customers. Users can now view new clothes and accessories on models on their phones. This brings the modelling runway experience right to your phone. This experience is designed to increase buyer confidence and reduce clothing returns, which are two of the greatest challenges to purchasing clothing online.
Food & Beverages
Jackson Family Wines
The Jackson Family Wines project developed by RPR in partnership with Microsoft delivers a first-of-its-kind hologram that fuses volumetrically captured content with Web AR. The Siduri Holographic Experience allows users to interact with a 3D model of the founder of Siduri wines, Adam Lee, in an innovative marketing strategy that helped the Siduri brand boost sales and cultivate loyalty from its customers.
Siduri's motto, "serious wine and serious fun aren't mutually exclusive", was brought to life by Rock Paper Reality crafting an interactive experience featuring founder Adam Lee stepping out of a 3D wine bottle for various shenanigans designed to delight and engage viewers and potential customers like never before.
Entertainment industry
Jumanji: The Next Level
The entertainment industry has improved marketing by incorporating web AR to give fans of popular movies a way to experience the movie plot and engage with the characters. In the Jumanji project, for instance, fans use their voice to activate the web AR experience, which then takes them to various virtual locations where they can play games just like the characters in the movie.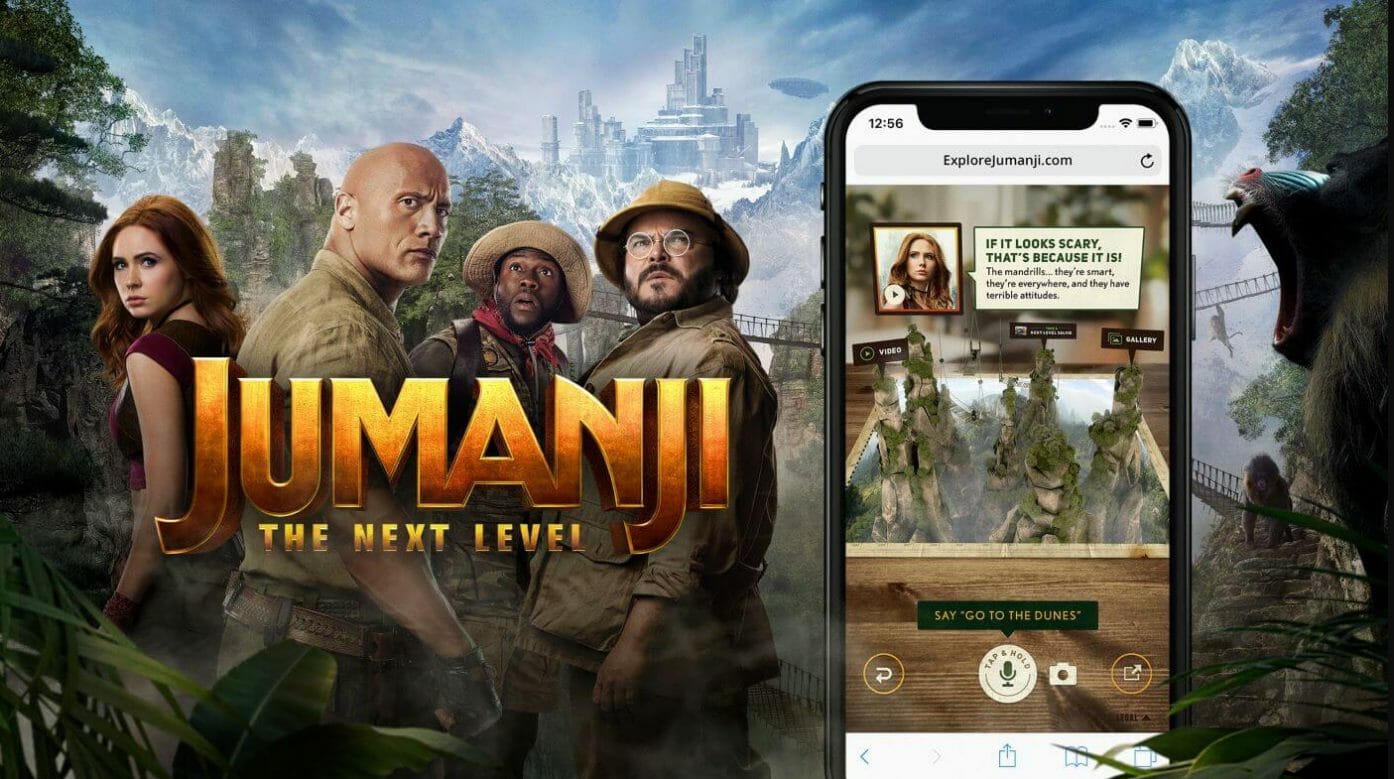 The Web AR interactive movie experience drives brand reach with fans and increases awareness for new releases in the future in a way that's fun and shareable. Web-based AR increases the impact of new releases by increasing ticket and merchandise sales, and ultimately the new movie following all thanks to web AR.
Spiderman: Into the Spider-Verse
Here's a webby treat: Your favorite web-slinger in a WebAR via the Sony website.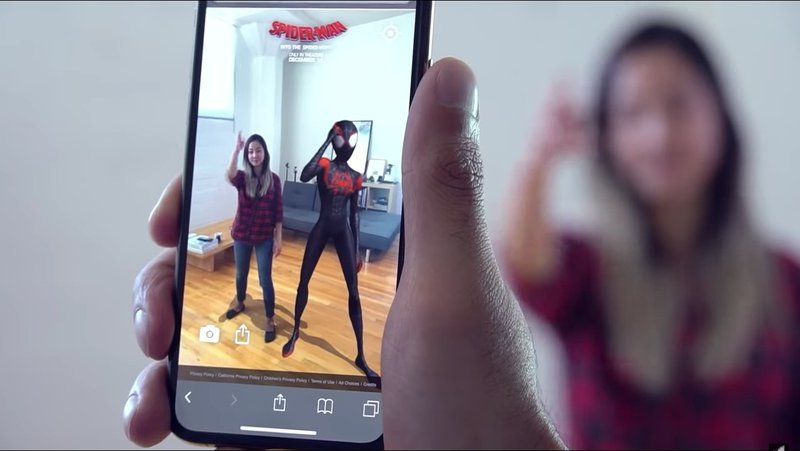 8th Wall developed the AR platform that made this interactive WebAR promoting the Sony animated smash Spiderman: Into the Spider-Verse. Here, you can invite teenage Spiderman/Miles Morales into your home for some one-on-one interaction. You can take pictures and share the experience with friends. Sony Pictures included the QR code to launch this WebAR site in print promotions for the movie.
Bugs Bunny's 80th Birthday
For anyone who wanted to eat carrots and get hit by an anvil, the Bugs Bunny WebAR experience is for you.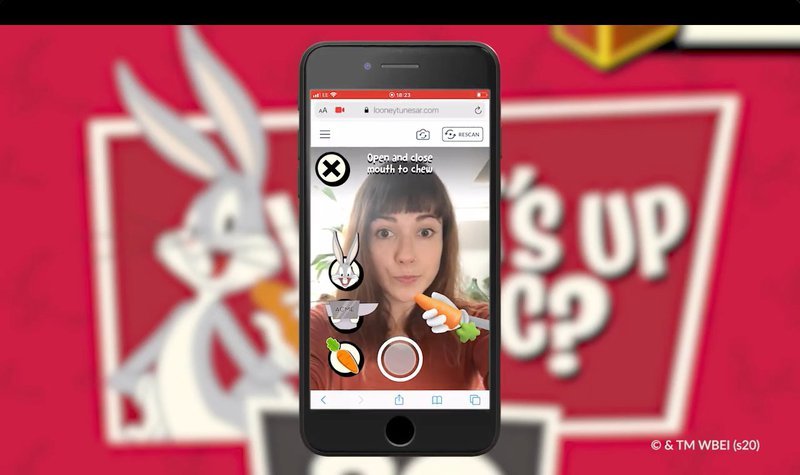 Warner Bros created a quirky AR experience in celebration of Bugs Bunny's 80th birthday. Fans can scan a provided QR and get treated to a daily series of fun Looney Tunes experiences including face filters, interactive gags, and other highly shareable content. Users can also journey on a world-tracked experience to meet Bugs and receive a virtual gift.
Automotive Industry
Digital Porsche Brand Academy
Porsche employees will love this WebAR program that discusses Porsche's colorful history.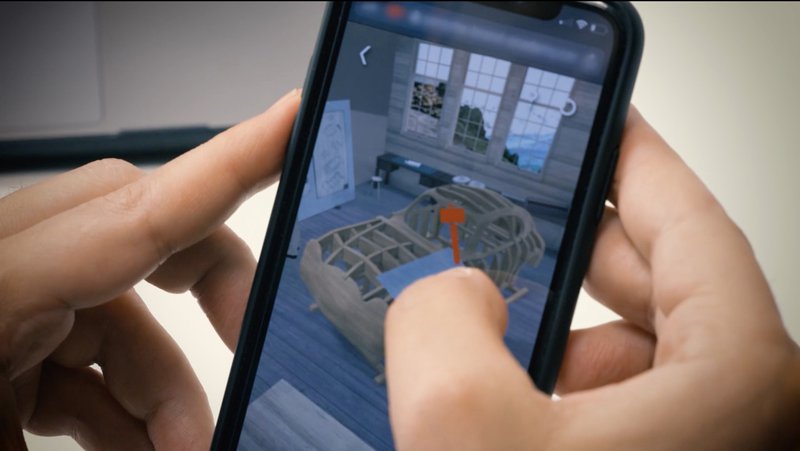 An award-winning idea from and developed by the Team of svarmony Technologies GmbH, the Digital Porsche Brand Academy is the first-to-market training tool that uses augmented reality to provide Porsche employees an immersive experience learning about the company's history and values. The star of the WebAR experience is an animated avatar that serves as a tour guide for Porsche's past, present, and future. Employees can explore realistically animated Porsche-locations, take a ride in a virtual Porsche, help assemble a car, and test Porsche knowledge via a quiz. The Digital Porsche Brand Academy is a great starter kit for employees to establish a relationship with the brand and align with the company's plans.
Toyota Car Configurator
The Toyota project allows customers to visualize the latest Toyota features by viewing an interactive 3D model of the vehicle right from on your phone. Users can even tap on some of the model's features to see how they perform in real life. The web AR feature also allows the user to view the car's interior and turn the headlights on and off.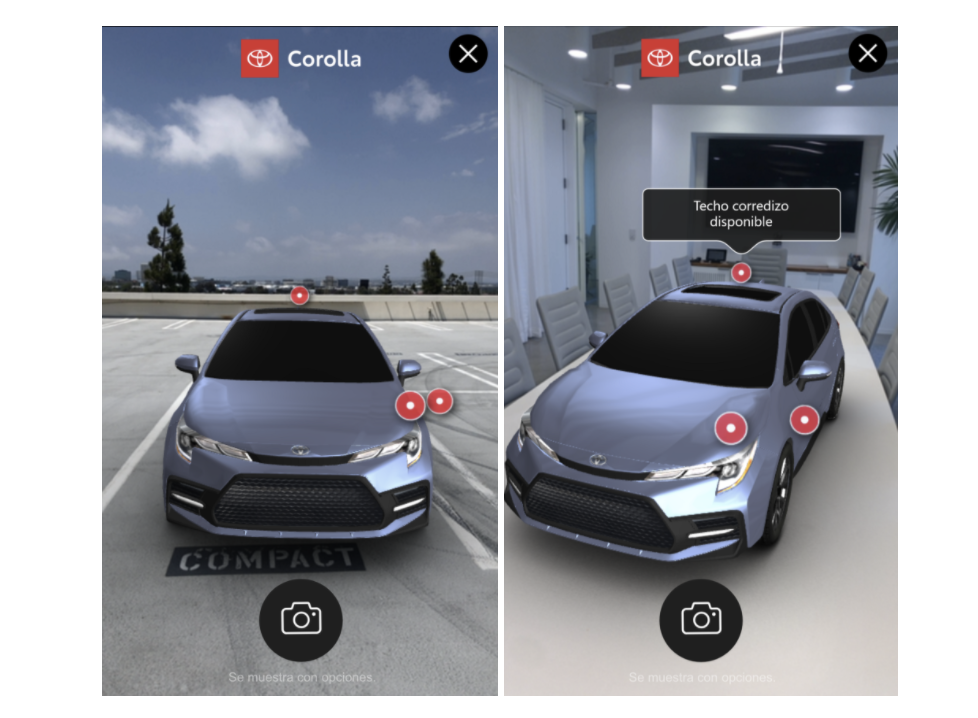 With the interactive visualization, potential customers can view the car from the comfort of their phone and decide to buy the car without having to physically visit the Toyota showroom. With more people viewing the model, Toyota has an opportunity to boost sales even in new markets and seamlessly push out updates to their experiences when new vehicles or features are available.
Conclusion
From the above web-based AR examples, it is clear that Web AR has a wide range of applications and can be customized to drive new value and opportunities for just about any customer-facing industry. Any business that seeks to establish its name and increase its dedicated following now and in the future should embrace this new technology, which only promises to get better with time.
WebAR with Rock Paper Reality
Rock Paper Reality is an Augmented Reality design agency that helps companies achieve their objectives with augmented reality. Whether you're a startup or Fortune 500 company, Rock Paper Reality delivers engaging AR products and cutting-edge applications that are tailored to client specifications. RPR is here to help you incorporate Web AR into your business' marketing plan and help you blaze the new frontier of authentic brand storytelling.
Learn more about how Rock Paper Reality can make WebAR and app-based AR work for you. Visit rockpaperreality.com or reach out for a free demo.