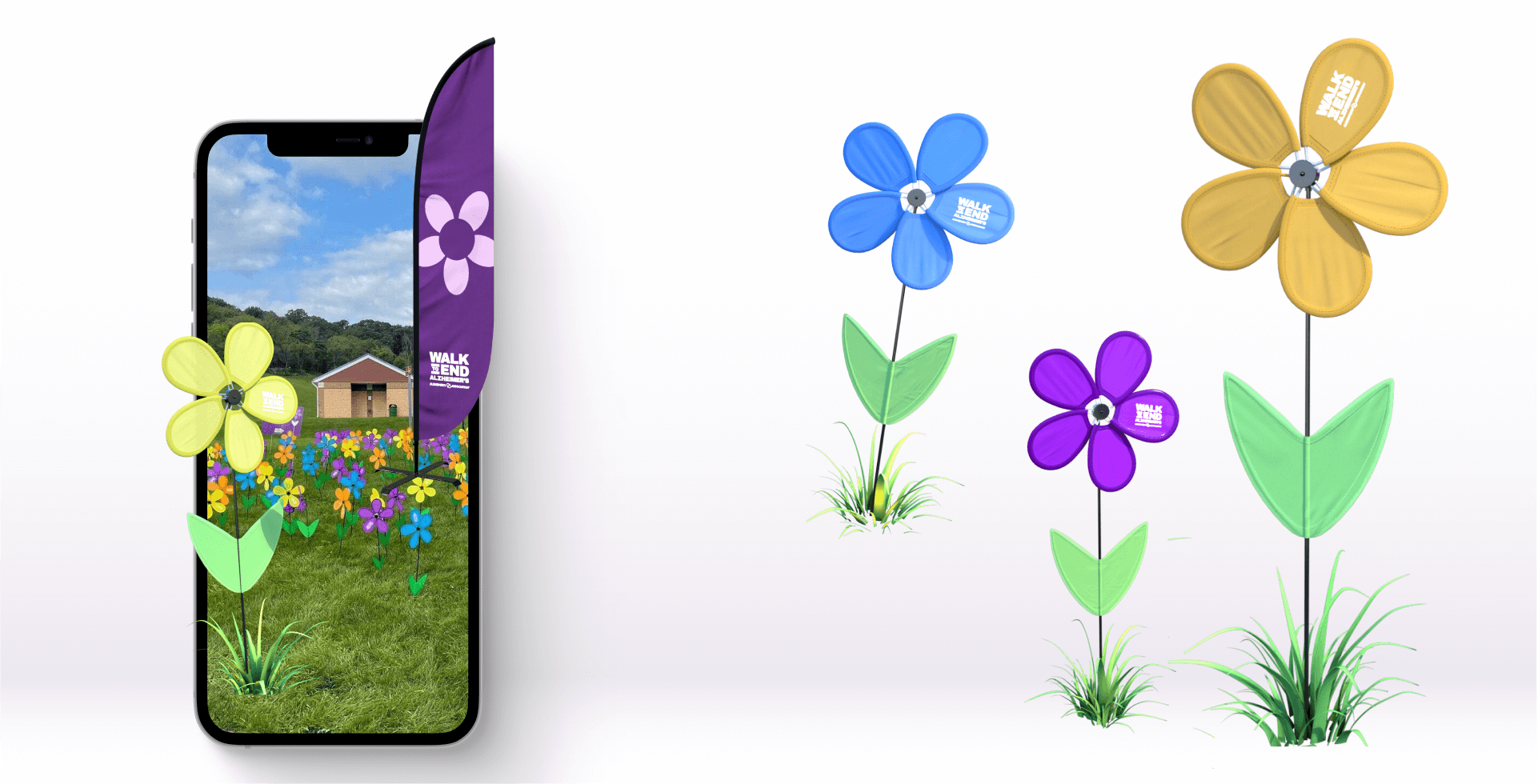 Alzheimer's Association
AR promise garden for alzheimer's association
App-based experience breaks down barriers and drives non-profit fundraising reach
Services:
Consulting: Concept creation
Delivery: 3D asset creation, UI design, integration testing, QA
Tech: Web AR, Adobe Aero
Industry: Non-profit
Key contributors: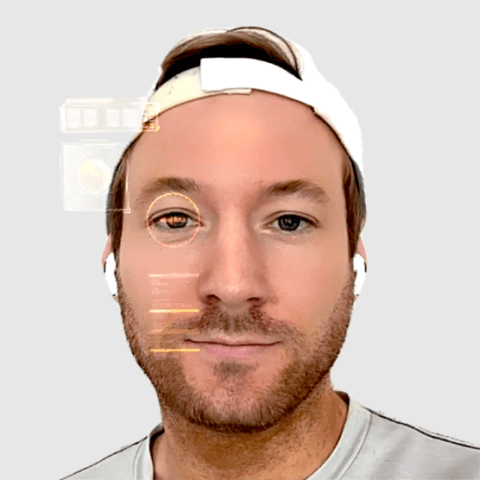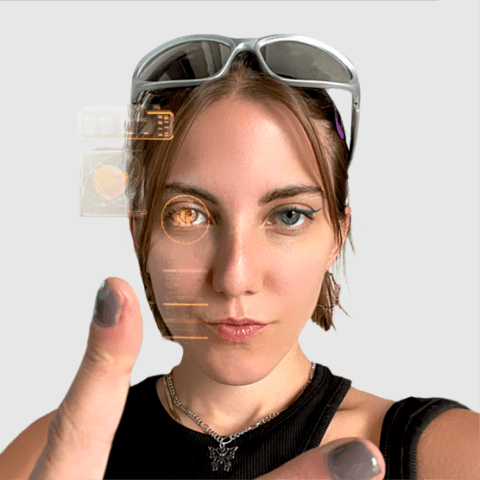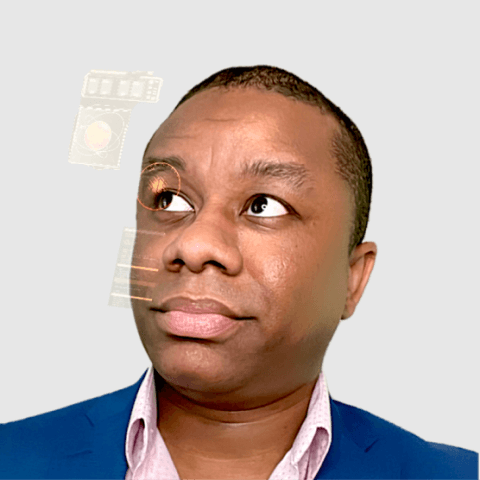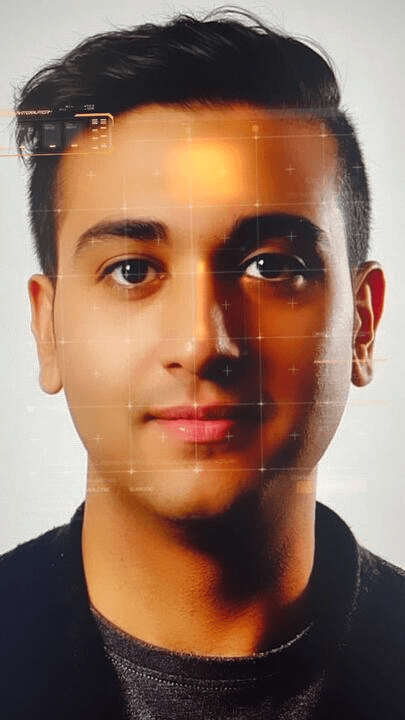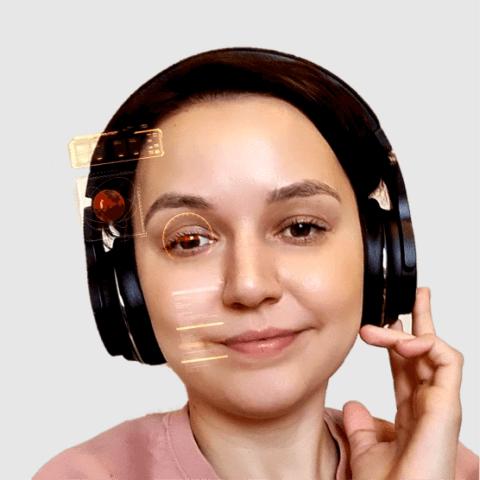 About the project
The Alzheimer's Association is a non-profit organization striving to end Alzheimer's disease and all other dementia. To do this, it needs to find new and innovative ways to raise awareness and funding. This can be challenging, as audiences are often dispersed around the globe and not always unified within a single community.
Every year the association holds a fundraising initiative called Walk to End Alzheimer's. The all-day event, which takes place across more than 600 communities, invites participants to complete a sponsored walk and select a windmill flower representing their connection to the cause. They are also given the opportunity to plant it during a special 'Promise Garden' ceremony.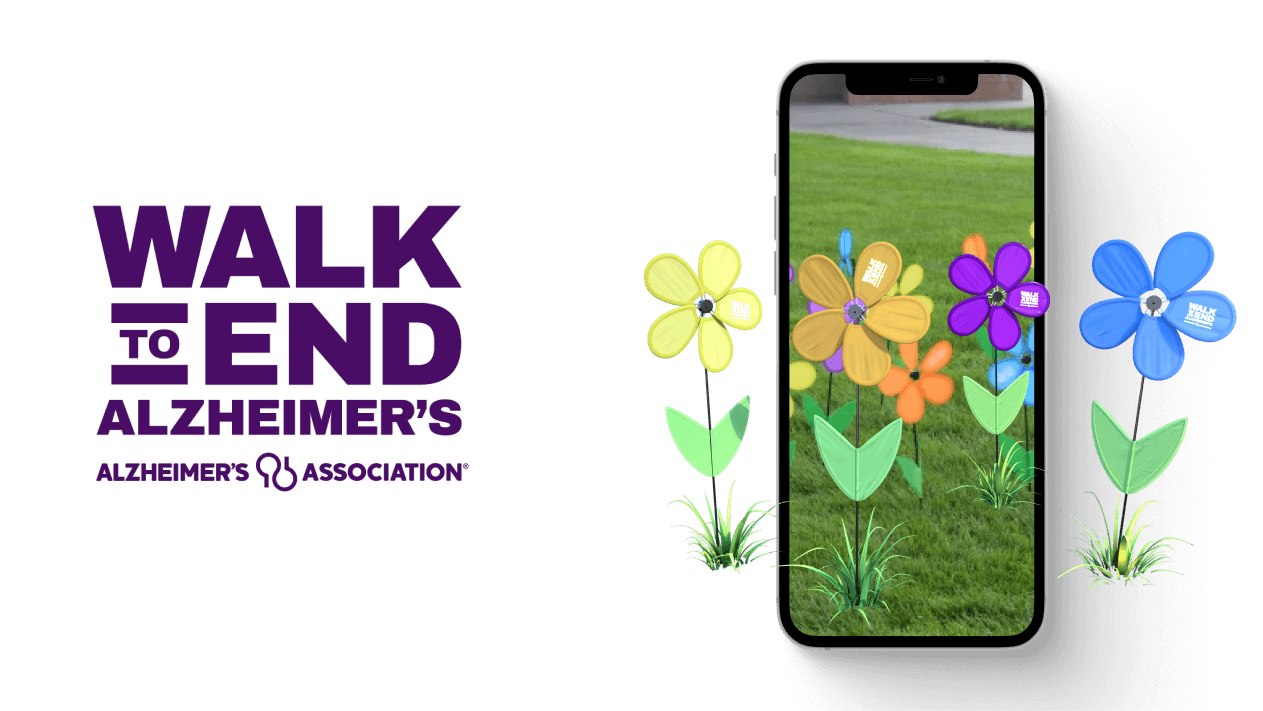 The challenge
While the initiative was a great way to engage groups across the US, it was not accessible to those who couldn't attend in person. With this in mind, the Alzheimer's Association and its peer-to-peer mobile app provider Nuclavis came to RPR for help. They wanted to create an AR experience that would give anyone who couldn't join a walk the ability to visit a virtual Promise Garden and dedicate a flower.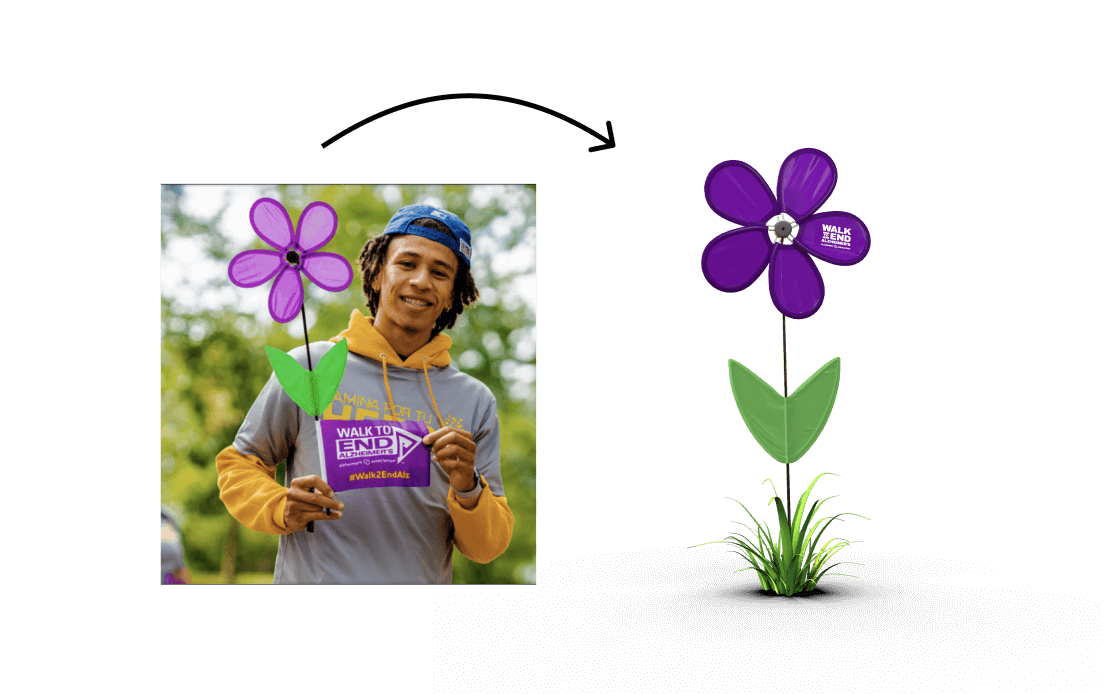 The mission was to build a digital counterpart to the in-person Promise Garden ceremony. Users would be able to choose and plant their flowers, leave dedication messages and make donations. They would also be able to view flowers planted by other people and tap on them to reveal the notes left behind. Thanks to accurate data streaming, the garden would grow all year around as visitors continued to add new flowers.
The experience would be launched through the Walk to End Alzheimer's mobile app developed by Nuclavis, a P2P provider that uses innovative technology to help organizations boost participation and maximize fundraising efforts. Integrating it into the native app would enable users to easily access the Promise Garden and Walk to End Alzheimer's community, regardless of location.
"The AR Promise Garden enables participants to experience this powerful moment virtually, through the native mobile app.

We have removed geographical barriers and made this amazing experience accessible to all participants anytime, anyplace."

Kathy Kempff,
CEO, Nuclavis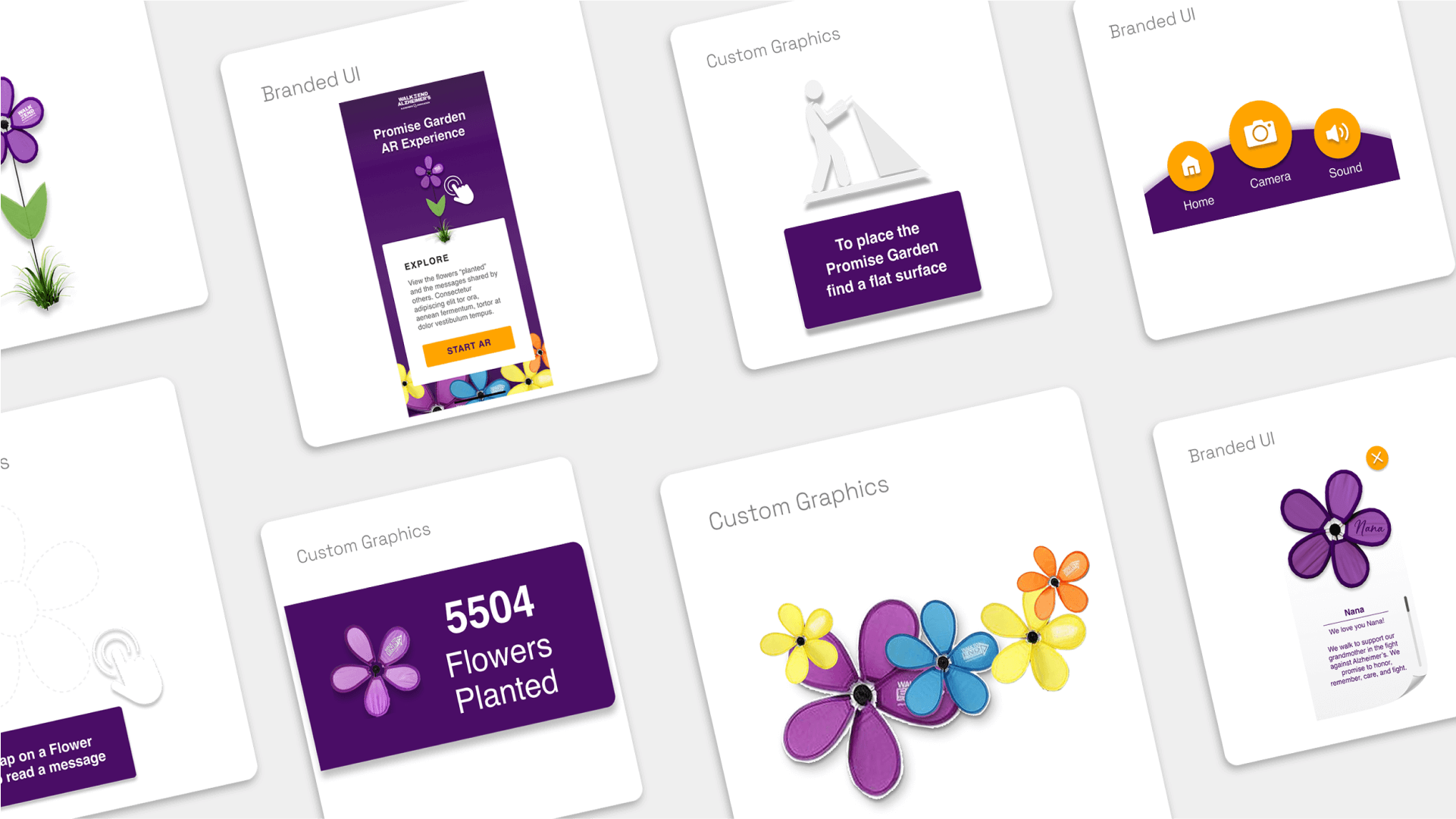 The Solution
As the AR Promise Garden would need to feel as authentic as possible, realism was an important part of the creative brief. One of the first tasks was to recreate dozens of the Walk to End Alzheimer's windmill flowers in 3D, with the same look and feel as those featured at the event. This involved many technical steps, from 3D modeling and texture creation to animation.
The team used several Promise Garden flowers as a reference, to create a world-scale experience in the user's environment. They then used a combination of procedural and manual animation techniques to make the flowers grow from the ground and move in the wind.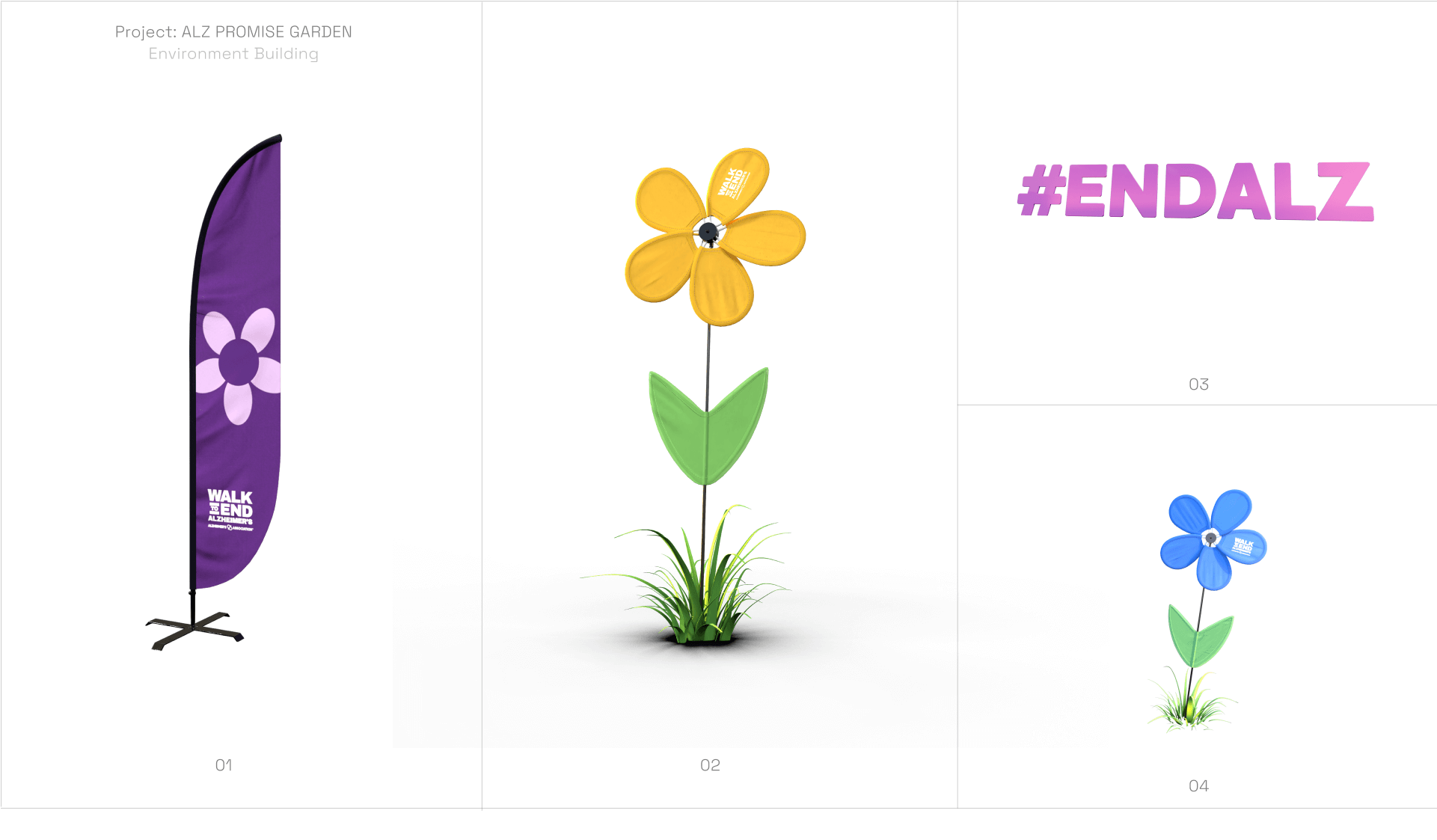 Another important factor was to ensure all interaction felt natural and frictionless. Opting for a user-friendly 2D UI and stable world tracking enabled users to easily walk around in the space. It also gave participants a new way to discover the messages — and therefore the personal stories — of other people impacted by the disease.
Crucial to the project's success was collaboration and feedback, as development for two platforms (Unity and the Alzheimer's Association app) was taking place simultaneously. Embedding the product into the native app environment required multiple rounds of integration testing and QA checks. For this reason, open communication and regular check points were key.

We successfully created and delivered the AR Promise Garden experience, enabling users from any location to access a growing and deeply personalized community. In collaboration with Nuclavis, the Alzheimer's Association was able to integrate our finished product directly into its native app, to streamline its fundraising initiative and drive donations.
The Alzheimer's Association particularly appreciated the sense of realism we had achieved, from the tactility of the textured flower petals to the free movement in the space. Thanks to rigorous testing, the experience also ran smoothly in the native app. Despite involving high quality assets, performance was strong and load time short.
"We wanted to build an immersive experience that would grow and engage our mobile community and give people a more sociable way to participate from within the app.

Partnering with Nuclavis and RPR made this vision a reality and created a meaningful and tailored experience for our participants."

Eric Oyler,
Director of Digital Fundraising, Alzheimer's Association
TALK TO US
Are you ready to launch a unique AR experience? If so, we'd love to hear from you. Get in touch to start the conversation today.
Stay in the know
Sign up to our newsletter for exclusive updates and content, delivered directly to your inbox. 
You can opt out at any time, please view our Privacy Policy for more information on how to unsubscribe.