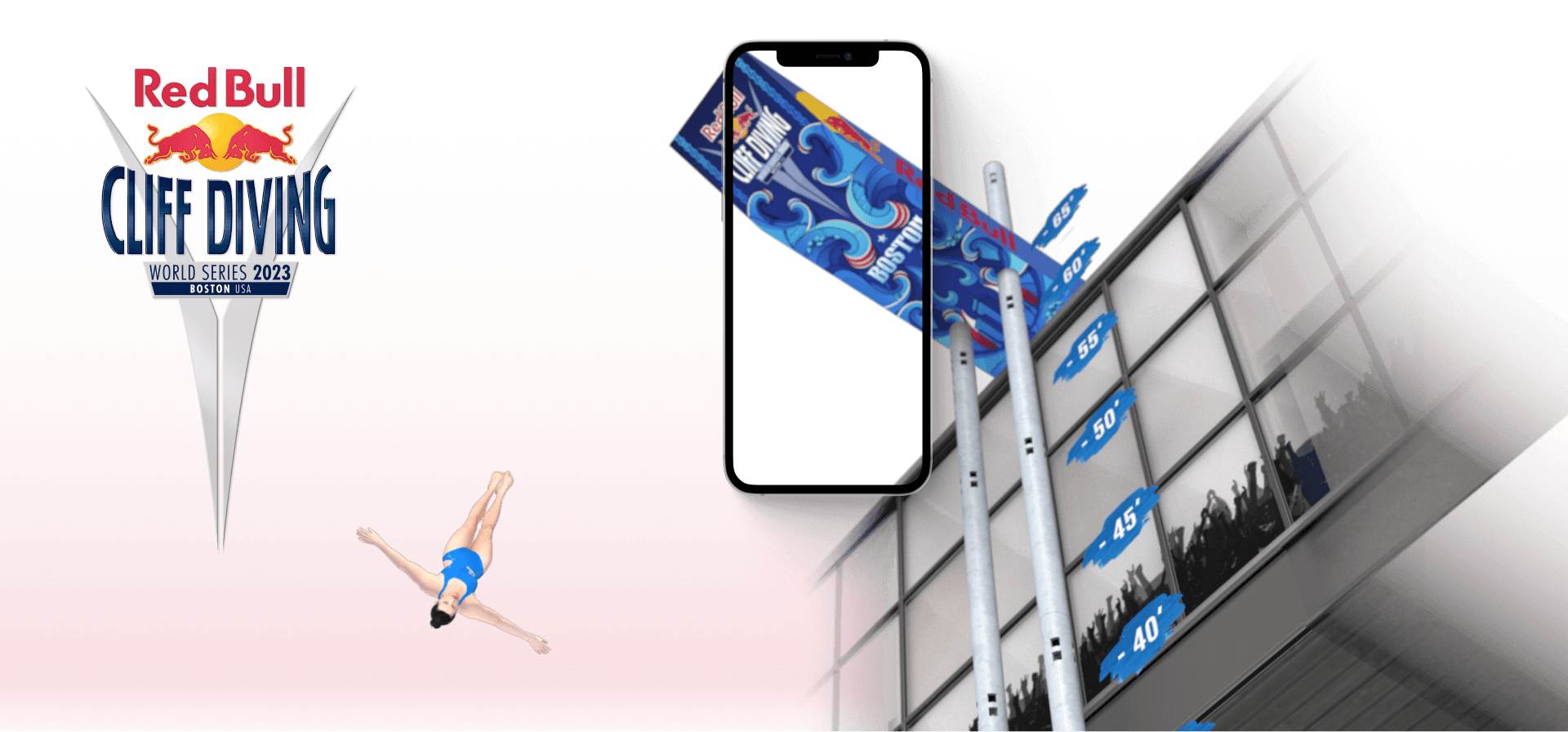 Red Bull
WebAR diving experience for Red Bull's extreme sports event
Dual deployment experience and multi-channel promotion pack for Gen Z awareness campaign
Services:
Consulting: Target audience research and insights
Delivery: WebAR design and development, marketing collateral
Tech: WebAR
Industry: Food & beverage, events, extreme Sports
Key contributors: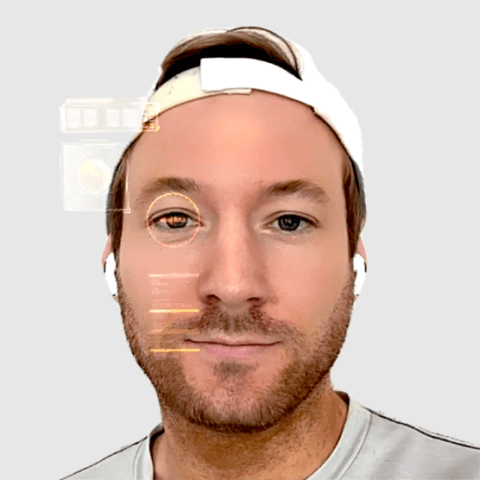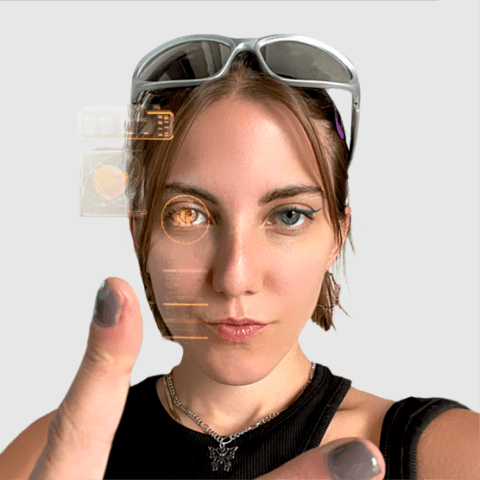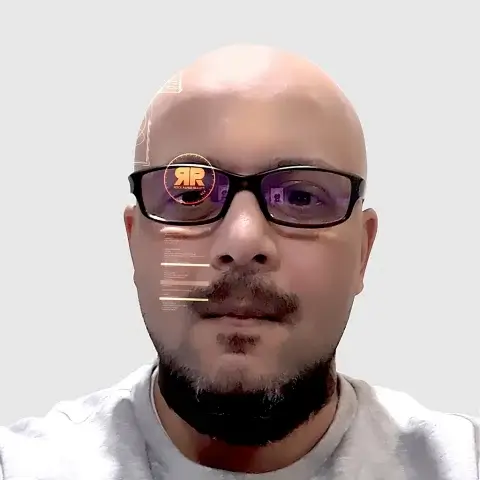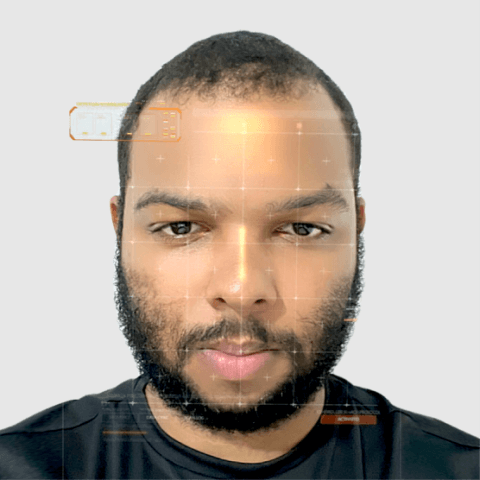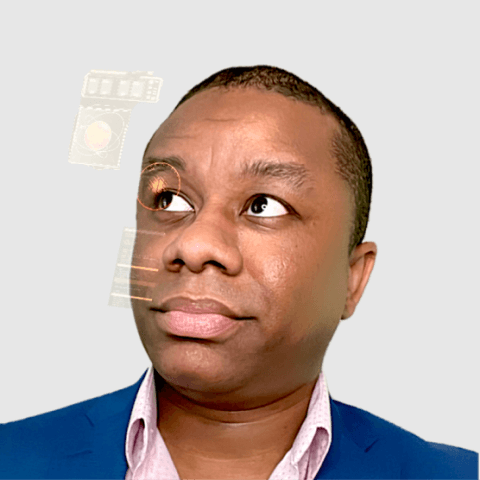 About the project
Red Bull is a world-leading creator of energy drinks and spectacular extreme sports events. A champion for embracing life and breaking through limits, the brand was looking for a unique way to build awareness for its fast-approaching Cliff Diving World Series when it came to us for help. The mission: spread the word for a 'city-stopping' event.
The first stop of the Series was due to take place at Boston's Institute of Contemporary Art, featuring a 70+ foot high diving platform from the roof to the harbor. QR codes would be distributed around the city on physical Out-Of-Home (OOH) advertisements, and a separate social media activation would be needed to widen the reach and capture the imagination of a Gen Z audience. Time was tight and the vision was complex.
The challenge
As it was Red Bull's first WebAR experience for an OOH campaign, it was looking for an agency with a proven record of delivering event-based activations. In addition to understanding how to get the most out of the latest immersive technologies, support with creating marketing collateral and deploying the experience across multiple channels was essential.

The solution
Using a combination of location photography and reference capture, we recreated Red Bull's enormous diving board in 3D. First we built the model and then we applied texturing and lighting processes to mimic the real thing. Upon activating the experience via a QR code on OOH advertisements or Snapchat, users could see the life-scale tower grow rapidly before them. They would then see a spectacular somersault dive from a diver at the top.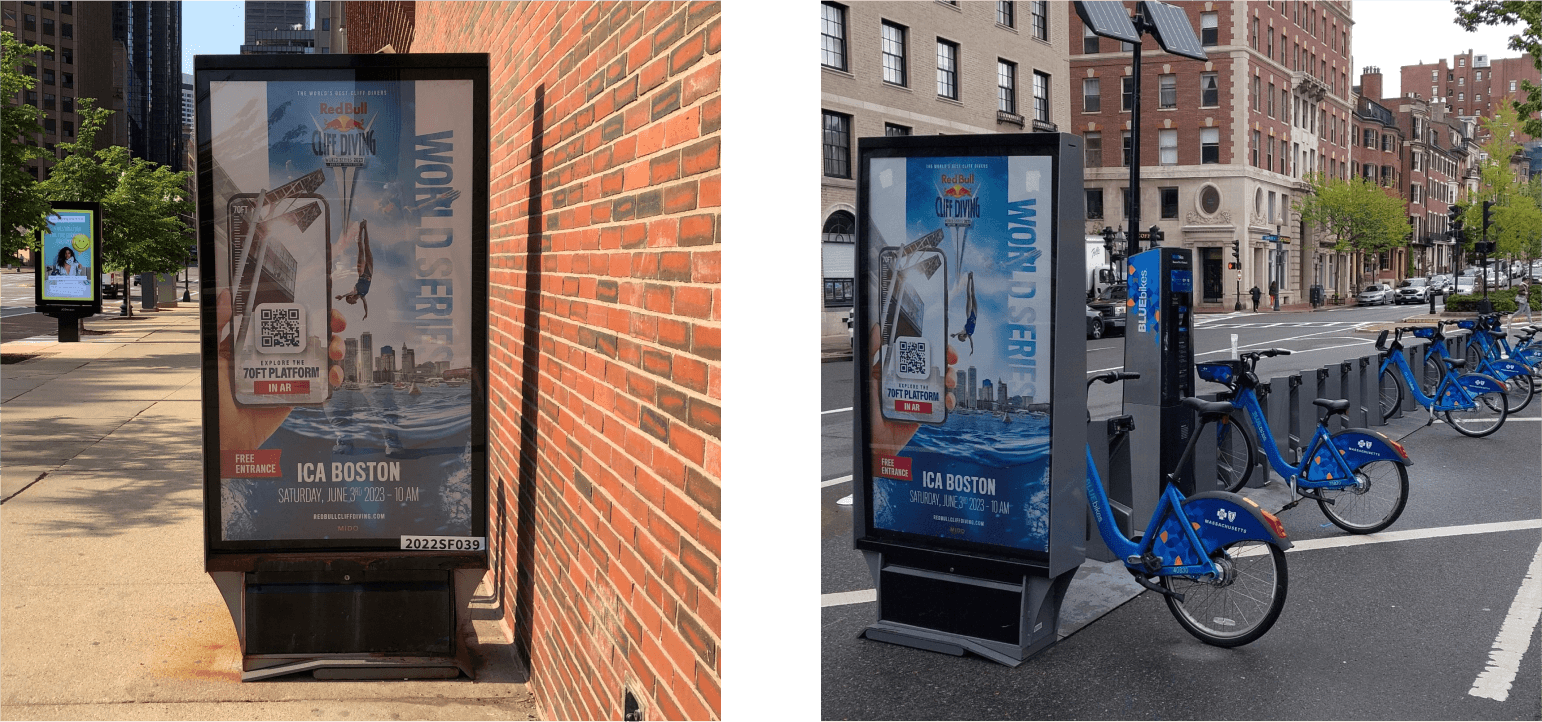 A key part of the project was animation — bringing both the athlete and water to life in a realistic way. This involved capturing details like the twists and turns of the dive itself and the tower's reflection on the water.
As the timeline had been tight from the beginning, clear communication was paramount. To maintain alignment, we adopted an iterative approach and gave Red Bull visibility into concept drawings as early as possible. We also provided a live mock-up and testing environment, enabling feedback loops to circulate in real time.
Equally important to the project's success was the shared understanding that AR experiences do not exist in isolation. Instead, they must be integrated into a wider marketing campaign. Ensuring that consumers would discover the experience both outside in the Boston area and remotely via social media was essential.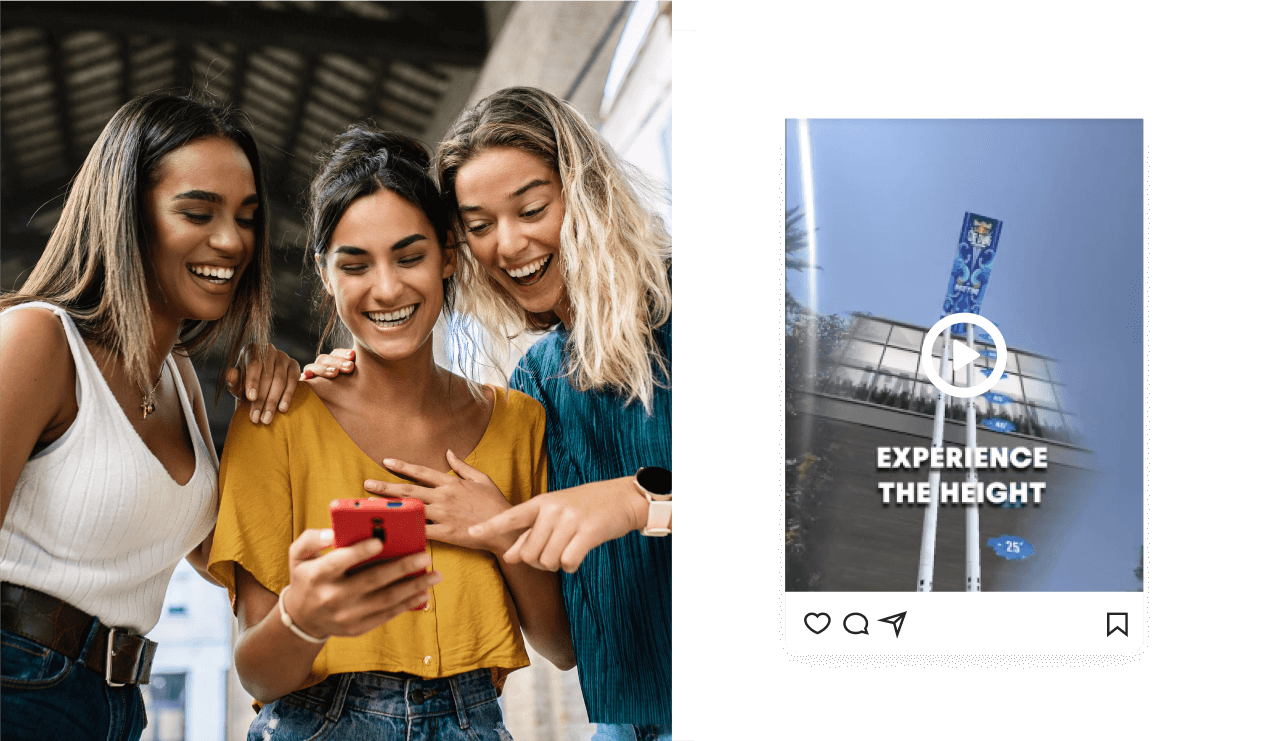 Our in-house design experts built out premium social content for TikTok, Instagram, Facebook and Snapchat. This included video, 2D stills and other collateral tailored to each channel, enabling Red Bull to deploy an omni-channel awareness campaign with ready-to-use assets as soon as the project wrapped. Great care was also taken to keep the experience size under 8MBs. This was essential as it kept load times short and performance high. It also ensured the product would adhere to Snapchat's strict requirements.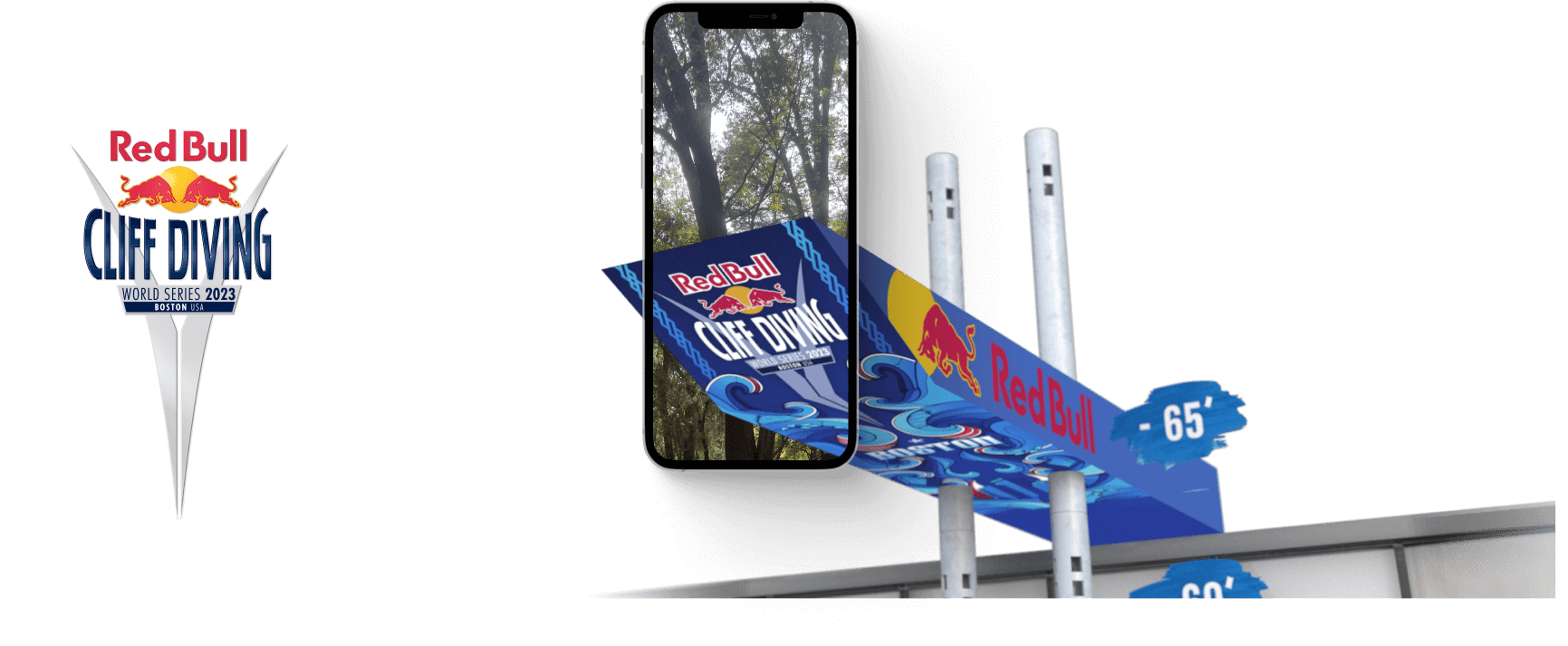 We conceptualized and deployed a WebAR experience that brought the energy of the event and personality of the brand directly to users in Boston and beyond. Working to a restricted timeline, we collaborated closely with Red Bull to create, test and iterate the product, and then produce a suite of premium marketing assets.
Teamwork, robust communication and agile workflows were necessary to bring this concept to life. The team at Red Bull was particularly impressed with our ability to adapt to multiple change requests and the quality of both the experience and promotional materials produced.
Stay in the know
Sign up to our newsletter for exclusive updates and content, delivered directly to your inbox. 
You can opt out at any time, please view our Privacy Policy for more information on how to unsubscribe.