Leave a Comment
AR is revolutionizing how people explore attractions like museums, art galleries, amusement parks, and cultural sites. From bringing the past to life with interactive exhibits to exciting audiences with immersive experiences at theme parks and stadiums, augmented reality is a powerful tool for both educating and entertaining visitors.
AR is rapidly attaching itself to every aspect of our lives. Statista estimates that there will be 1.7 billion active mobile AR devices globally in 2024, up from 0.44 billion in 2019, while the AR hardware (headsets and glasses) market is projected to rise by 6.9 billion USD between 2023 and 2027. For brands, directors, and visitor experience managers, this presents a whole host of commercial opportunities. In addition to enhancing visitor engagement and making sites more inclusive and accessible, AR installations can open up new revenue streams and boost profitability. It can also be used to revive and refresh attractions that have lost popularity or become irrelevant. In this guide, we'll explore how AR deployments at popular attractions can improve visitor experiences, educate and entertain guests, and ultimately drive business growth.
Key Takeaways
Augmented reality has become invaluable in elevating visitor experiences at amusement parks and offsetting the pressures of inflation.
AR integrations open doors to new target audiences and revenue streams.
Augmented Reality art exhibitions rejuvenate the appeal of art and draw new crowds with interactive viewings.
Augmented reality promotes educational activities, making them fun and memorable. Museums and historical sites can gain new interest by combining ancient real-world components with groundbreaking virtual experiences.
How is Augmented Reality Used in Museums and Art Galleries?
Augmented reality can bring an entirely new dimension to a visitor's trip to a museum or art gallery. It has the potential to draw new crowds from the local area or abroad, expand interest, and boost revenue. The demand for museums and other such cultural attractions is there—in 2018, a survey from the American Alliance of Museums found that an overwhelming 97% of Americans believed museums were educational assets for their communities, and 89% believed these spaces contributed important economic benefits. By making museum tours and art exhibitions interactive and immersive, AR can make visits more accessible, inclusive, and personalized.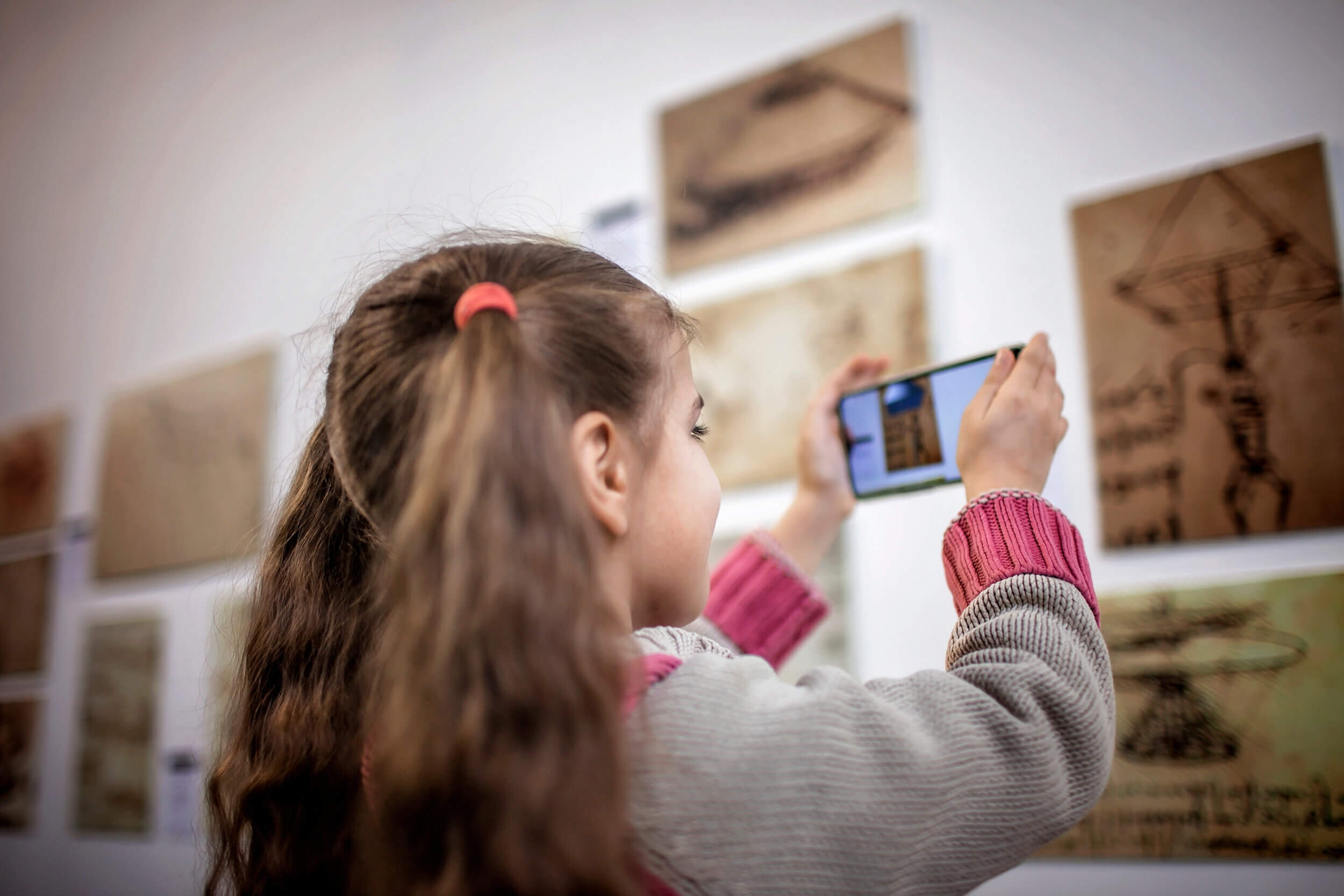 Augmented Reality in Museums
AR museum experiences are a phenomenal tool to increase the educational value of displays. Rather than just reading signs or passively listening to audio guides, visitors can use AR to interact with their surroundings. The Sanxingdui Museum in China, for instance, is a thematic museum that collects and exhibits thousands of bronze, jade, and gold artefacts from the ancient Shu period three thousand years ago. And thanks to AR, it's bringing the art of ancient China's heritage and lost civilization to life.
As well as offering AR museum tours on mobile phones, immersive integrations at the museum allow users to view information about the relics, and see details about their excavations and repair lifecycles. Visitors can also experience how relics were used in the past and observe ancient scenes by wearing mixed reality goggles. These immersive experiences facilitate a new way of learning about the cultural significance of the relics.
Similarly, The Story of the Forest is an immersive digital display installed in the National Museum of Singapore's Glass Rotunda. As visitors walk down a 170m spiral pathway, 3D animals, forest-inspired sounds, plants, and scents unfold alongside them. The scenery changes between night and day and showcases the changes in the seasons. In addition to the immersive visual experience, visitors can also access information through an AR mobile app. After snapping a picture of an animal or plant, the app generates 3D images and interesting facts.
Augmented Reality in Art Galleries and Exhibits
AR can transform traditional static exhibits into interactive and immersive encounters. Visitors can use AR-enabled devices such as smartphones or tablets to explore paintings and sculptures in greater detail. An AR app might display the artist discussing the piece or the artwork's creation process for enhanced storytelling, for instance. Yunuene's augmented reality art app is a prime example of how AR cultivates deeper connections with artwork. By viewing the sculpture or artwork through the augmented reality app, viewers can watch images come to life—witness triangles radiating out of a painting, and even see a meerkat sculpture playing a guitar.
Similarly, MAUA is a groundbreaking augmented street art museum with locations in Milan, Palermo, and Turin. Visitors can explore these open-air galleries by simply downloading the app and following the chosen itinerary map. With the sites open 24/7, they can visit murals on walls, buildings, and metro interchanges whenever they choose. Upon reaching the augmented reality wall art, visitors can then frame the images with their smartphones and watch them transform. Painted characters start to wave, reptiles jump off the wall, and fish swim across the building. These augmented reality paintings animate the neighborhood and draw guests to suburbs that they may not normally have visited.
AR is also transforming the way consumers shop for art. While many love what they see in a gallery or online, they may be hesitant to make a purchase if they can't visualize it in their home or office. Saatchi Art's mobile app lets shoppers browse over 1.4 million original artworks from its website. Users can virtually view the artwork in their environment, exactly where they want it, significantly boosting buyer confidence and satisfaction. In fact, by Q2 of 2020, the site's mobile transactions had grown by 100% year-over-year.
How is Augmented Reality Used in Theme Parks and Related Attractions?
Although theme park attendance has largely recovered since the pandemic, increasing costs due to inflation and an uncertain economy have impacted profits. AR is gaining ground as an effective strategy to help theme parks tide over quiet seasons, allowing them to offer more value, tell better stories, and enhance visitor experiences. Theme park giants like Disney have already invested significantly in the technology. Immersive experiences through smartphones, digital access points, and wearables are driving the future of theme park entertainment. These experiences are unique to individuals, have a social aspect, and frequently evolve, offering visitors a fresh and exciting experience regardless of how many times they visit. They also allow directors to innovate and elevate visitors' adventures without having to physically remodel building structures. This ultimately means faster deployment of new experiences and at a lower cost. Let's look at how some brands are achieving successful AR theme park experiences.
Augmented Reality in Amusement & Theme Parks
Excellent customer experiences are key to driving satisfaction, loyalty, and repeat business. But amusement park visitors don't only expect great service—they also want exhilarating, one-of-a-kind experiences. Using AR headsets or mobile devices, theme park visitors can engage with virtual objects, characters, and effects that blend seamlessly with the physical world. Universal Studios Japan set the stage for AR experience success with the Mario Kart: Koopa's Challenge ride. Participants enter a replica of Bowser's Castle, where they are outfitted with a red Mario cap and AR headset. They then embark on a physical ride enhanced with digital elements, shooting targets viewed through the head-worn device. A number of characters also pop up during the adventure, and they can compete with other players on the ride.
LEGOLAND Windsor Resort is another prime example of how AR can drive theme park adventures and elevate each visit. LEGOLAND created an AR experience for the launch of LEGO Mythica: World of Mythical Creatures. After watching the 4D film, LEGO Mythica: Journey to Mythica, guests go on an augmented scavenger hunt, exploring the surroundings using the LEGOLAND Windsor Resort app. Visitors can find AR-activated LEGO models and bring their favorite characters to life. By scanning QR codes, users can open virtual vortexes to see baby Lava Dragons, collect rocks for the Crystal Claw Crabs, and help Bitsandbobs find his wing. They can also take selfies with the characters and collect digital trading cards.
AR for Events Marketing
AR is just as powerful for marketing activities and events. Consider, for example, how Red Bull implemented an AR campaign to build awareness for its Cliff Diving World Series event. The campaign involved deploying QR codes on promotional signage across the city. After scanning a code, users would see a real-scale diving platform grow in front of them. When the structure was complete, they'd then see a 3D animated diver somersault from the top. The virtual experience brought great energy to the event while also effectively conveying the brand personality.
AR for Interactive Sightseeing
AR superimposes digital visual information and elements in real time onto a smartphone or tablet display. This mixed reality makes for a handy destination guide—in fact, nearly 80% of consumers surveyed showed interest in using AR maps for navigation purposes, according to a 2022 study commissioned by Snap Inc. As users aim their camera toward an object or pathway, AR applications can overlay directions and landmarks. With this type of virtual map, users can easily navigate unfamiliar areas and find points of interest. Besides easily finding attraction sites, restaurants, shops, and transport hubs, users can also access more information about their points of interest in multiple languages.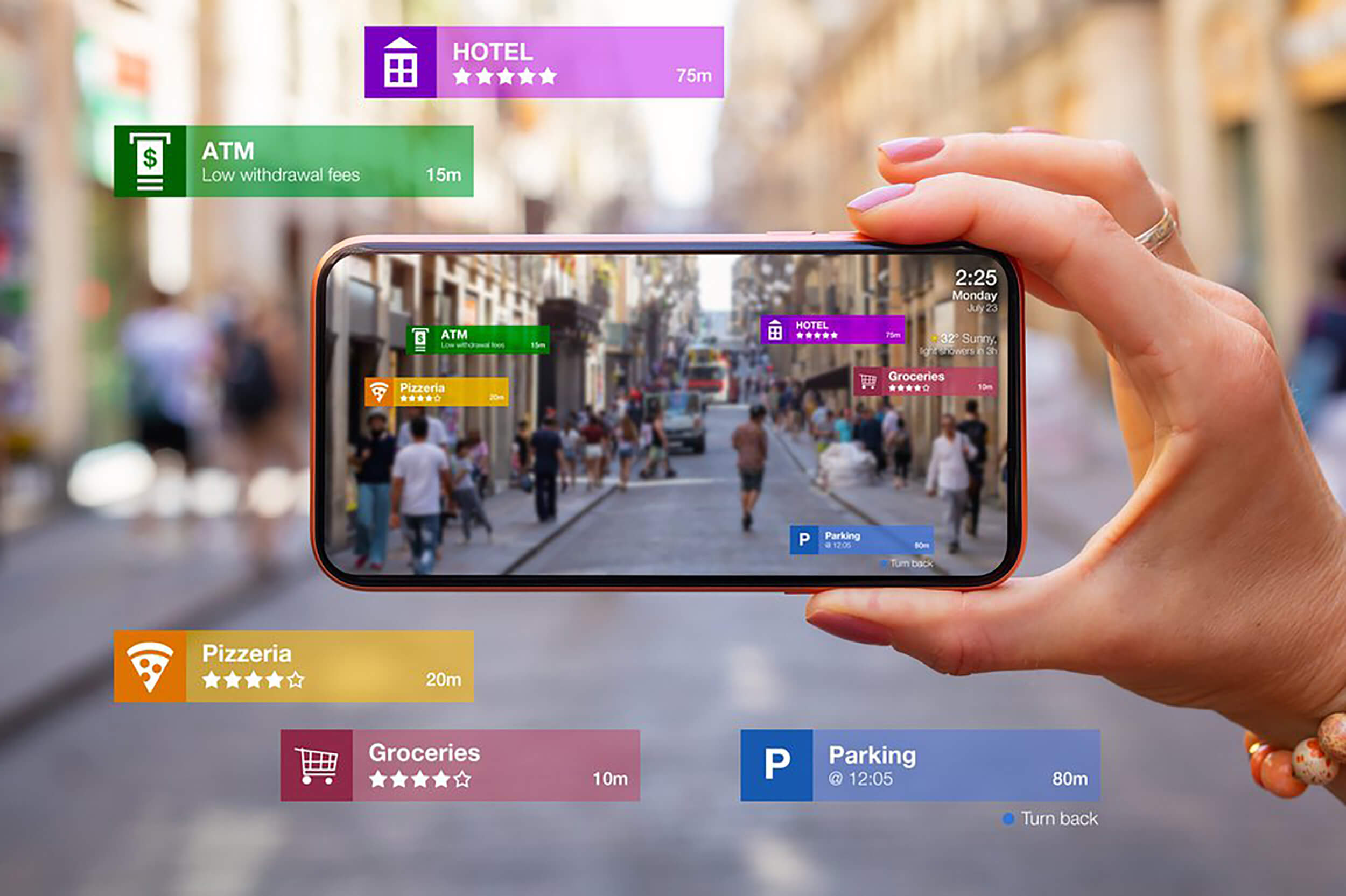 The Kennedy Space Center Visitor Complex, for instance, offers visitors a SmartGuide mobile app. Visitors can find different sites, the closest restrooms, and dining facilities using the multimedia guide. They can also customize their own tour with 360º views. GPS technology enables relevant content to pop up while exploring the center, providing interesting facts, audio, photos, and videos in nine different languages. Visitors can also pair the Space Visor virtual reality headset with their mobile phone to watch rocket launches, take a ride in the lunar rover, and embark on a virtual cockpit experience.
How Can Augmented Reality Help Historical and Cultural Sites?
In a fast-paced digital age where attention spans are fleeting, it's crucial to find innovative ways to revive and sustain interest in historical and cultural subjects. Augmented reality presents a powerful tool that can breathe new life into the past, captivate imaginations, and foster a deeper connection to rich heritage. By merging the physical and digital, AR offers a multitude of possibilities to rejuvenate historical and cultural value. AR also enhances learning, storytelling, and preservation efforts that reignite a collective curiosity for treasures from the past. Survey data from AddictiveTips finds that 95% of Americans either have tried or are eager to try AR and VR technologies. Tapping into this burgeoning excitement might be just the ticket to revitalizing a historical site.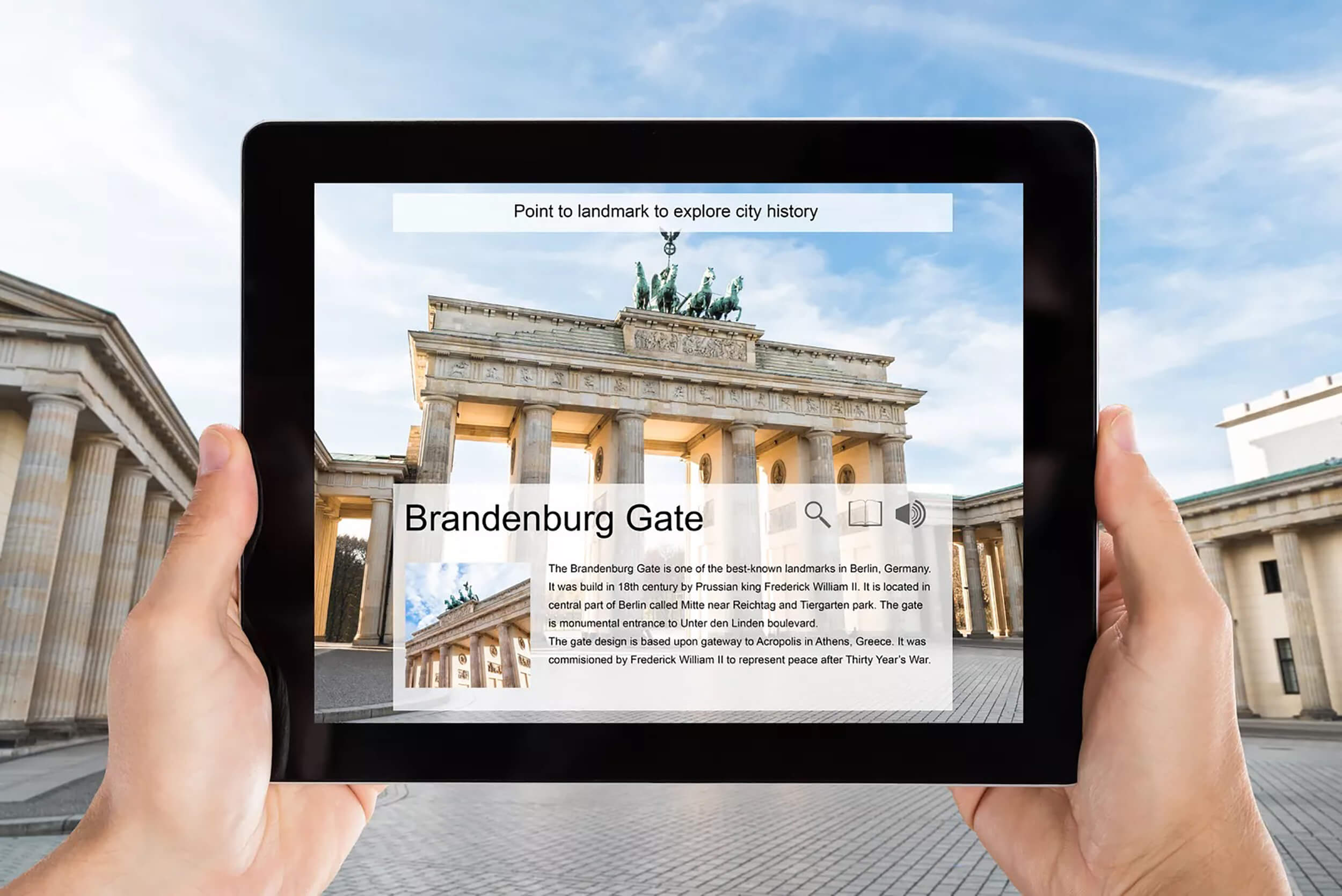 Augmented Reality for Historical Sites
AR tools can help users step into the shoes of historical figures, witness significant events, or explore cultural sites in a way that connects them emotionally with the past. The United States Holocaust Memorial Museum achieves this with an app that personalizes the stories and lives of the victims showcased in the Tower of Faces exhibit. When visitors point their smartphone at an image, information appears about the lives of the villagers. By making the experience interactive, visitors gain a deeper and more personal understanding of the individuals involved and their powerful stories.
Augmented Reality for Archaeological Sites
AR can provide interactive learning experiences that make history and culture more accessible and engaging. AR-enhanced exhibits can offer users additional information, multimedia content, interactive animations and more. This interactive approach makes learning fun and can also enhance understanding and retention—according to research, humans typically process visuals 6,000 times faster than text. The Smithsonian's National Museum of Natural History has a mobile app called Skin and Bones, bringing 13 skeletons on display to life. Through 3D augmented reality and tracking, the app adds details to the specimens to portray how they look and move, and how their skeletons work. Users direct their smartphone camera at the specimen to trigger 3D graphics. The app offers a menu of immersive AR experiences for each animal on display, including videos, animations, and activities. For example, visitors can observe an eastern diamondback rattlesnake using its fangs to grasp a virtual rodent or test their knowledge of bat species by identifying their calls.
AR can also transport users back in time, overlaying historical scenes or reconstructions onto a present-day environment. Users can see how a particular location looked in the past, allowing them to experience historical events or settings in a more engaging way. In one 2022 ARRIS Composites survey, 77% of respondents said that they would be interested in using AR to 'travel' to locations they couldn't otherwise access. Imagine if you could take them back in time instead! For example, Uist Unearthed's app gives visitors the chance to explore the history and prehistory of the Uist Islands using augmented reality, animations, audio, graphics, and stories. Visitors scan QR codes at each site to access augmented historical sites and 3D excavated objects. You can see the original settlement as it stood 3500 years ago, including grand Viking halls, and monumental Iron Age brochs. The app also helps users stay on track with a GPS-enabled map and lets them share their experiences with photos and videos.
Create AR Experiences for Attractions
From museums and shopping to amusement parks and education, augmented reality is changing the way consumers communicate, navigate, and learn. AR technology only continues to advance, providing better quality experiences and more immersive ways to explore real and virtual worlds. Rock Paper Reality can help you leverage cutting-edge technology to advance projects and increase business growth. We've assisted Fortune 500s and startups alike to successfully develop and deploy AR technology for over a decade. Now we're ready to tackle your project! Let's connect.